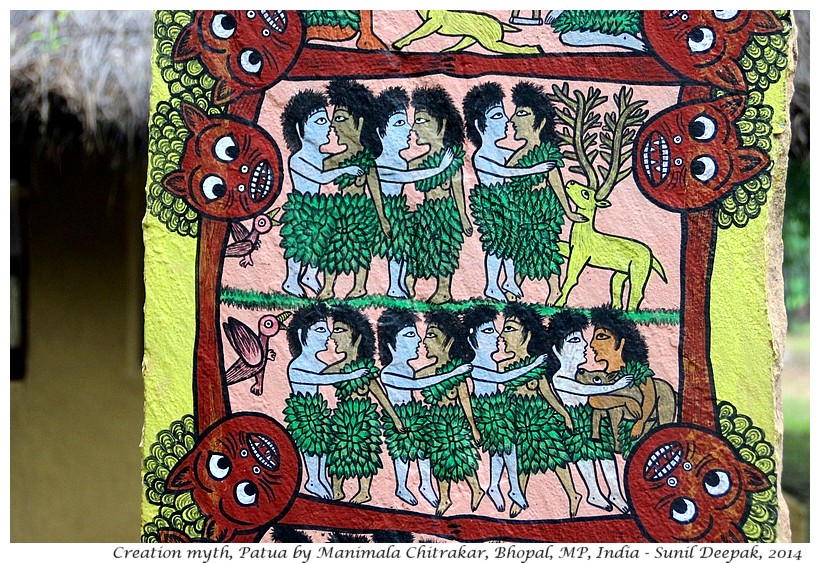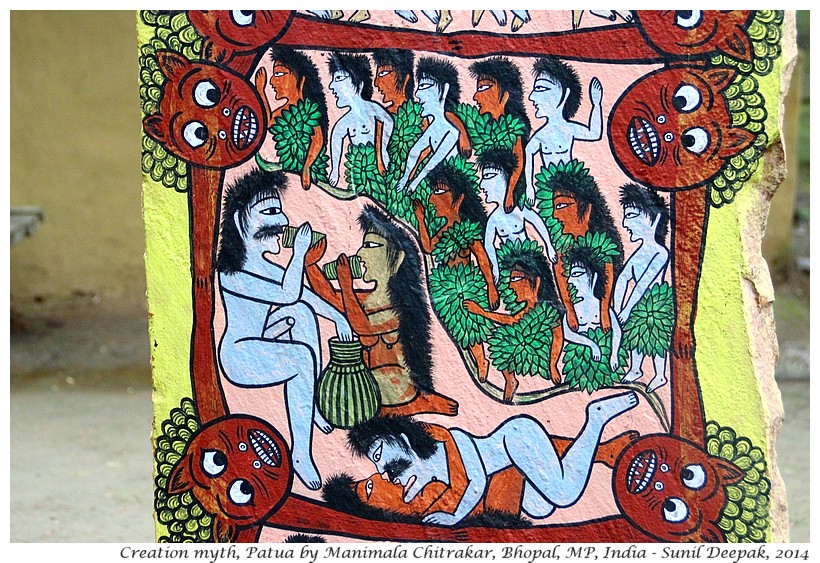 India: Midnapur district of West Bengal has a tradition of Patua artists who paint folk tales and then during marriages and festivals, travel in the villages with their paintings to sing those tales. Like other folk arts, even Patua artists need to grapple with poverty and the changing social context. Today's images have the paintings of artist Ms. Manimala Patua about the seven children of the first couple Pilchu Haram and Pilchu Burhi, who started the human race. This painting is exhibited in Manas Museum of Bhopal.
भारतः पश्चिम बंगाल के मिदनापुर जिले में पटुआ कलाकारों की परम्परा है जो लोककथाओं के चित्र बनाते हैं और विवाह या त्योहारों के मौके पर गाँवों में चित्रों के साथ घूमते हुए उन कथाओं को गा कर सुनाते हैं. हमारी अन्य लोक कलाओं की तरह से पटुआ के कलाकार भी गरीबी तथा समाज के बदलते समावेश से जूझ रहे हैं. आज की तस्वीरों में कलाकार सुश्री मणिमाला पटुआ के चित्र जिनमें आदिम जोड़ी पिल्छु हरम व पिल्छु बुरही के सात बच्चों की कहानी है जिनसे दुनिया में पहले मानव आये. यह कलाकृति भोपाल के मानस संग्रहालय में प्रदर्शित है.
India: Il distretto di Midnapur nello stato di West Bengal ha la tradizione di artisti Patua, i quali dipingono le storie mitologiche e poi durante i matrimoni e le festività, girano nei villaggi con i loro quadri per cantare le loro storie. Come le altre arti tradizionali, anche gli artisti Patua devono affrontare la povertà e il mutato contesto sociale. Le immagini di oggi sono dei quadri dell'artista sig.ra Manimala Patua riguardo i sette figli della prima coppia Pilchu Haram e Pilchu Burhi, con i quali era inziata la razza umana. Questo quadro è esposto al museo Manas di Bhopal.
***