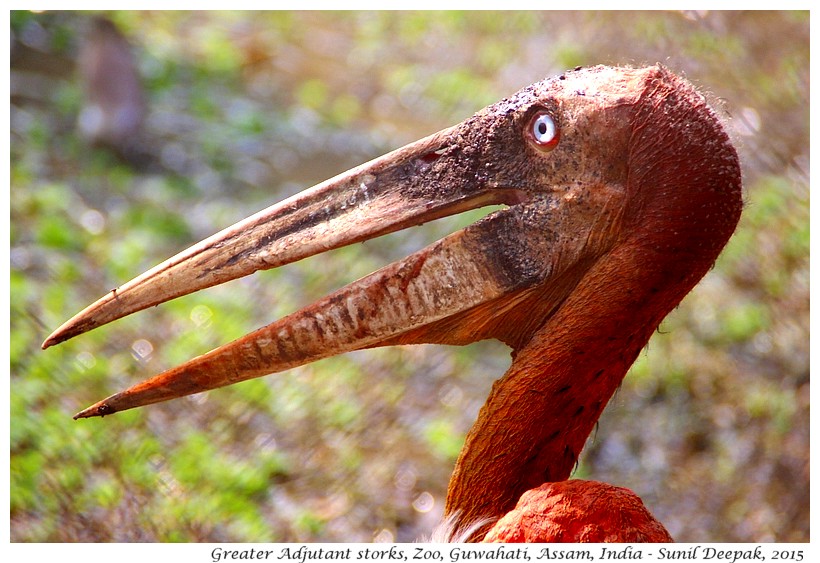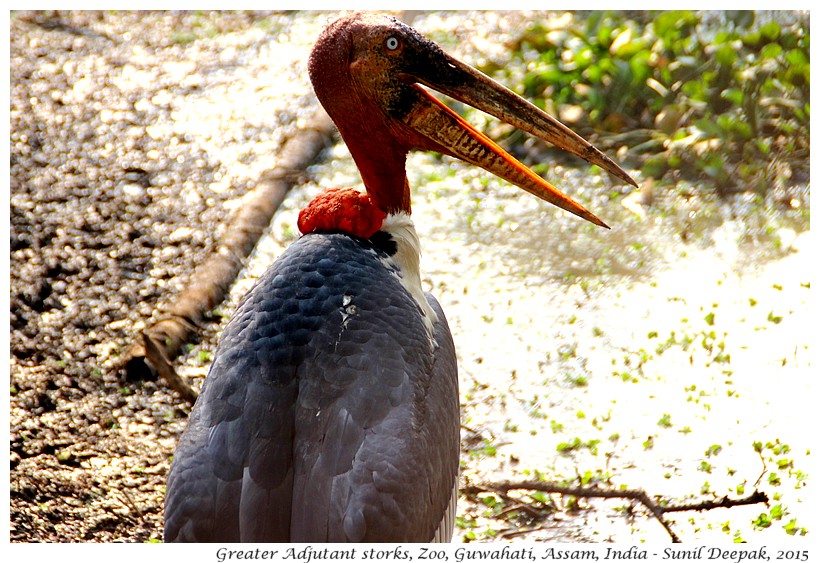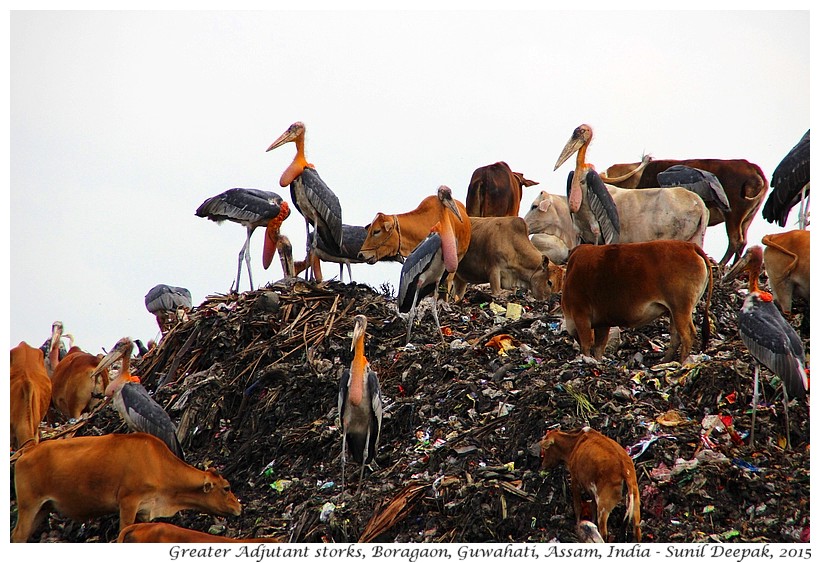 Guwahati, Assam, India: Greater Adjutant storks are nature's "cleaning birds", who feed on dead animals and garbage. Once they were common all over Asia, now they are left only in a few parts of Assam and a small number is in Cambodia. In Boragaon in the south-west of Guwahati, where the city's garbage is collected, they can be seen in large numbers as in the 3rd image where they can be seen along with cows.
गुवाहाटी, भारतः हाड़गिला प्रकृति के "स्वच्छता कर्मचारी" पक्षी हैं, क्योंकि यह मृत पशु पक्षियों तथा कूड़े को साफ़ करते हैं. कभी यह पक्षी सारे एशिया में अधिक संख्या में पाये जाते थे, आज यह केवल असम के कुछ भागों में बचे हैं या फ़िर कुछ थोड़े से पक्षी कम्बोडिया में हैं. गुवाहाटी के दक्षिण पश्चिमी भाग में बोरागाँव में, जहाँ शहर का कूड़ा एकत्रित होता है, बहुत से हाड़गिला दिखते हैं जैसा की तीसरी तस्वीर में देख सकते हैं जिसमें इन पक्षियों के साथ गायें भी दिखती हैं.
Guwahati, Assam, India: Marabù maggiore asiatico sono gli "uccelli della pulizia" della natura perché si alimentano di carcasse e di rifiuti. Una volta erano presenti in tutta l'Asia, mentre ora sono rimasti soltanto in alcune parti dell'Assam e un piccolo numero si trova in Cambogia. Nel quartiere di Boragaon, nella parte sud-occidentale di Guwahati, dove si raccolgono i rifiuti della città, molte di queste cicogne sono presenti come si vede nella terza immagine, dove sono insieme alle mucche.
***