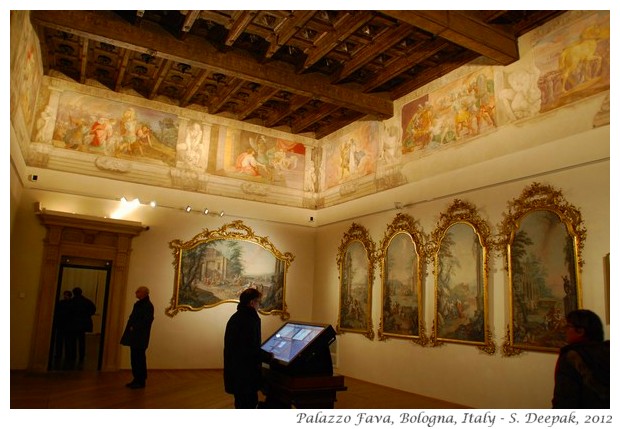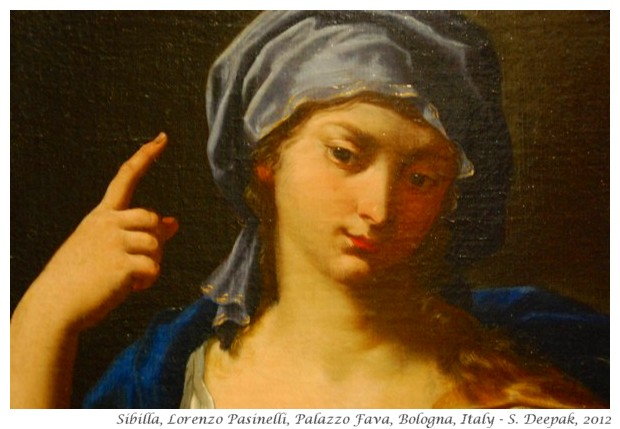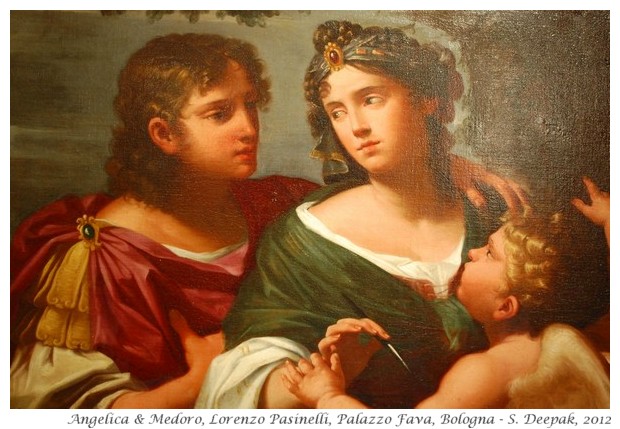 Bologna, Italy: Today's images are about a small art museum called Fava Palace, built around 1550. Its walls have frescoes by some of the famous painters of that time. Each room has computers where you can find out more about paintings exhibited there. There are two images from works of an Italian painter called Lorenzo Pasinelli, that were made around 1660. My ideal holiday is the joy of passing a few hours looking at the beautiful art in a museum like this.
बोलोनिया, इटलीः आज की तस्वीरों का विषय है एक छोटा सा कला संग्रहालय जिसका नाम है फावा भवन, जिसे करीब 1550 के आसपास बनवाया गया था. इसकी दीवारों पर उस समय के प्रसिद्ध कलाकारों की चित्रकारी है जो बहुत सुन्दर है. साथ ही हर कक्ष में कमप्यूटर पर आप वहाँ लगे चित्रों के बारे में जान सकते हैं. इसी संग्रहालय से इतालवी चित्रकार लोरेन्ज़ो पाज़िनेल्ली के 1660 के आसपास बनाये दो चित्र भी प्रस्तुत हैं. छुट्टी का दिन हो और इस तरह के संग्रहालय में बिताने के लिए कुछ घँटे मिल जायें, इस बढ़ कर आनन्द की बात क्या हो सकती है!
Bologna, Italia: Le immagini di oggi sono da un piccolo museo d'arte che si chiama Palazzo Fava, costruito intorno al 1550. La pareti del palazzo hanno affreschi eseguiti da famosi pittori dell'epoca. Ogni stanza ha computer dove potere scoprire informazioni riguardo l'arte esposta. Vi sono due immagini dei lavori di Lorenzo Pasinelli, dipinti intorno al 1660. Per me il giorno libero ideale significa avere la gioia di passare qualche ora in un bel museo!
***