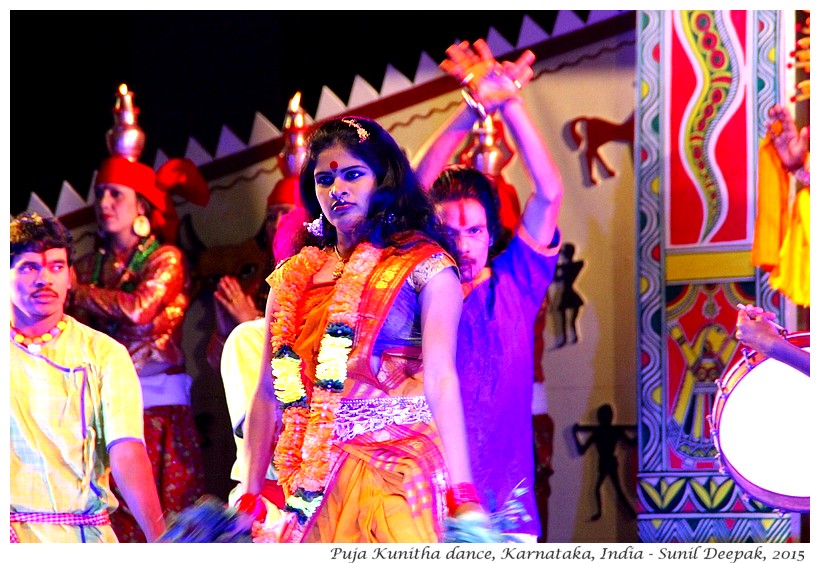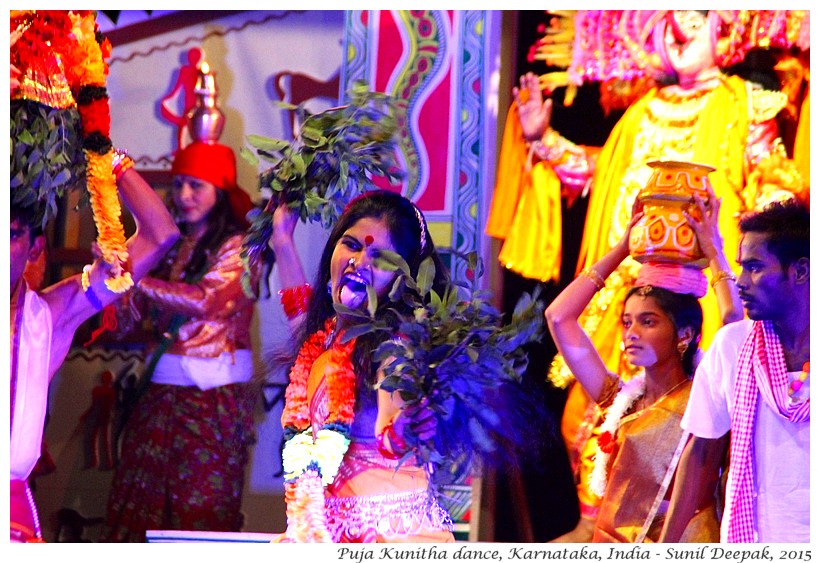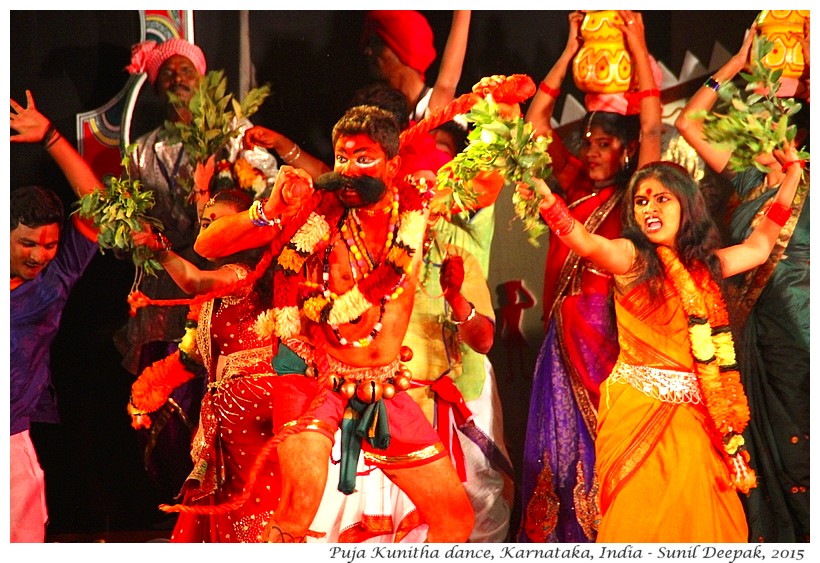 Karnataka, India: In the north-east of India, Shakti (femminine power) is worshipped in different forms of the mother goddess such as Durga, Lakshmi, Saraswati and Kali. In Karnataka in south India, the religious folk dance "Puja Kunitha" includes different forms of worship of mother goddess that are very similar to the rituals in the north-east. Today's images have the representations of goddess Kali in Karnataka's Puja Kunitha dance, expressing anger and destruction.
कर्णाटक, भारतः उत्तरपूर्व में शक्ति के विभिन्न रूपों की पूजा होती है जिसमें देवी माँ को दुर्गा, लक्ष्मी, सरस्वती, काली आदि रूपों में पूजा जाता है. दक्षिण भारत में कर्णाटक के एक धार्मिक लोकनृत्य पूजा कुनिता में भी देवी माँ पूजन के विभिन्न रूप दिखते हैं जो कि उत्तरपूर्वी शक्ति पूजन से बहुत मिलते जुलते लगते हैं. आज की तस्वीरों में कर्णाटक के पूजा कुनिता नृत्य से काली रूप का प्रदर्शन जिसमें क्रोध तथा विनाश दिखते हैं.
Karnataka, India: Il nord est dell'India ha diverse tradizioni di culto di Shakti (potere femminile) con adorazione di diverse forme della dea madre come Durga, Lakshmi, Saraswati e Kali. Anche in Karnataka, nel sud dell'India , durante la danza religiosa tradizionale "Puja Kunitha" vi sono diverse adorazioni di Shakti, molto simile alle tradizioni del nord est. Le immagini di oggi hanno la dea Kali nella danza Puja Kunitha di Karnataka che esprime rabbia e distruzione.
***