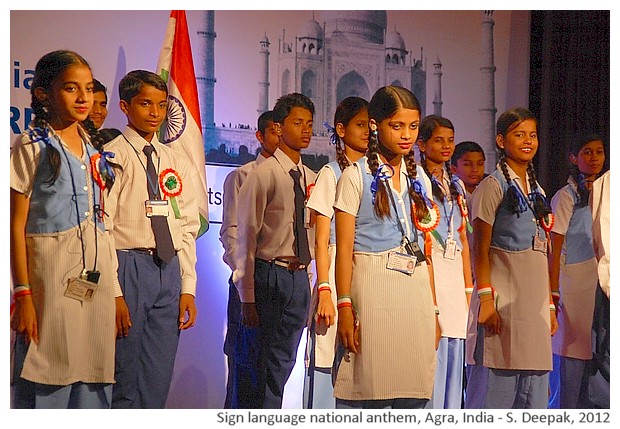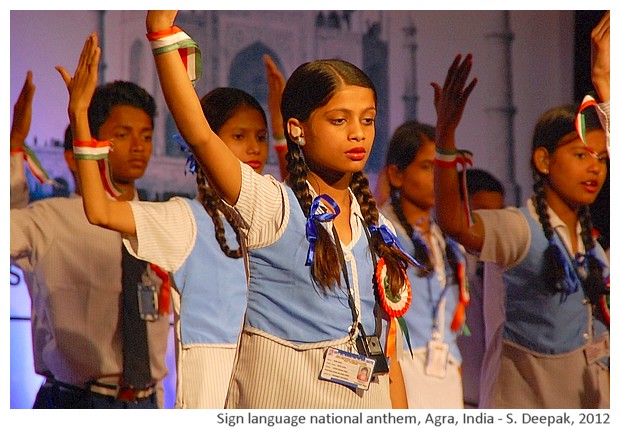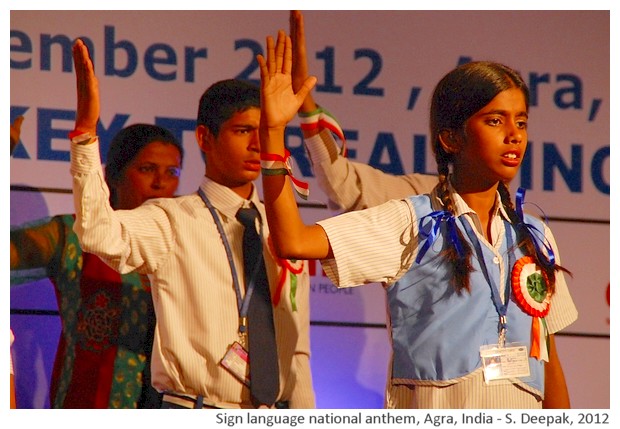 Agra, India: All languages are beautiful and in every language, when people speak they add some gestures. However in my opinion, the sign language of the deaf and mute persons is most beautiful because it is like a dance. Today's images have children from Government school of Kalka ji in Delhi, singing the national anthem in sign language.
आगरा, भारतः भाषाएँ तो सभी सुन्दर होती हैं, और हर भाषा को बोलने वाले बोलते समय कुछ हाव भाव के साथ बोलते हैं. लेकिन मेरे विचार में गूँगे व बहरे लोगों द्वारा बोली जाने वाली संकेतों की भाषा की बात ही कुछ और है, लगता है मानो नृत्य हो. आज की तस्वीरों में दिल्ली में कालका जी के सरकारी विद्यालय के बच्चे सांकेतिक भाषा में राष्ट्रीय गीत गाते हुए.
Agra, India: Tutte le lingue sono belle e tutti i popoli quando parlano, aggiungono un po' di gesti. Comunque, per me il linguaggio dei segni usato da persone sorde e mute è più bello di tutti, è come una danza. Le immagini di oggi hanno i ragazzi della scuola governativa di Kalka ji a Delhi che cantano l'inno nazionale.
***