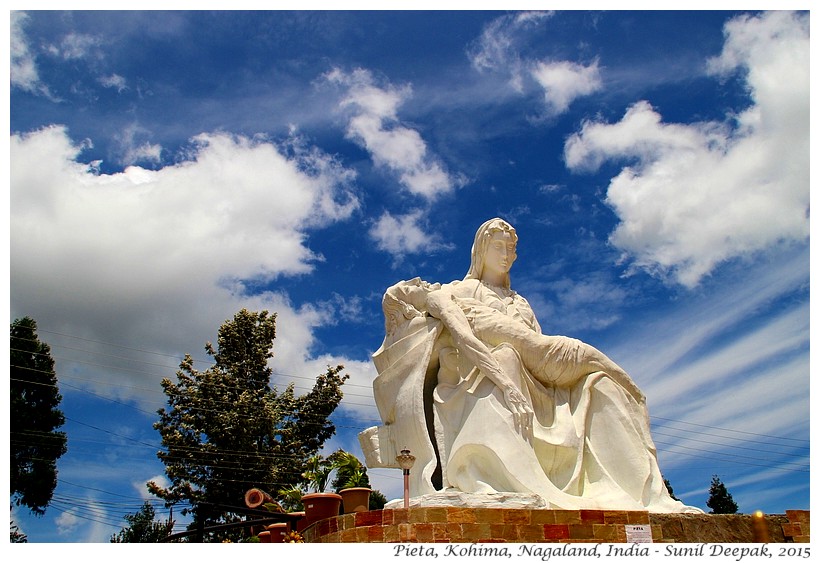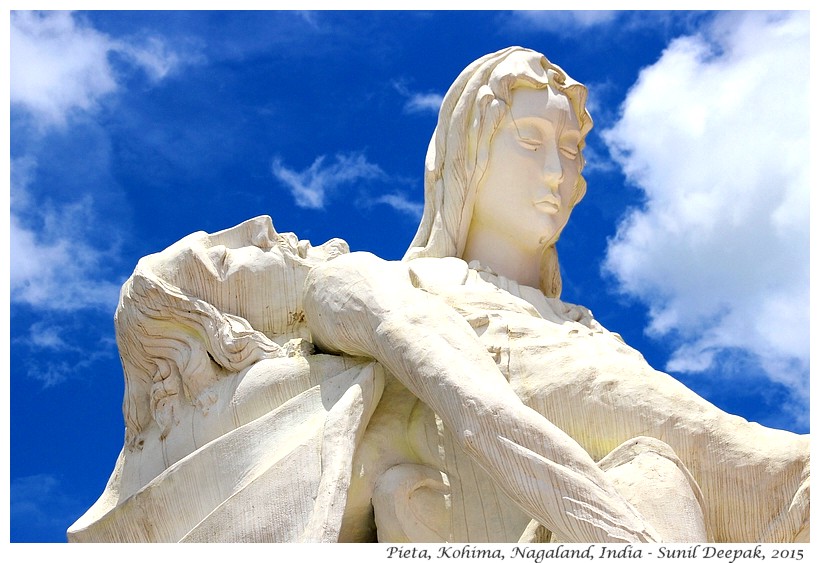 Kohima, Nagaland, India: Sculptor Michaelangelo's "Pieta" (Compassion) is world famous. It has mother Miriam lost in pain holding the dead body of Jesus. Other "Pieta" statues inspired by this sculpture are present in many churches around the world. Some months ago I had presented
few examples
of those. Yesterday morning I saw Kohima's Pieta, its artist is Shaji Jospeh. This statue is behind the Cathedral of Kohima. About 9 meters high and 6 meters wide, it is supposed to be the largest Pieta in the world.
कोहिमा, नागालैंड, भारतः शिल्पकार माइकल एँजेलो की प्रतिमा "पिइता" (करुणा) जगप्रसिद्ध है. इसमें दर्द में डूबी माँ मिरियम की गोदी में मृत येसू को दिखाया गया है. उससे प्रेरित "पिइता" मूर्तियाँ दुनियाँ के कई गिरजाघरों में हैं. कुछ माह पहले मैंने इसके
कुछ उदाहरण
प्रस्तुत किये थे. कल सुबह कोहिमा की "पिइता" को देखा जिसे शाजी जोसफ़ ने बनाया है. यह कोहिमा के केथेड्रल के पीछे है. 29 फीट लम्बी तथा 19 फीट चौड़ी यह दुनिया की सबसी बड़ी "पिइता" मूर्ति है.
Kohima, Nagaland, India: La Pietà di Michelangelo è famosa in tutto il mondo e mostra la Madonna addolorata con il corpo di Gesu nelle braccia. Pietà ispirate da questa scultura sono presenti in diverse chiese nel mondo. Alcuni mesi ne avevo presentato
alcuni esempi
. Ieri mattina ho visto "La Pietà" di Kohima costruita da Shaji Joseph. Questa statua si trova dietro la cattedrale di Kohima. Circa 9 metri alta e circa 6 metri larga, si dice che sia La Pietà più grande del mondo.
***