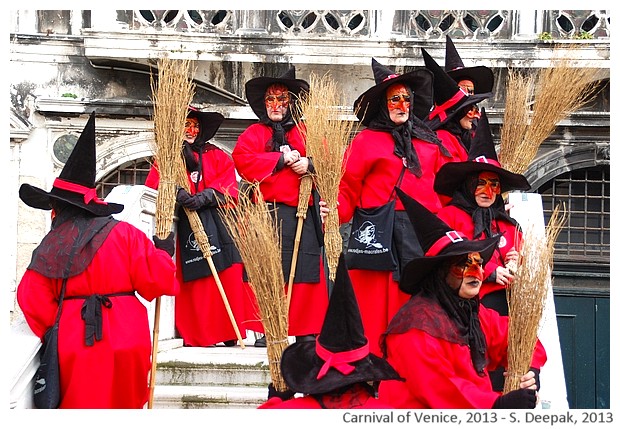 Venice, Italy: Venice carnival has mostly individuals or couples wearing special costumes and masks, and they try to be different from each other. However, sometimes groups can come with the same costmes and masks. Among the group costumes of this year, my favourites were this group of men and women wearing the costumes of red witches, complete with a broom in their hands.
वेनिस, इटलीः वेनिस के कार्निवाल में अधिकतर लोग अपनी अलग पौशाकें और मुखौटे पहने होते हैं या कभी कोई युगल अपनी विशिष्ठ पौशाक में होता है, उनकी कोशिश होती है कि उनकी पौशाकें बाकी सबसे भिन्न लगें. लेकिन कभी कभी कुछ लोग दल बना कर एक जैसी पौशाकों और मुखौटों में भी आते हैं. इस वर्ष के दलों में से मुझे सबसे अच्छी पौशाकें इस दल की लगीं जिनके पुरुष और स्त्रियों ने लाल चुड़ैलों का रूप बनाया था और हाथ में झाड़ू पकड़े हुए थे.
Venezia, Italia: Al carnevale di Venezia, la maggior parte delle persone hanno i loro costumi e maschere come singoli o come coppie, e loro cercano di essere diversi dagli altri. Comunque, vi sono anche alcuni gruppi, dove tutti portano gli stessi costumi e maschere. Tra i gruppi di quest anno, il mio favorito era questo gruppo di uomini e donne vestite da streghe rosse, con una scopa in mano.
***