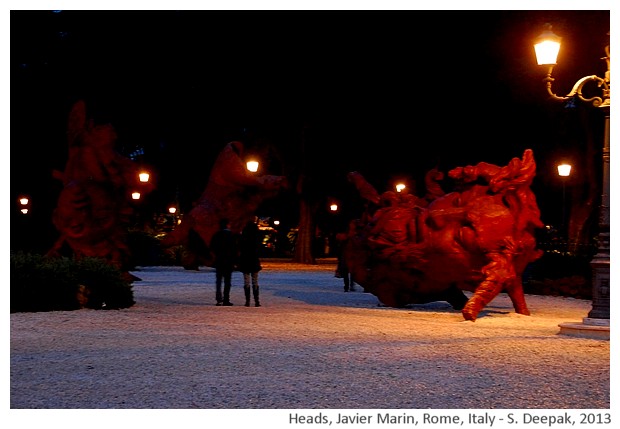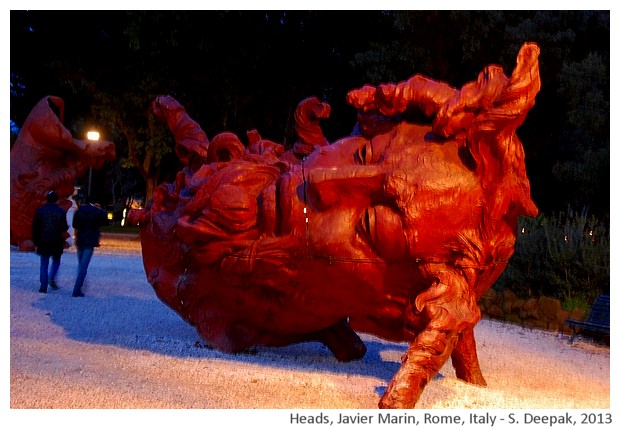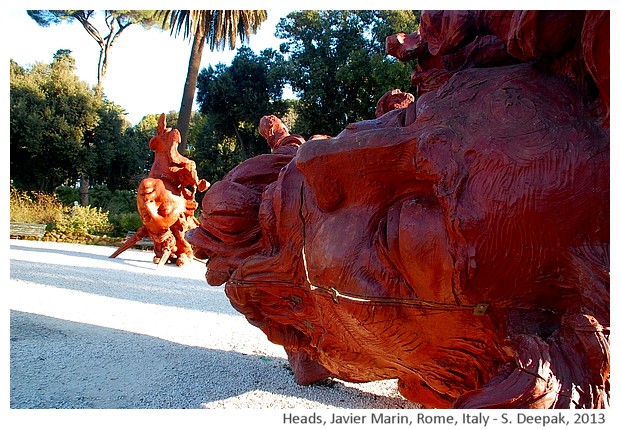 Rome, Italy: In the darkness of the night, when I first stumbled accross the sculptures "heads" by the Mexican sculptor Javier Marin, for a moment I felt as if I was in a medieval battle field with severed heads strewn around. One of those heads was of a bearded man who looked old from a distance. However, when I went closer, he did not seem old, but the expression of his eyes and mouth seemed full of sadness.
रोम, इटलीः रात के अँधेरे में जब मेक्सिकन शिल्पकार ज़ाविएर मारिन की कलाकृतियाँ "सिर" पहली बार दिखी तो एक पल के लिए लगा कि किसी मध्ययुगीन युद्ध स्थल पर पहुँच गया हूँ और युद्ध में कटे सिर इधर उधर बिखरे पड़े हों. उनमें से एक सिर एक दाढ़ी वाले पुरुष का था, जो दूर से वृद्ध लग रहा था. लेकिन पास जा कर देखने में लगा कि वृद्ध नहीं था, बस उसकी आँखों और मुँह के भाव में दर्द भरी उदासी थी.
Roma, Italia: Nel buio della sera quando ho visto per la prima volta le sculture "Teste" dello scultore messicano Javier Marin, per un attimo ho pensato di essere in un campo di battaglia medievale con le teste tagliate tutto intorno. Da lontano la testa di un uomo con la barba sembrava di un vecchio. Invece quando l'ho guardato da vicino, non sembrava vecchio, ma i suoi occhi e la sua bocca esprimevano tristezza.
***