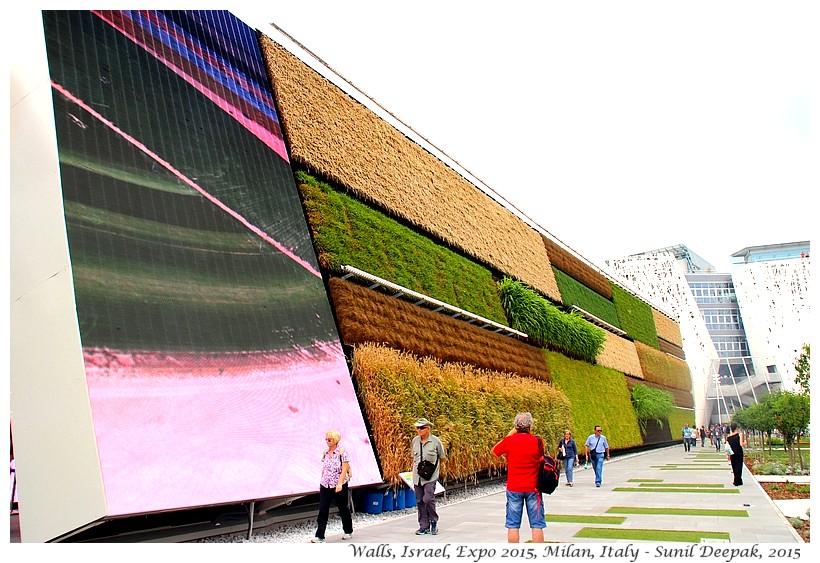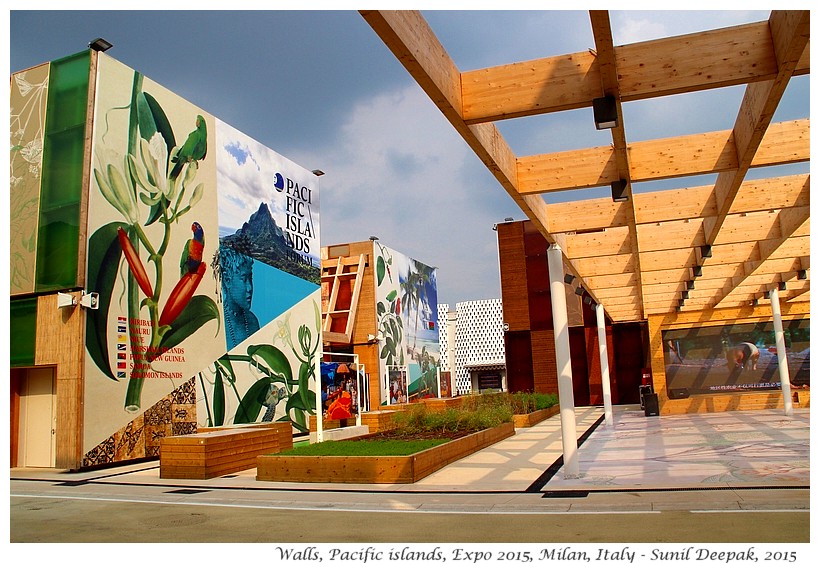 Milan, Italy: At the World Expo 2015, there are many examples of architectural experiments, such as the changing ways in which walls can be perceived. Poster on the walls or video-walls are now common. The walls of Uruguay pavilion that had more windows and less walls was perhaps inspired from the Hawa Mahal in Jaipur. On the other hand Israel pavilion with crops growing on its walls was certainly innovative.
मिलान, इटलीः विश्व एक्स्पो 2015 में वास्तुशिल्प के नये प्रयोगों के अनेक उदाहरण हैं, जैसे दीवारों के बदलते रूप. दीवारों पर पोस्टर या वीडियों दीवारें तो अब आम हो चुकी हैं. उरुगुवाय की दीवार जिसमें दीवार कम खिड़कियाँ अधिक थीं, ने शायद जयपुर के हवामहल से प्रेरणा ली थी. लेकिन इज़राइल की पेवेलियन की दीवार जिसपर फसलें उग रहीं थीं बिल्कुल अनोखी लगी.
Mialno, Italia: Al Expo 2015, vi sono diversi esempi di esperimenti archetettonici - per esempio, come cambiano le pareti. Manifesti sulle pareti o pareti di video sono oramai comuni. Il padiglione di Uruguay aveva più finistre e meno pareti, ed era forse ispirato dal palazzo dei venti di Jaipur. Invece la parete del padigione di Israele, dove crescevano le piante era certamente innovativa.
***