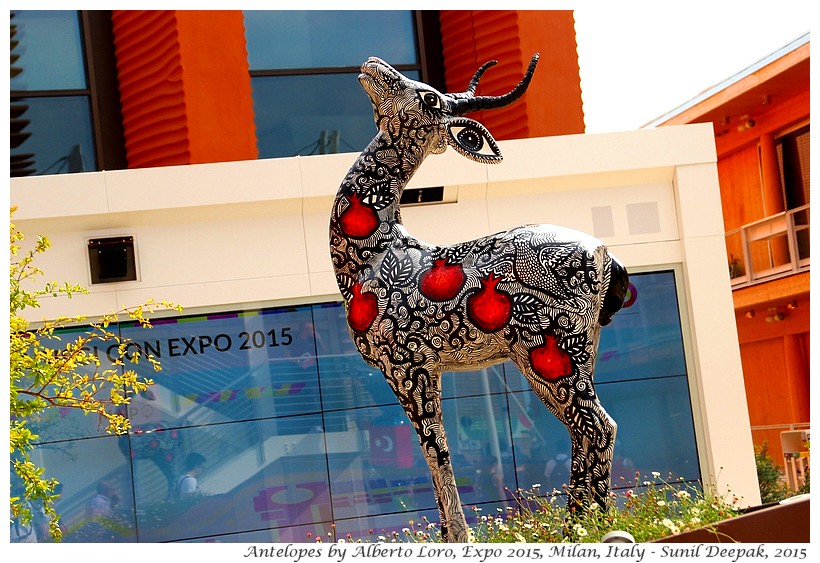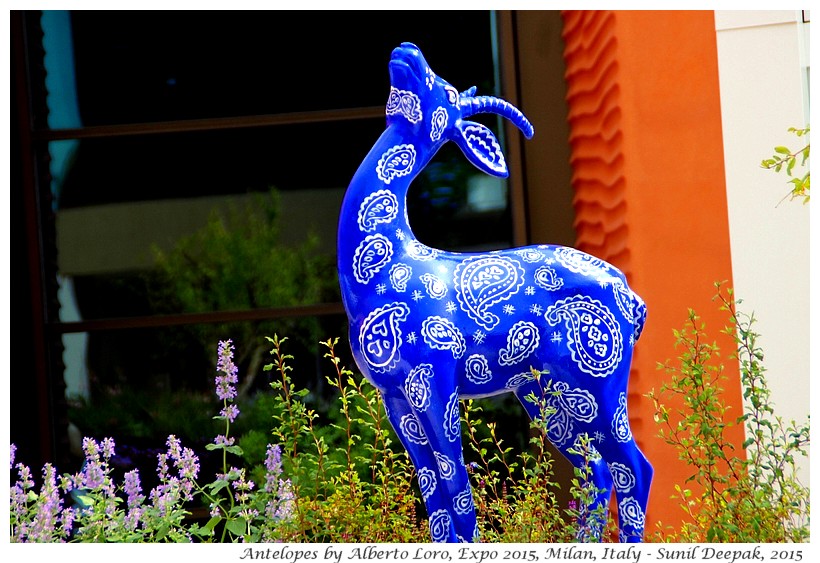 Milan, Italy: At the world Expo 2015, I liked the ceramic antelopes by the artist Alberto Loro inside and around the pavilion of Azerbaijan. Azerbaijan has also used the colours of its national flag in a giant candy sculpture outside its pavilion, which I liked. You can see the giant candy-flag in the second image behind the antelope.
मिलान, इटलीः विश्व एक्स्पो 2015 में अज़ेर्बाइजान की पेवेलियन में और उसके आसपास शिल्पकार अल्बेर्तो लोरो की कलाकृतियाँ सिरेमिक के रंग बिरंगे हिरण बहुत सुन्दर लगे. अज़ेर्बाइजान ने पेवेलियन के बाहर अपने राष्ट्रीय के रंगों को एक भीमकाय टॉफ़ी की शिल्पकला से प्रस्तुत किया था, वह भी मुझे अच्छा लगा. दूसरी तस्वीर में हिरण के पीछे उस टॉफ़ी-ध्वज को आप देख सकते हैं.
Milano, Italia: Al Expo 2015, dentro e intorno al padiglione di Azerbaijan vi sono alcuni antilopi di ceramica del artista Alberto Loro che mi sono piaciuti. Inoltre, Azerbaijan ha una grossa caramella nei colori della loro bandiera nazionale fuori dal padiglione che non è male. Nella seconda immagine potete vedere la caramella-bandiera gigante dietro al antilope.
***