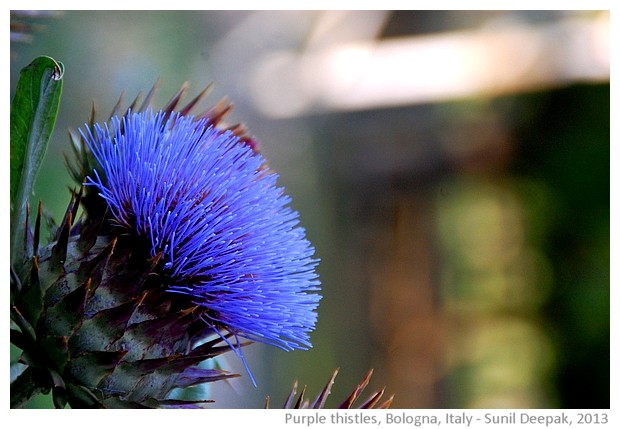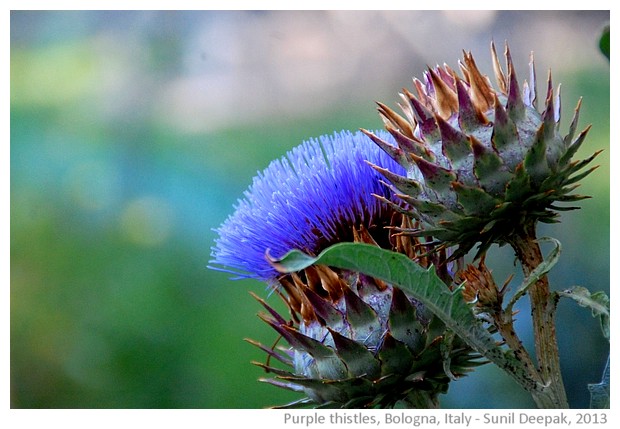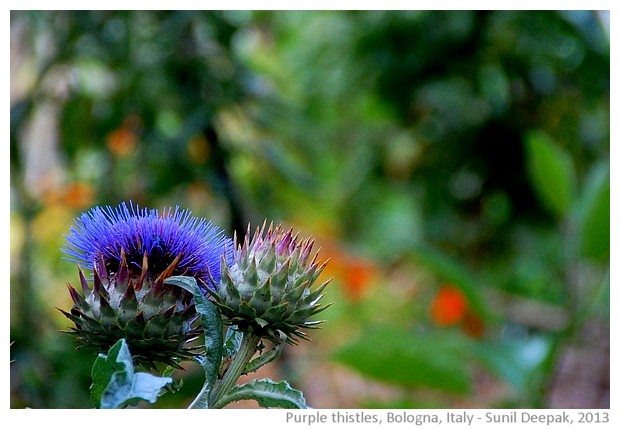 Bologna, Italy: Thistle is the national emblem of Scotland, and behind this, there is a story from the thirteenth century. One night, Danes attacked and to avoid making noise, some of their soldiers were walking barefeet. One such soldier put his foot on a thistle plant and cried with pain, so the Scots woke up. Can someone tell me if this flower occurs in India and if it has an Indian name?
बोलोनिया, इटलीः थिस्ल स्काटलैंड का राष्ट्रीय चिन्ह माना जाता है. इसके पीछे तैहरवीं शताब्दी की एक कहानी छुपी है. एक रात को डैंनमार्क ने हमला किया, तथा शोर न हो इसलिए उनके कुछ सैनिक नँगे पाँव थे, उनमे से एक का पैर थिस्ल के पौधे पर पड़ा तो वह दर्द से चीख उठा और स्काटलैंड वाले जाग गये. क्या यह फ़ूल भारत में होता है और अगर हाँ, तो क्या इसका कोई भारतीय नाम भी है?
Bologna, Italia: La pianta di Cardi è l'emblema nazionale della Scozia e vi è una storia dietro questo fatto. Nel tredicesimo secolo, una notte i danesi hanno attaccato e per non fare il rumore, alcuni dei loro soldati erano scalzi. Uno di quelli soldati ha calpestato una pianta di cardi e ha gridato per il dolore, svegliando così gli scozzesi.
***