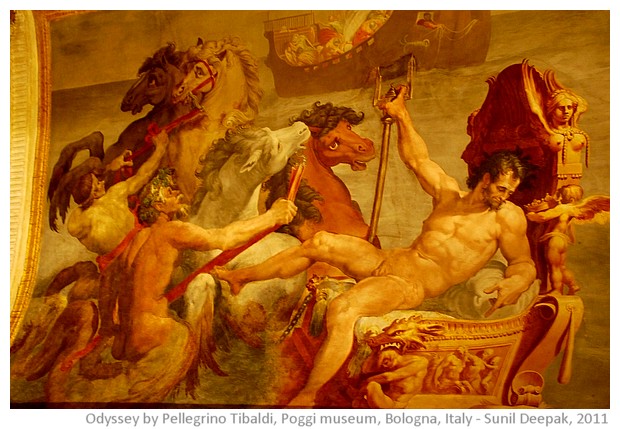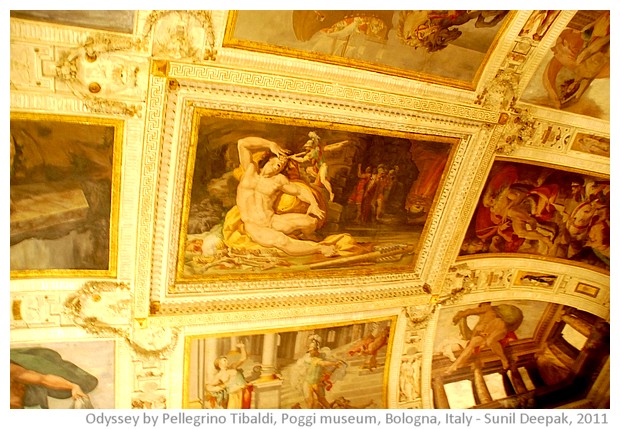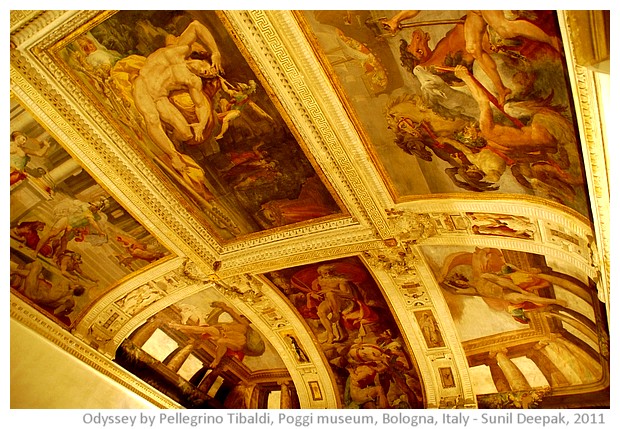 Bologna, Italy: Greek poet Homer wrote two epic poems "Iliad" and "Odyssey" in 800 BC, that told the story of the Troy war and Odysseus' long journey to his home in the Ithaca island. The two poems are considered among the key influences on the western civilization, similar to the way "Mahabharata" is seen in India. The twenty seven thousand lines of the two poems are written in dactylic hexameter (each dactyl is composed of one long syllable and two short ones). Today's images present the fifteenth century paintings by Pellegrino Tibaldi from the roof of ground floor of Palazzo Poggi science museum of Bologna, depicting the stories from Odyssey.
बोलोनिया, इटलीः यवनी कवि होमर ने ईसा से करीब आठ सौ वर्ष पहले दो महाकाव्य लिखे "इलिआद" व "ओडेसी" जिनमें इथाका द्वीप के रहने वाले ओडेसियुस की ट्रोय युद्ध में भाग लेने तथा उसके बाद घर लौटने की लम्बी यात्रा का वर्णन है. इन दोनो महाकाव्यों का पश्चिमी सभ्यता पर गहरा प्रभाव माना जाता है, कुछ वैसे ही जैसे भारत में "महाभारत" के महाकाव्य का. दोनो महाकाव्यों की कुछ 27,000 से अधिक पँक्तियाँ छः अँशों के डेक्टाइलिक मीटर में लिखी गयी हैं (डेक्टाइलिक मीटर का हर अँश एक लम्बी ध्वनि व दो छोटी धव्नियों को मिला कर बनता है). आज की तस्वीरों में बोलोनिया के पोज्जी विज्ञान संग्रहालय के निचले स्तर की छत पर बने, चित्रकार पेलेगरिनो तिबाल्दी द्वारा पँद्रहवीं शताब्दी में बनायी गये "ओडिसी" महाकाव्य की कहानियों के कुछ चित्र.
Bologna, Italia: Il poeta greco Omero avevo scritto due poesie epiche nel 800 a.c. - Iliade e Ulisse - che raccontavano la guerra di Troia e poi il lungo viaggio di Ulisse per tornare all'isola di Itaca. Queste due poesie sono considerate tra le fondamentali influenze per la civiltà occidentale, un po' come in India pensiamo al poema Mahabharata. Le due poesie sono scritte in esametro dattilico (ogni dattilo è composto da una sillaba lunga e due sillabe corte). Le immagini di oggi presentano i quadri realizzati da Pellegrino Tibaldi per la volta del pian terreno del cinquecentesco Palazzo Poggi che ospita il museo delle scienze di Bologna, e che presentano i racconti di Ulisse.
***