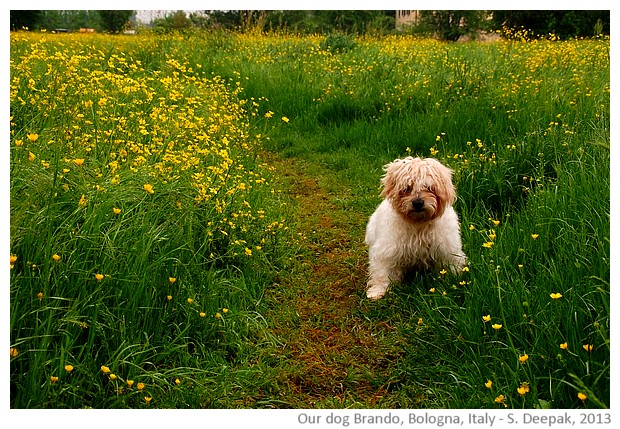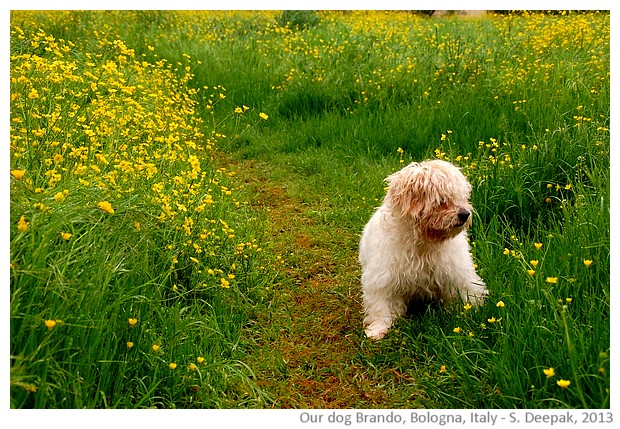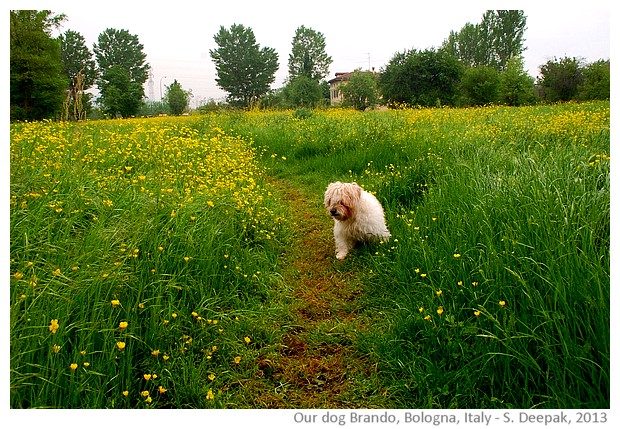 Bologna, Italy: The subject of today's images is our dog Brando and an abandoned field full of wild yellow flowers near our home. In last December, he has completed 18 years. Our neighbours call him the grandfather or the great grandfather of all the other dogs in our area. All his companion dogs are long gone. He has not barked for the last two or three years. He can't see or hear, and if you put him down some where, he does not move, stays there lost in his own world.
बोलोनिया, इटलीः आज की तस्वीरों का विषय है हमारा कुत्ता ब्रान्दो और हमारे घर के पास जँगली पीले फ़ूलों से भरा मैदान. पिछले दिसम्बर में ब्रान्दो ने 18 वर्ष पूरे किये. हमारे आसपास के लोग ब्रान्दो को इलाके के कुत्तों का दादा या परदादा कहते हैं. उसके साथ के सभी कुत्ते जाने कब के जा चुके. उसे भौंके हुए दो तीन साल हो गये हैं. न वह देख पाता है, न सुन पाता है और उसे कहीं छोड़ दो तो वहीं खड़ा अपनी दुनिया में खोया रहता है.
Bologna, Italia: Il soggetto delle immagini di oggi è il nostro cane Brando e un campo abbandonato pieno di fiori gialli vicino alla nostra casa. Il dicembre scorso lui ha compiuto 18 anni. I vicini lo chiamano il nonno o il bisnonno di tutti i cani della zona. Tutti gli altri cani, i suoi compagni, sono scomparsi anni fa. Lui non ha abbaiato da due o tre anni. Non può vedere o sentire e se lo lasciamo giù da qualche parte, resta fermo lì, perso nel suo mondo.
***