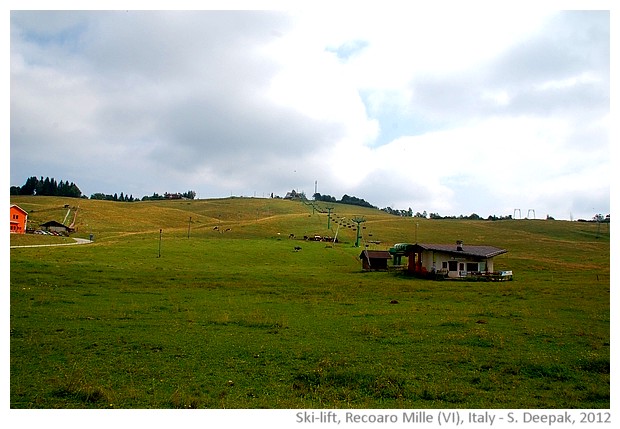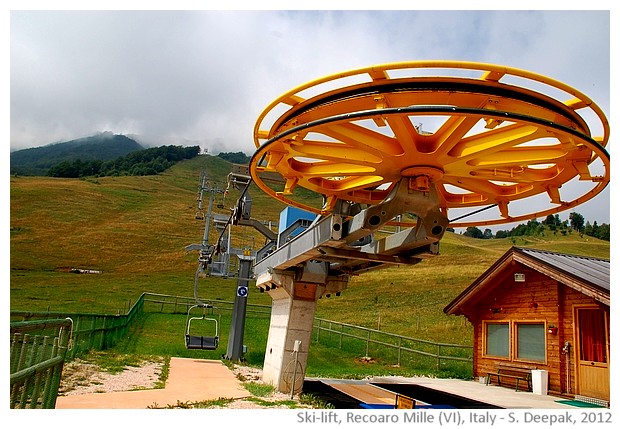 Recoaro (VI), Italy: Skiing has always attracted me and at the same time, its idea terrifies me. In the end, fear won. Still in summer, if we go to some skiing place in the mountains, I love looking at skiiing lifts and daydream about learning skiing in some future life.
रेकोआरो, इटलीः स्कीइन्ग ने मुझे शुरु से आकर्षित भी किया, पर उससे मुझे डर भी बहुत लगा. अन्त में जीत डर की हुई. फ़िर भी गर्मियों में कभी पहाड़ों पर स्कीइन्ग की जगह जायें तो स्कीइन्ग लिफ्ट को देख कर स्कीइन्ग करने के सपने देखना और सोचना कि अगले जन्म में इसे अवश्य सीखूँगा, अच्छा लगता है.
Recoaro (VI), Italia: Sciare mi ha sempre attratto, e allo tempo, la sua idea mi fa paura. Alla fine, ha vinto la paura. Nonostante questo, ogni volta che andiamo ai luoghi di sci in montagna, mi piace guardare gli impianti di sci e sognare a occhi aperti che in una futura vita imparerò a sciare.
***