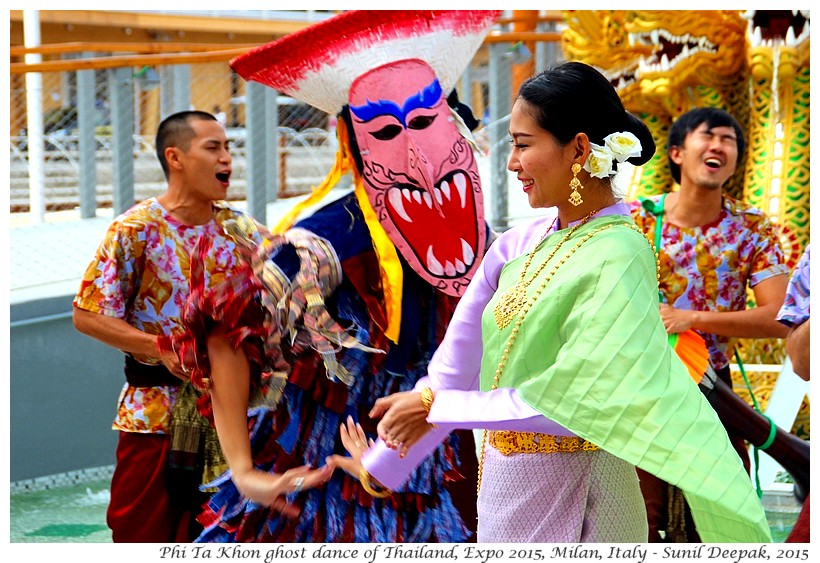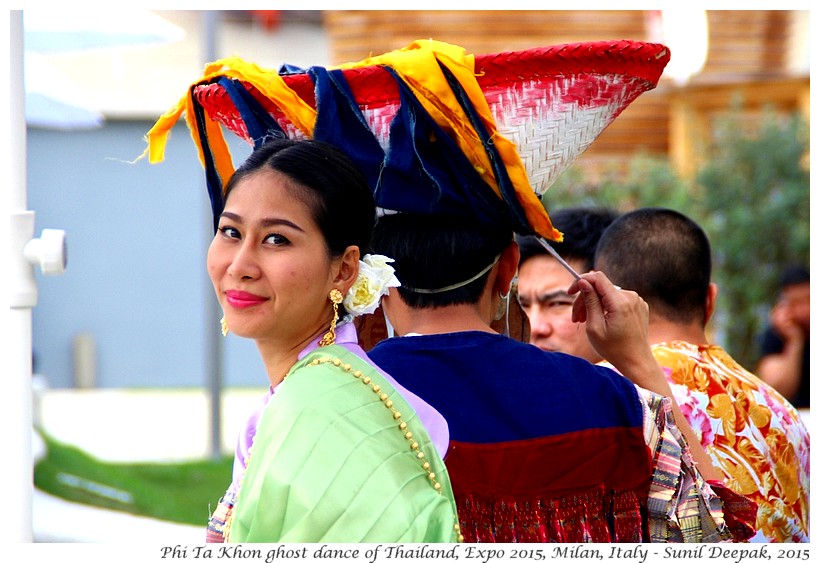 Milan, Italy: At the world expo 2015, many countries along with their advanced technology, also present their traditional arts. Today's images have the traditional dance Phi Ta Khon from Thailand, that is also known as ghost dance. This dance is a tradition in the Loei province in the north-east of Thailand. One of the stories behind this dance is about Buddha who was walking near a forest and the forest ghosts became his followers and started walking behind him.
मिलान, इटलीः विश्व एक्स्पो 2015 की प्रदर्शनी में कई देश आधुनिक तकनीकी के साथ साथ अपनी पाराम्परिक कलाओं को भी प्रदर्शित करते हैं. आज की तस्वीरों में वहाँ से थाईलैंड का पाराम्परक फ़ी टा खोन नृत्य जिसे भूतों का नृत्य भी कहते हैं. यह नृत्य थाईलैंड के उत्तरपूर्वी भाग लोएइ की परम्परा है. इस नृत्य के पीछे एक कहानी है जिसके अनुसार एक बार जब महात्मा बुद्ध जँगल के पास से जा रहे थे तो जँगल के भूत उनके भक्त हो गये और उनके पीछे चलने लगे.
Milano, Italia: Al Expo 2015, molti paesi, oltre a presentare i loro progressi tecnologici, presentano anche le loro arti tradizionali. Le immagini di oggi hanno la danza tradizionale dalla Tailandia, Phi Ta Khon, conosciuta anche come la danza dei fantasmi. Questa danza è una tradizione della provincia di Loei nel nord-est del paese. Una delle storie collegate a questa danza parla di Buddha che camminava vicino alla foresta e i fantasmi della foresta sono diventati i suoi seguaci e hanno iniziato a camminare dietro a lui.
***