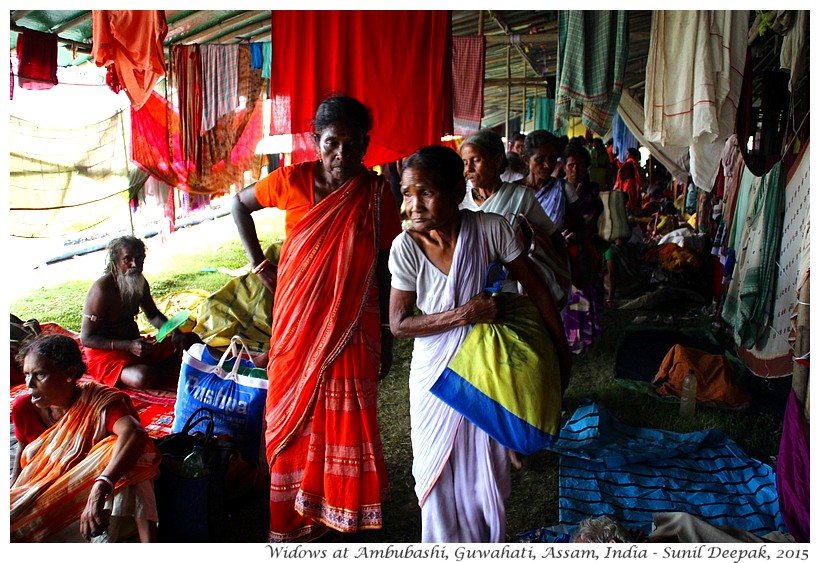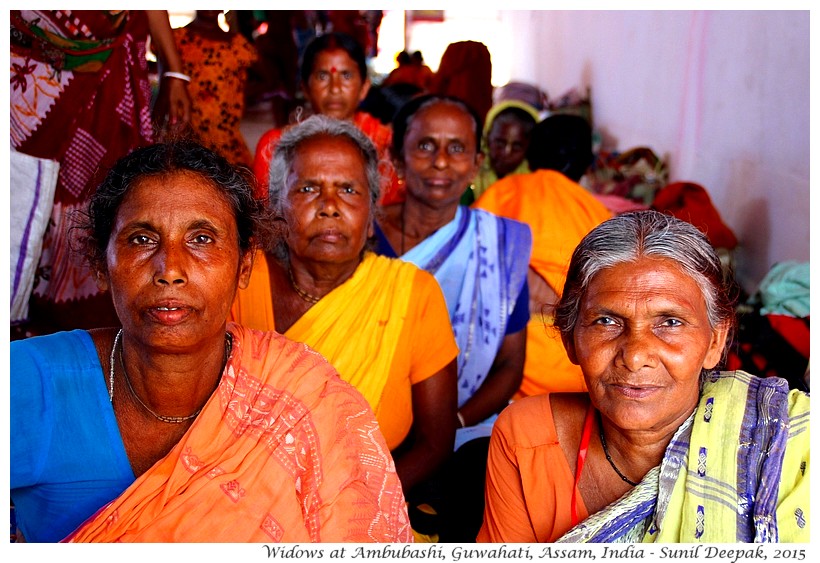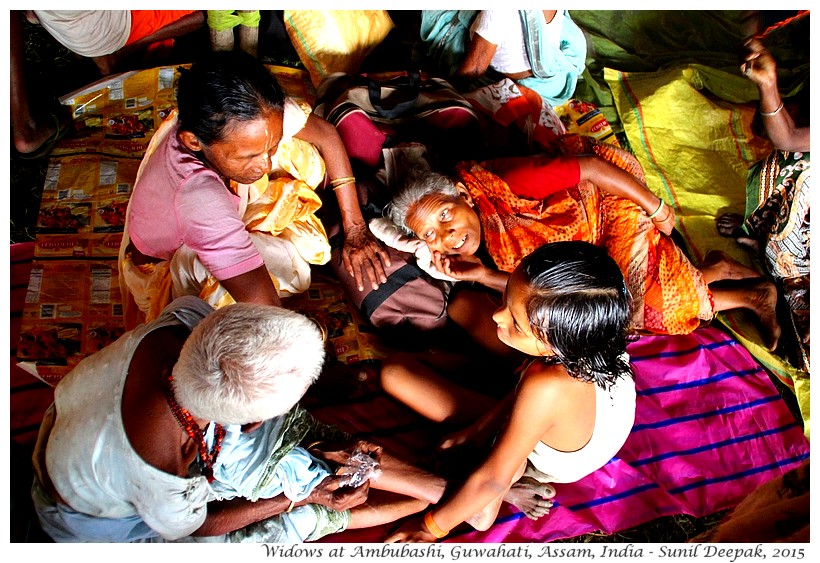 Guwahati, Assam, India: Among the persons who had come for the Ambubashi festival, there were many widows, usually in small groups or accompanied by their families. It was easy to identify them - they did not have red bindi or vermilion on their foreheads. Looking at them you could see how the lives of widows in the villages are slowly changing. Some were not wearing white, rather they had saris of light colours. Many did not have short hair, others had necklace or ear-rings. None of them refused me a picture and many of them came to ask me to photograph them. If I had more time and did not have the language difficulty, I would have loved to talk to them to know more about their lives.
गुवाहाटी, असम, भारतः अम्बुबाशी पर्व में विभिन्न राज्यों से आये लोगों में बहुत सी विधवाएँ भी थीं, अक्सर छोटे गुटों में या परिवार में बच्चों के साथ. उन्हें पहचानना कठिन नहीं था - उनके माथे पर लाल बिन्दी या सिन्दूर नहीं थे. उन्हें देख कर यह समझ आता था कि किस तरह से गावों के समाज में विधवाओं का जीवन बदल रहा है. कुछ ने सफेद साड़ी के बदले हल्के रंगों की साड़ियाँ पहनी थी, बहुतों के बाल नहीं कटे थे, किसी के गले में माला थी या कान में बुन्दे थे. फोटो खिंचवाने के लिए किसी ने न नहीं कहा, कई तो स्वयं मेरे पास आयी तथा मुझे अपनी फोटो खींचने को कहा. अगर मेरे पास कुछ समय होता तथा भाषा की दिक्कत न होती तो अवश्य उनसे बात करके उनके जीवन के बारे में जानने की कोशिश करता.
Guwahati, Assam, India: Tra le persone venute per la festa di Ambubashi, vi erano molte vedove, spesso in piccoli gruppi o accompagnati dalle famiglie. Era facile identificarle - non portavano il puntino rosso e vermiglio sulla fronte. Guardandole, potevi capire come sta cambiando lentamente la vita delle vedove nei villaggi. Alcune non portavano il bianco, invece avevano i sari in colori chiari. Molte non avevano i capelli tagliati corti, e altre portavano collane o orecchini. Nessuna di loro aveva rifiutato di farsi fotografare, al contrario, molte erano venute da me per farsi fotografare. Se avevo più tempo e conoscevo meglio la lingua, mi sarebbe piaciuto parlare con loro per capire di più sulle loro vite.
***