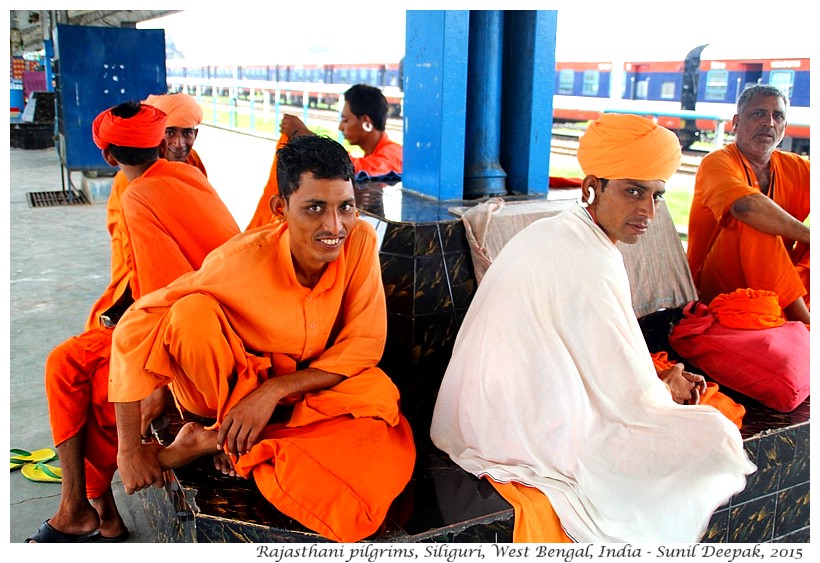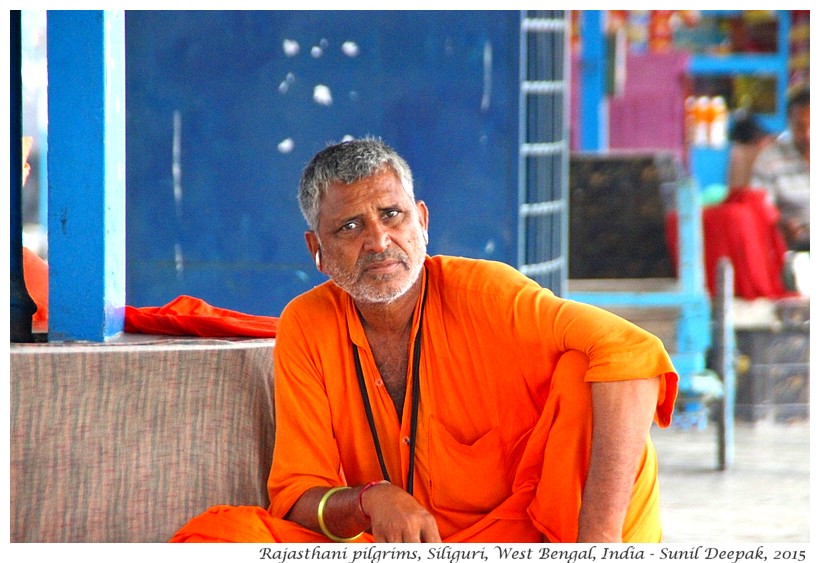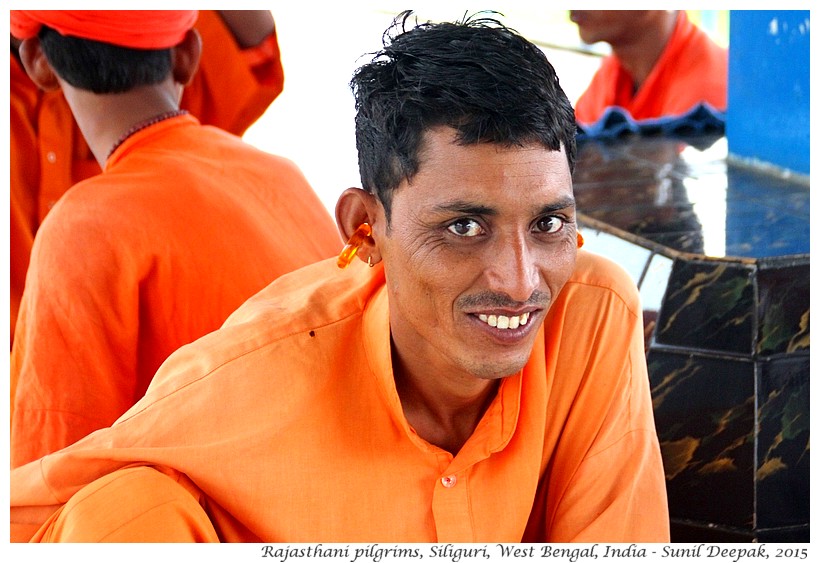 Siliguri, West Bengal, India: At the railway station I met a group of Rajasthani pilgrims coming back from Guwahati, where they had gone for Ambubashi and stayed there for fifteen days. They were going to a place called Baba Dham. With their luggage wrapped in small bundles and little money in their pockets, they had come for this long journey from the other end of the country. I had gone to Siliguri for one day, and I had more luggage than them and probably, the amount of money I had spent for my one day would have covered the cost of their entire pilgrimage.
सिलीगुड़ी, पश्चिम बँगाल, भारतः रेलवे स्टेशन पर गुवहाटी से लौटते हुए एक राजस्थानी तीर्थयात्री गुट से मुलाकात हुई. पंद्रह दिन तक गुवहाटी में रहे थे वह लोग, अम्बुबाशी मेले के लिए. अब बाबा धाम नाम की जगह पर जा रहे थे. गठरी में बँधा थोड़ा सा सामान और थोड़ा सा पैसा ले कर देश के दूसरे कौने से इतनी लम्बी यात्रा का कार्यक्रम ले कर निकल पड़े थे. मैं एक दिन के लिए सिलीगुड़ी गया था. उनसे अधिक सामान मेरे पास था और एक दिन में जितना पैसा मेरी यात्रा में लगा था, उनमें शायद उनकी पूरी तीर्थयात्रा हो जाती.
Siliguri, Bengala Ovest, India: Alla stazione avevo incontrato un gruppo di pellegrini dal Rajasthan che tornavano da Guwahati, dove erano andati per Ambubashi ed erano rimasti per 15 giorni. Andavano ad un posto chiamato Baba Dham. Con poco bagaglio chiuso in un panno e pochi soldi nelle loro tasche, erano partiti per questo lungo viaggio dal altro capo del paese. Ero andato a Siliguri per un giorno. Avevo più bagaglio di loro e probabilmente i soldi che avevo speso per un giorno di viaggio avrebbe coperto le spese del loro intero pellegrinaggio.
***