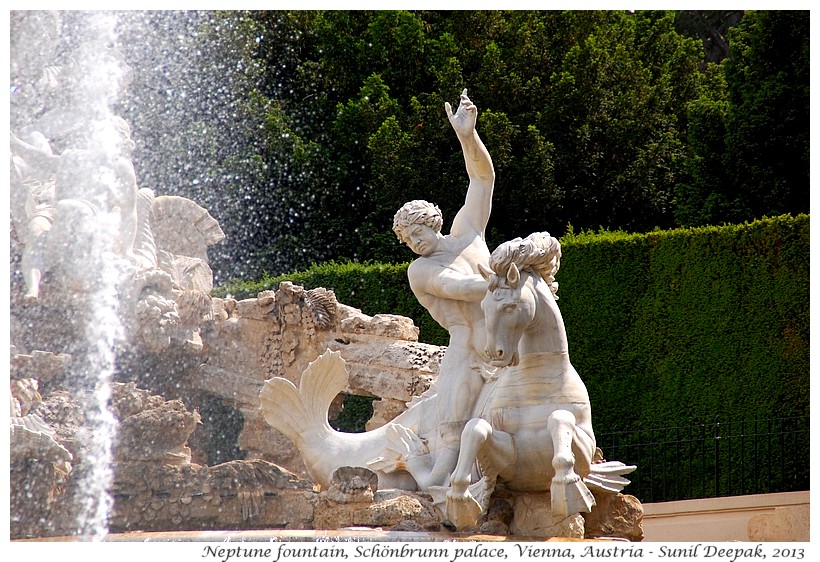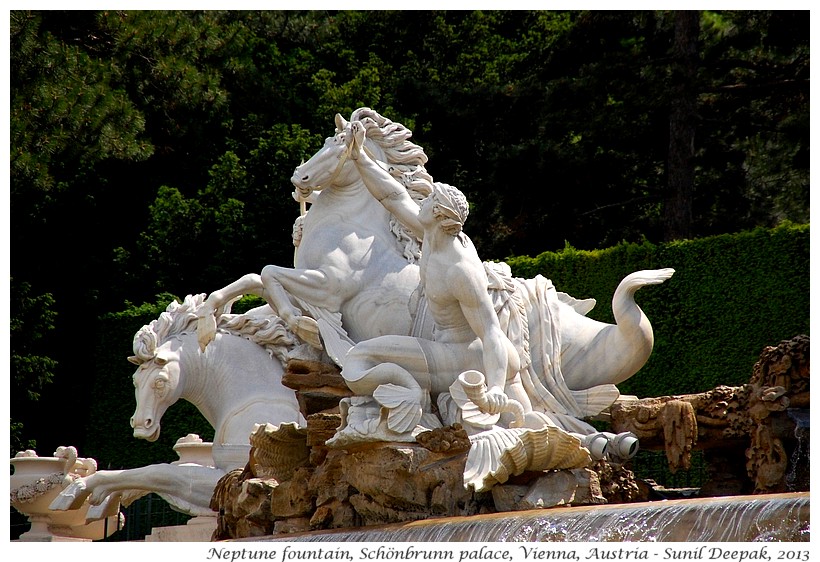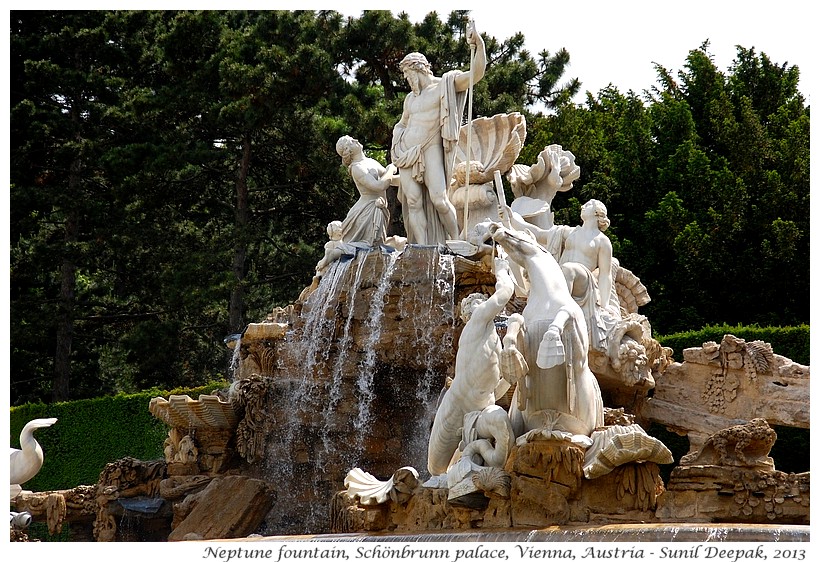 Vienna, Austria: The myths of water horses were common in Scotland where the monster of Lochness lake was described as a horse with webbed hoofs and a fish like tail. The fountain of the sea god Neptune built in Schonbrunn, the royal palace of Vienna, in 1780, has on the top Neptune with the sea goddess Thetis, while at lower level there are Neptune's soldiers Tritons, half men and half fishes. They are accompnaied by water horses who are supposed to pull the chariot of Neptune.
वियेना, आस्ट्रियाः पानी में रहने वाले मिथिक घोड़ों की कहानियाँ स्कॉटलैंड में प्रचलित थीं जहाँ लोकनेस्स झील में रहनेवाले दानव को घोड़े की तरह बताते थे, जिसके खुर बतख जैसे होते थे और पूँछ मछली जैसी. 1780 में जब वियेना के राजमहल शॉनबरुन्न में समुद्र देवता नेपच्यून यानि वरुण का फुव्वारा बनाया गया तो उसमें ऊपर वरुण तथा समुद्र की यवनी देवी थेटिस थे, नीचे वरुण के सिपाही ट्रिटोन जो आधे पुरुष आधे मछली थे. उनके साथ वरुण का रथ खींचने वाले पानी के घोड़े थे.
Vienna, Austria: I miti dei cavalli acquatici erano popolari in Scozia dove il mostro del lago di Lochness era descritto come un cavallo con i zoccoli palmati e la coda di pesce. La fontana dedicata al dio del mare Nettuno costruita nel palazzo reale di Vienna "Schonbrunn" nel 1780, ha in cima il Nettuno con la dea del mare Teti mentre sotto vi sono i soldati di Nettuno, i tritoni, metà uomini e metà pesci. Sono accompagnati dai cavalli acquatici, i quali devono tirare la carrozza di Nettuno.
***