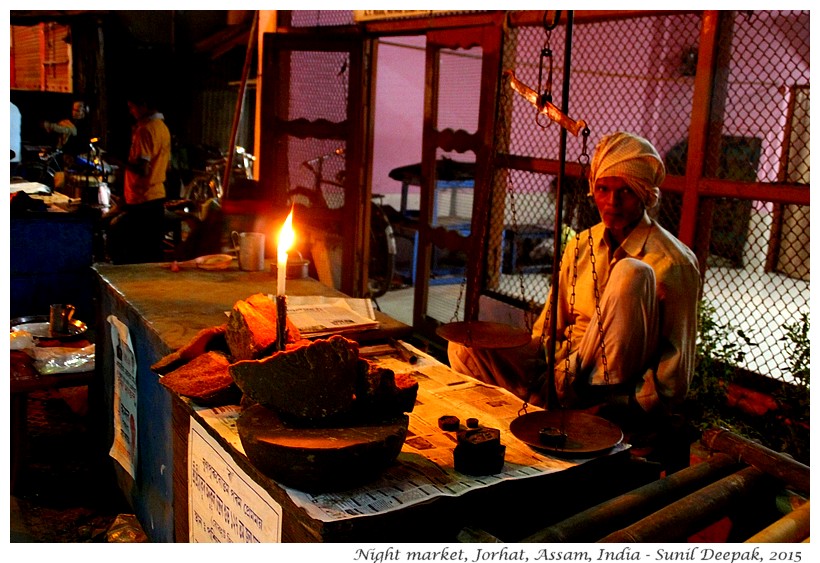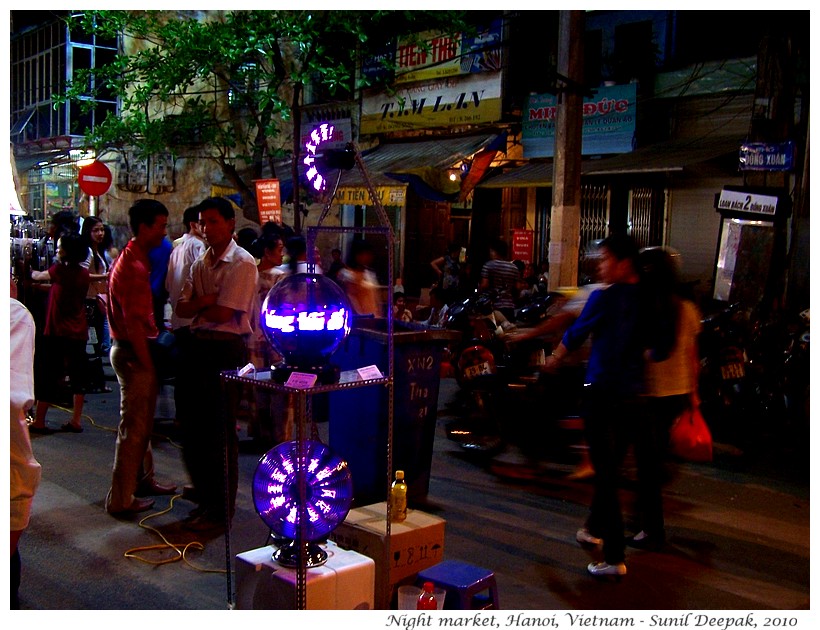 Asia: I love selecting pictures from different countries on the same theme for this blog, because it is an opportunity to go through the pictures of old journeys and remember places and people. Today's images are from 3 countries of Asia - India (Jorhat), Thailand (Bangkok) and Vietnam (Hanoi). In all the three there are men selling something in the night market and they are all looking towards the camera. The man in Jorhat seemed worried, the one in Bangkok was happy while the third one in Hanoi did not like that I was clicking pictures of special lights.
एशियाः इस ब्लाग के लिए एक विषय पर विभिन्न देशों की तस्वीरें चुनना मुझे बहुत अच्छा लगता है, क्योंकि इससे पुरानी यात्राओं की तस्वीरें देखने और भूली बातों-लोगों को याद करने का मौका मिलता है. आज की तस्वीरें एशिया के तीन देशों से हैं, भारत (जोरहाट), थाईलैंड (बैन्काक) तथा वियतनाम (हानोई). तीनों तस्वीरों में रात के बाज़ार में सामान बेचने वाले पुरुष हैं और तीनों कैमरे की ओर देख रहे हैं. जोरहाट वाला पुरुष चिन्तित लग रहा था, बैन्काक वाला खुश था जबकि हानोई वाले को बुरा लगा था कि मैंने उसकी विषेश रोशनियों की फोटो खींची थी.
Asia: Amo scegliere le foto per questo blog, sullo stesso tema ma da diversi paesi. E' un'opportunità per ripassare le vecchie foto dei viaggi e ricordare posti e persone. Le immagini di oggi sono da 3 paesi dell'Asia - India (Jorhat), Thailandia (Bangkok) e Vietnam (Hanoi). In tutte le tre, vi sono uomini che vendono qualcosa in un mercato notturno e tutti e tre stanno guardando verso la macchina fotografica. L'uomo a Jorhat sembrava preoccupato, quello a Bangkok era felice mentre quello a Hanoi non aveva gradito che scattavo le foto delle sue luci particolari.
***