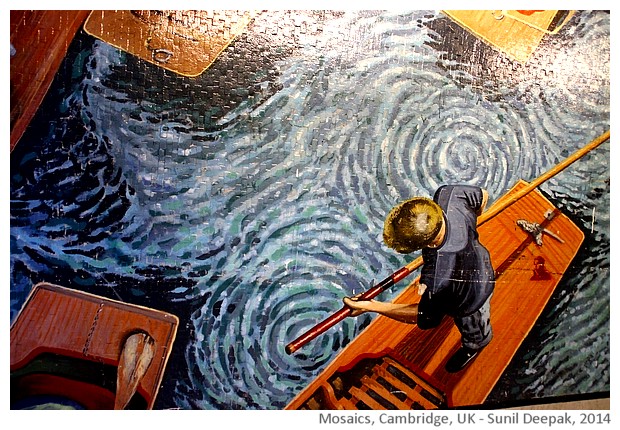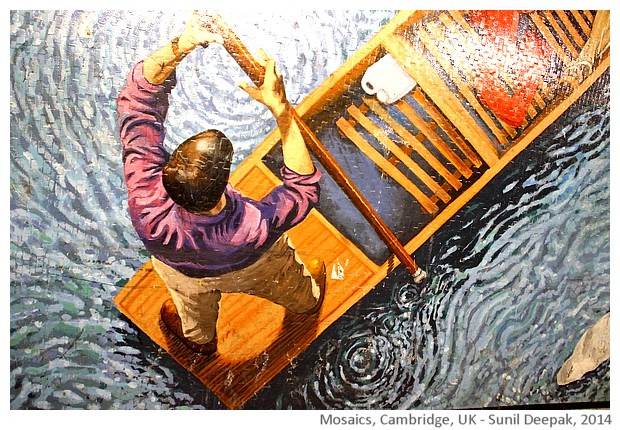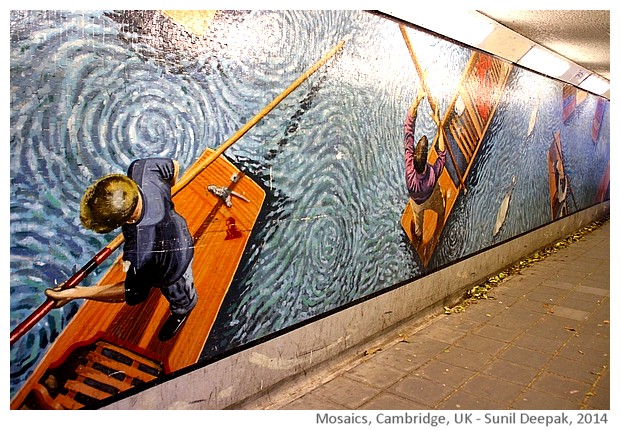 Cambridge, UK: So BJP has won. Over the last few weeks, during my travels, often persons of Indian origin and foreigners interested in India, talked about elections. These discussions had two main themes - one that only Modi government can bring development in India and the second that, Modi government will be a threat to minorities in India. Hardly anyone favoured Congress party in these discussions. With my wish that new government will work for progress of all Indians without discrimination, today's images have boats from a mosaic in an underground passage in Cambridge.
केम्ब्रिज, ब्रिटेनः भारतीय जनता पार्टी चुनाव जीती है. इन पिछले दिनों में विभिन्न जगहों पर भारतीय मूल के लोगों व भारत में दिलचस्पी लेने वाले विदेशियों से चुनाव के बारे में बात होती थी तो दो तरह की बातें होती थीं - पहली कि मोदी सरकार ही भारत में विकास ला सकती है, दूसरी कि मोदी सरकार से भारत के अल्पसंख्यकों को खतरा है - लेकिन काँग्रेस को फ़िर से मौका मिलना चाहिये, यह बात कहने वाले कम थे. नयी सरकार भारत के सभी नागरिकों को बिना भेदभाव के प्रगति और अच्छा जीवन दे, यही मेरी कामना है. आज की तस्वीरों में केम्ब्रिज से मोज़ाइक कला में नावें.
Cambridge, Gran Bretagna: Il partito BJP ha vinto le elezioni in India. Nelle ultime settimane, durante i miei spostamenti, avevo avuto molte discussioni con le persone di origine indiana e con gli stranieri interessati in India. Queste discussioni avevano due temi - il primo che solo il governo Modi potrà garantire sviluppo per l'India e il secondo, che il governo Modi sarà un pericolo per le minoranze in India - pochi auspicavano un ritorno del partito del congresso. Con l'augurio che il nuovo governo si adoperi per lo sviluppo di tutti gli indiani senza discriminazioni, le immagini di oggi sono di un mosaico da un sottopassaggio a Cambridge.
***