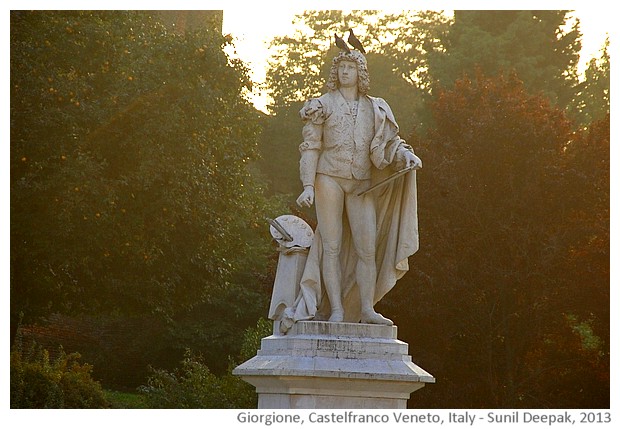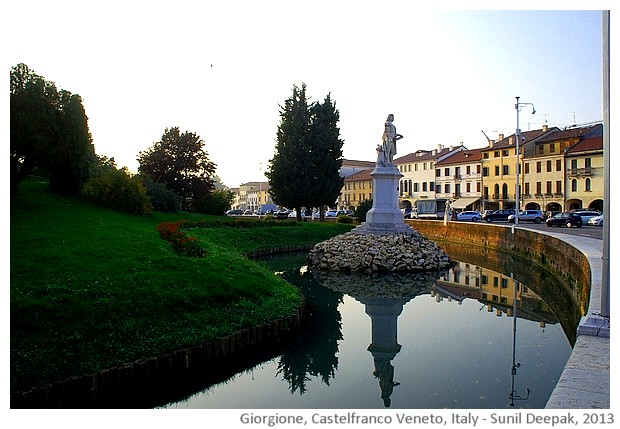 Castelfranco Veneto, Italy: Who is chosen as the favourite son by a city and given the place of honour? Often this honour is given to politicians, freedom fighters, industrialists or scientists. However, sometimes authors, painters and artists can receive this honour. This tiny town has chosen Giorgione, a famous painter from fifteenth century as their icon.
कस्तेलफ्राँको वेनेतो, इटलीः शहर अपने किस पुत्र को सबसे ऊँचा मान कर उसे सम्मान की जगह देते हैं? अधिकतर जगहों पर राजनेता, स्वतंत्रता सैनानी, उद्योगपति, वैज्ञानिकों आदि को यह मान मिलता है. कभी कभी लेखकों, चित्रकारों या कलाकारों को भी यह मान मिलता है. इस छोटे से शहर ने पँद्रहवीं शताब्दी के चित्रकार ज्योर्जोने को यह जगह दी है.
Castelfranco Veneto (TV), Italia: Quali personaggi sono scelti dalle città per i posti d'onore? Spesso si sceglie un politico, un partigiano, un industriale o uno scienziato per questo onore. Invece qualche volta l'onore tocca a autori, pittori e artisti. Questa piccola cittadina ha scelto Giorgione, il famoso pittore del quindicesimo secolo, come la sua icona.