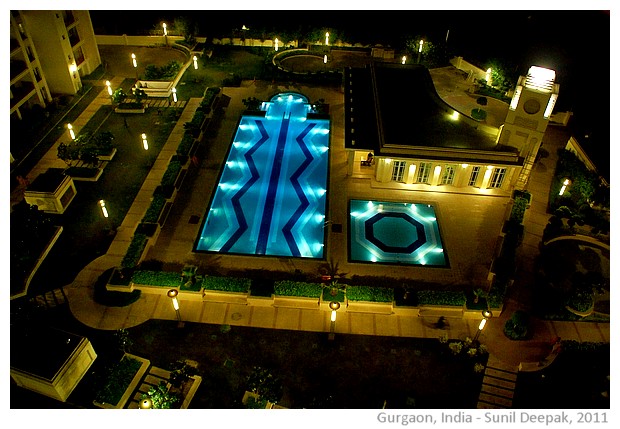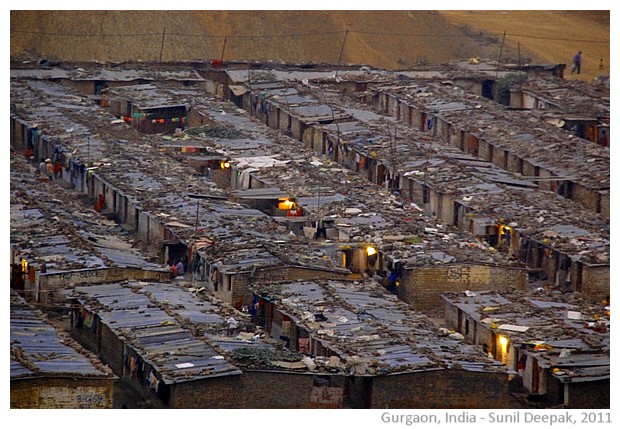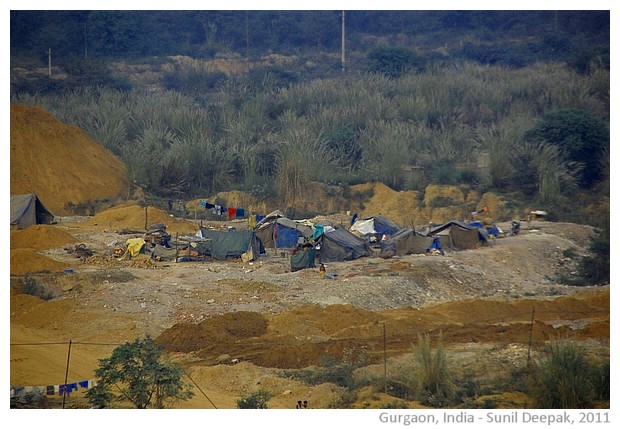 Gurgaon, Haryana, India: Standing on the tenth floor, I could see different kinds of houses and lives. I remembered discussions with friends from Brazil and Kenya. In Nairobi's Korogocho or in Vidigal in Rio, the idea of going inside made me afraid, but in the slums in India you do not fear violence, why was that? My Brazilian friend used to say that it was because Indian poor are gentler and they accept great inequalities due to their beliefs in destiny. May be that gentle temperament is changing now since every where you see walls, gates and guards.
गुड़गाँव, हरियाणा, भारतः दसवीं मँज़िल से नीचे देख रहा था तो विभिन्न तरह के घर व जीवन दिख रहे थे. ब्राज़ील व केनिया में मित्रों से हुई बहसें याद आ गयीं. नैरोबी का कोरोगोछो हो या रियो का विदिगाल, वहाँ अकेले जाने का सोच कर ही डर के मारे जान निकल जाती थी, जबकि भारत की किसी झोपड़पट्टी में उस तरह की हिँसा का खतरा नहीं महसूस होता, ऐसा क्यों? मेरी ब्राज़ीली मित्र कहती थी कि भारत के गरीब लोग स्वभाव से ही कोमल होते हैं, वह भीषण विषमताओं को भाग्य कह कर स्वीकार कर लेते हैं. शायद वह कोमल स्वभाव अब बदल रहा है क्योंकि हर जगह दीवारें, गेट और चौकीदार दिखते हैं.
Gurgaon, Haryana, India: Dal decimo piano potevo vedere i diversi tipi di abitazioni e vite. Ho pensate alle mie discussioni con gli amici Kenyotti e Brasiliani. L'idea di entrare in Korogocho a Nairobi o in Vidigal a Rio, mi faceva paura, mentre non c'è paura della violenza nelle baraccopoli indiane, perché è così? Una mia amica brasiliana diceva che è così perché i poveri indiani sono comunque persone gentili e accettano le grandi disegualianze perché credono nel destino. Ma forse quel temperamento gentile sta mutando, perché dappertutto si vedono i muri, i cancelli e le guardie.
***