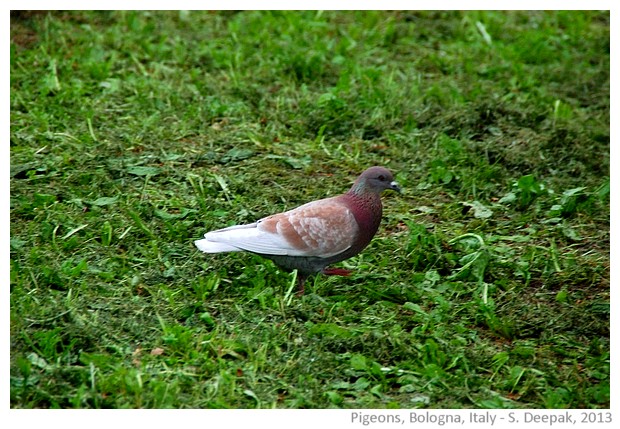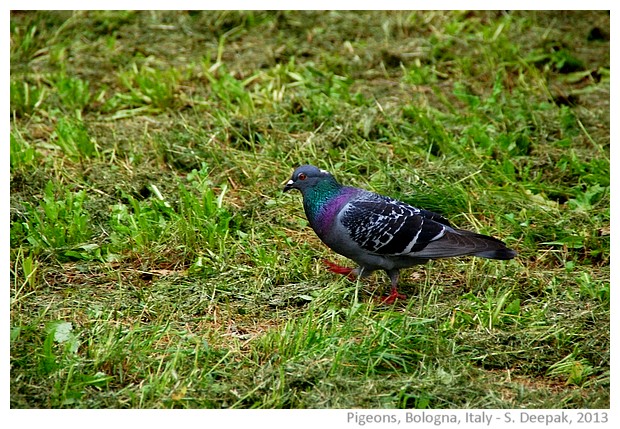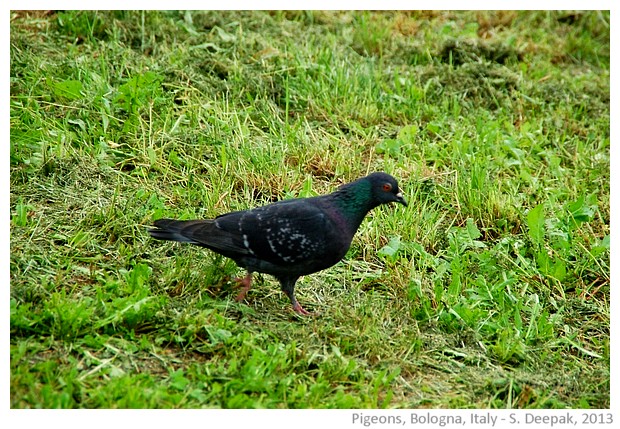 Bologna, Italy: Some days ago I had a strange experience. Our dog is very old and also blind, so he walks slowly. It was early morning and we were walking in the park, there was no one else around us. Suddenly a group of pigeons came down, landed on the path in front of us and started to look around for food. As we walked, the pigeons also walked in front of us. It continued for about 200 meters, probably it took 10 or 15 minutes. I felt as if I was a shepherd taking a herd of pigeons to eat. I thought that perhaps nature was trying to give me some kind of message. Then we reached a turn and the pigeons flew away. Has it ever happened to you when you have felt that some birds or animals have given you a strange feeling? Today's images have some pigeons from the park near our home.
बोलोनिया, इटलीः कुछ दिन पहले मुझे एक विचित्र अनुभव हुआ. हमारा कुत्ता बूढ़ा है और अँधा भी, बहुत धीरे धीरे चलता है. मैं उसके साथ सुबह सुबह बाग में सैर कहा था, आसपास कोई और नहीं था. अचानक हमारे सामने रास्ते पर एक कबूतरों का झुँड उतरा और दाना चुगने लगा. जैसे जैसे मैं और हमारा कुत्ता आगे बढ़ते, कबूतर हमारे सामने चलते जाते. ऐसा करीब करीब दो सौ मीटर तक हुआ, शायद दस पंद्रह मिनट लगे होंगे. मुझे लगा मानो मैं चरवाहा हूँ और कबूतरों को दाना खिलाने को ले जा रहा हूँ. लगा कि प्रकृति इस तरह से कुछ कहना चाहती है, कोई संदेश दे रही है. फ़िर हम एक मोड़ पर पहुँचे और कबूतर उड़ गये. क्या कभी आप के साथ ऐसा कुछ हुआ है जिससे आप को लगा हो कि प्रकृति ने, पशु या पक्षियों के माध्यम से आप को विषेश अनुभव दिया हो? आज की तस्वीरों में हमारे घर के पास के बाग से कुछ कबूतर.
Bologna, Italia: Alcuni giorni fa ho avuto un'esperienza strana. Il nostro cane è vecchio e cieco, per cui cammina molto lentamente. Era presto alla mattina e stavamo passeggiando nel parco. All'improvviso, un gruppo di piccioni si è atterrato davanti a noi e ha iniziato a cercare da mangiare. Mentre noi andavamo avanti, anche i piccioni si muovevano davanti a noi. E' continuato per circa 200 metri. Mi sembrava di essere un pastore che porta a passeggio una gregge di piccioni. Ho pensato che forse la natura voleva darmi un messaggio. Poi siamo arrivati ad una curva e i piccioni sono volati via. Vi è mai successo qualche esperienza particolare con gli animali o gli uccelli che vi ha lasciato con una strana sensazione? Le immagini di oggi hanno i piccioni dal parco vicino alla nostra casa.
***