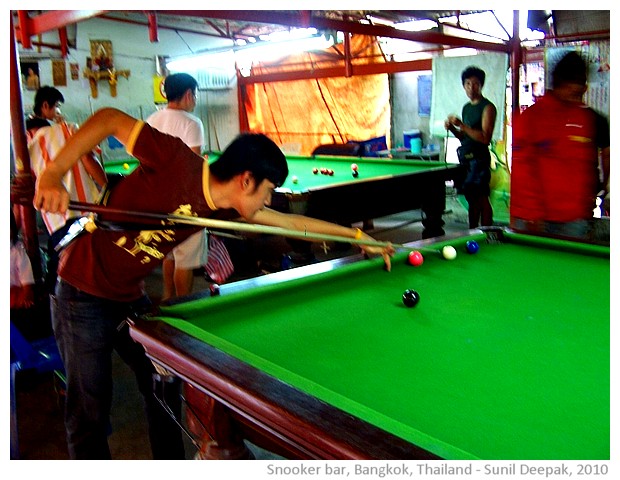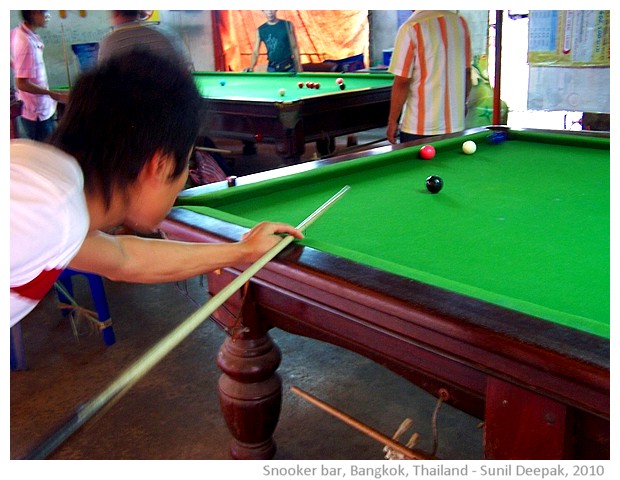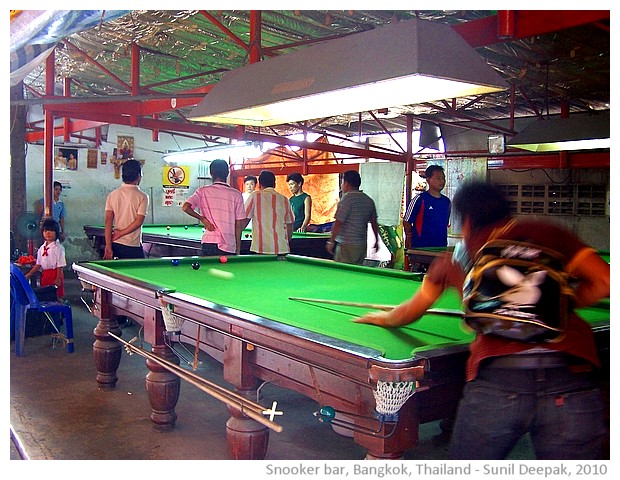 Bangkok, Thailand: In many countries I have seen young guys from ordinary or lower classes (in economic terms) playing snooker. They have their snooker bars, where you rarely see girls, but it does not happen in India. I think that snooker became popular around the world from American western films, but not in India because in India, only recently they have started dubbing American films in Indian languages. Also, in India, playing carom-board is very popular, which seems like a smaller version of snooker to me. What do you think? Today's images have a snooker bar from Bo-Bae market in Bangkok.
बैन्काक, थाईलैंडः बहुत सारे देशों में देखा है कि वहाँ के सामान्य या निम्न वर्ग के (आर्थिक दृष्टि से) नवयुवक स्नूक्कर खेलते हैं. उनके लिए स्नूक्कर बार बने होते हैं जहाँ लड़कियाँ बहुत कम दिखती हैं, जबकि भारत में ऐसा नहीं देखा. मेरे विचार में दुनिया में स्नूक्कर का प्रचार अमरीकी वेस्टर्न फ़िल्मों से हुआ, लेकिन भारत में नहीं क्योंकि भारत में अंग्रेज़ी की फ़िल्में भारतीय भाषाओं में डब करके दिखाना कुछ वर्ष पहले ही शुरु हुआ और साथ ही, भारत में कैरमबोर्ड भी बहुत प्रचलित है जोकि मुझे स्नूक्कर का ही छोटा रूप लगता है. आप का क्या विचार है? आज की तस्वीरों में बैन्काक की बोबाई मार्किट से एक स्नूक्कर बार.
Bangkok, Thailandia: In molti paesi, ho visto i giovani uomini di classe media e bassa (dal punto di vista economico) giocare snooker. Hanno degli "snooker bar", dove le ragazze si vedono raramente, ma non ho visto questi bar in India. Penso che lo snooker è diventato popolare nel mondo grazie ai film western americani, ma non in India perché è da poco che hanno cominciato a doppiare i film americani nelle lingue indiane. Inoltre, in India è molto popolare carambola, una piccola versione di snooker. Voi cosa ne dite? Nelle immagini di oggi uno snooker bar di Bangkok.
***