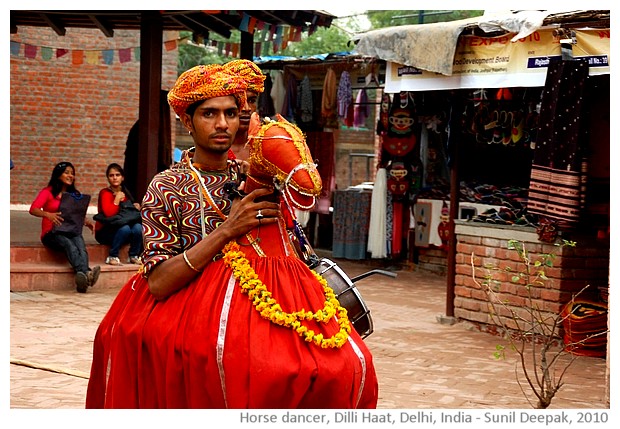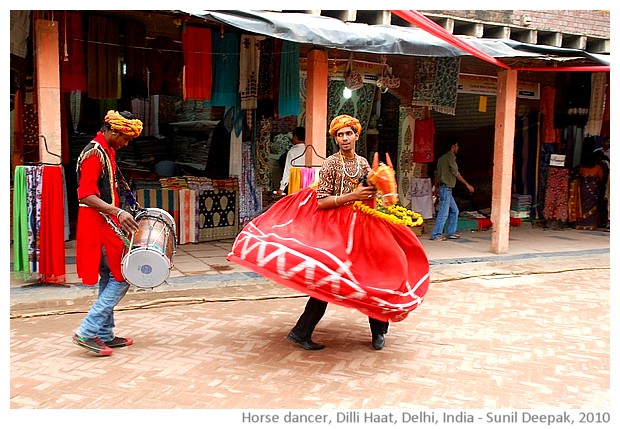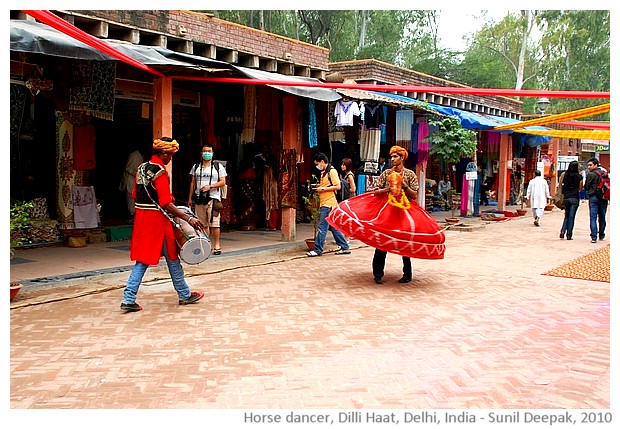 New Delhi, India: There was a time when in old Delhi, during marriages or procession of Ravi Das anniversary, you could see young boys dancing in the horse-costumes made from bamboo, paper and clothe. Their faces covered with talcum powder and colourful dots, their horses adorned with bright golden lining and colourful papers, and the boys going round and round like spinning tops! When I saw this watered-down version of that traditional dance for the tourists, I remembered those old days.
दिल्ली, भारतः एक समय था जब पुरानी दिल्ली में शादियों में या रविदास जयँती के जलूस में, बाँस, कागज़ और कपड़े के घोड़े की पौशाक में नाचने वाले लड़के होते थे. पाउडर व रंगबिरंगी बिँदियों से सजे चेहरे, चमकता सुनहरी गोटा व रंगबिरगी झालर से सजे घोड़े, और लट्टू की तरह गोलचक्कर लगाता लड़का. दिल्ली हाट में जब उस परम्परा का पर्यटकों के लिए बनाया यह फ़ीका सा रूप देखा, तो उन पुराने दिनों की याद आ गयी.
Delhi, India: C'era un tempo quando a vecchia Delhi, durante i matrimoni e nelle processioni del anniversario di Ravi Das, potevi vedere giovani maschi ballare la danza del cavallo, nei costumi fatti di bamboo, carta e stoffa. Le loro facce coperte da una polvere bianca con dei puntini colorati, i loro cavalli adornati con nastri dorati e nastri di carta multicolori, e i ragazzi che giravano in tondo come delle trottole. Quando ho visto questa versione annaquata di quella danza tradizionale, fatta per i turisti, ho pensato a quei vecchi tempi.
***