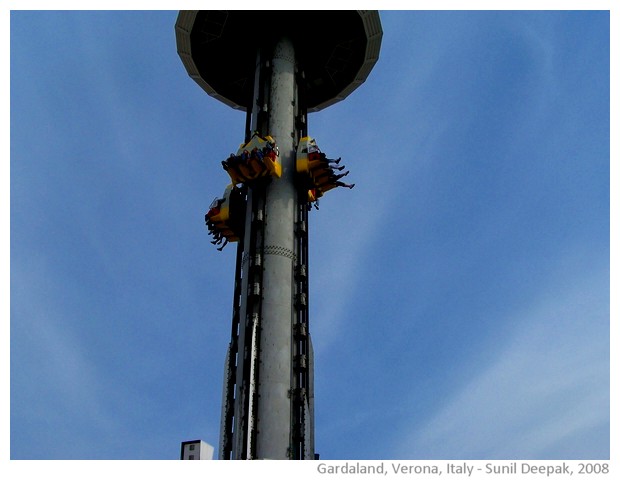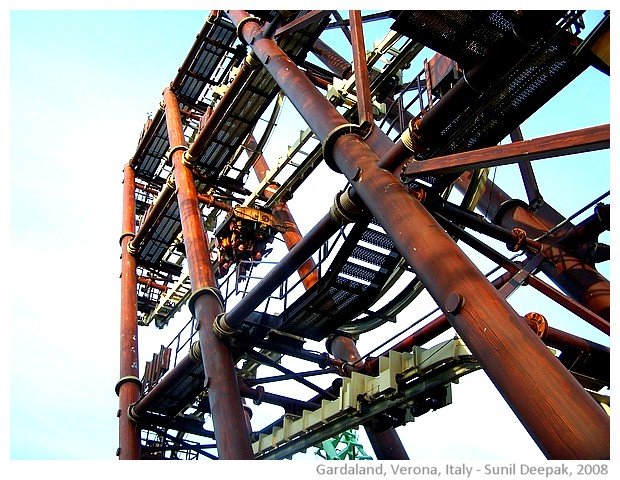 Gardaland, Verona, Italy: If someone throws you down from the seventh floor or ties you up and hangs you upside down or takes you close to a crocodile, would you call it a torture or a pleasure? For similar tortures, we buy tickets and go to amusement parks, and when due to fear our heartbeats go crazy, we feel pleasure.
गार्दालैंड, वेरोना, इटलीः अगर कोई आप को सातवीं मँज़िल से नीचे गिरा दे या आप को बाँध कर उल्टा लटका दे या आप को मगरमच्छ के मँह के पास ले जाये, तो आप उसे यातना कहेंगे या सुख? ऐसी ही यातनाओं का सुख लेने के लिए हम लोग टिकट खरीद कर एम्यूज़मैंट पार्क जाते हैं और जब डर के मारे दिल की धड़कन तेज़ भागती है तो आनन्द का अनुभव करते हैं.
Gardaland, Verona, Italia: Se qualcuno ti butta giù dal settimo piano o ti lega e appende capovolto o ti fa avvicinare alla bocca del coccodrillo, lo chiameresti una tortura o un piacere? Per simili torture, paghiamo il biglietto e andiamo al parco giochi, e quando dalla paura i nostri cuori impazziscono, gustiamo il piacere.
***