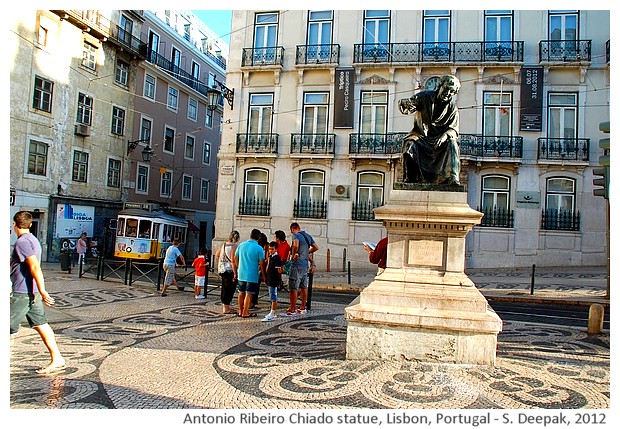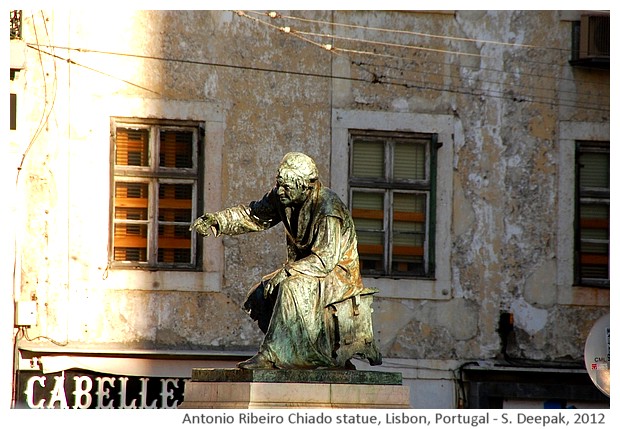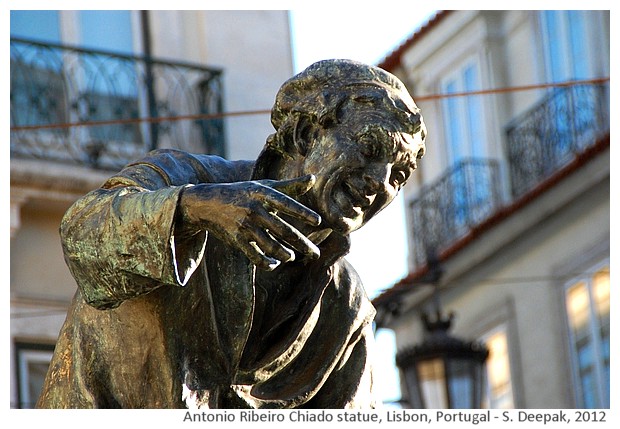 Lisbon, Portugal: Can poets also be happy? Most persons feel that to be a good poet means to be a sad person. If not sad, they are expected to write patriotic poetry. And persons who write light and happy verses, are they also poets? Today's images have the statue of Antonio Ribeiro, whom everyone called "Chiodo" because he lived in the Chiodo area of sixteenth century Lisbon and who wrote happy & joyful verses.
लिसबन, पुर्तगालः क्या कवि भी खुश हो सकते हैं? अधिकतर लोग तो यही सोचते हैं कि अच्छे कवि होने का अर्थ है उदास होना. अगर उदास कविताएँ न भी लिखें तो कम से कम देशभक्ति की कविताएँ लिख लें. लेकिन हल्की फुल्की खुशमिज़ाज़ कविता लिखने वाले भी क्या कवि होते हैं? आज की तस्वीरों में सोल्हवीं शताब्दी के लिसबन के खुशमिज़ाज़ कवि अन्तोनियो रिबेरो जिन्हें सब शियोदो के नाम से जानते थे क्योंकि वह शहर के शियोदो इलाके में रहते थे.
Lisbona, Portogallo: Anche i poeti possono essere felici? Per la maggior parte delle persone, essere un bravo poeta significa essere una persona triste. Se un poeta non scrive poesie serie, si aspettano che scrivi versi patriottici. Invece le persone che scrivono versi leggeri e gioiosi sono poeti? Le immagini di oggi hanno la statua di Antonio Ribeiro conosciuto come "Il Chiodo", che abitava nel quartiere Chiodo della Lisbona del sedicesimo secolo e che scriveva versi leggeri e gioiosi.
***