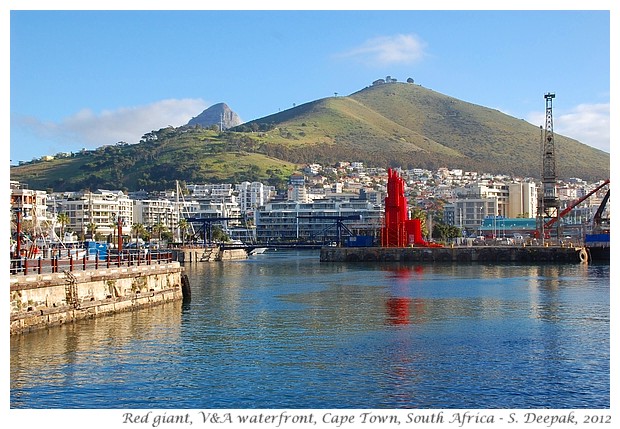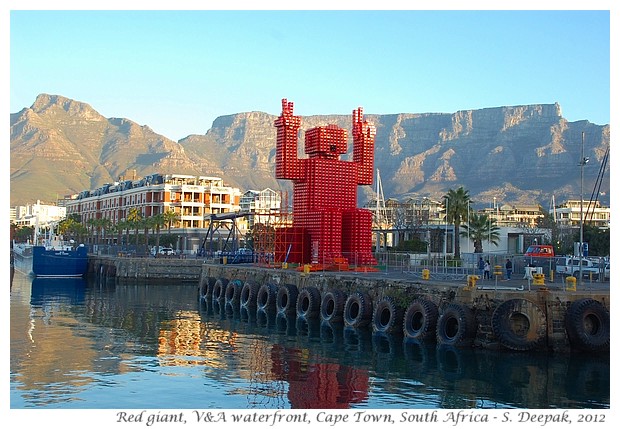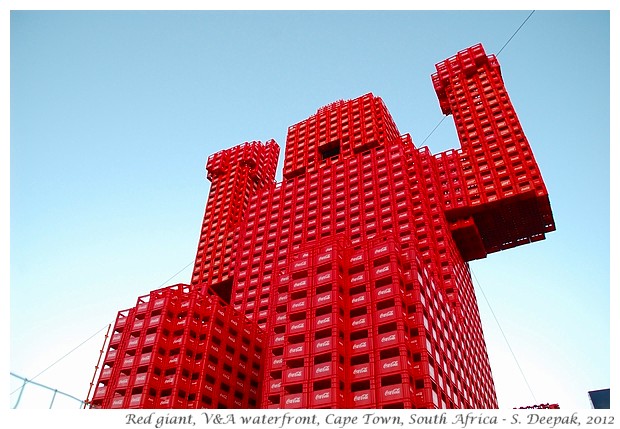 Cape Town, South Africa: At the Victoria and Alfred waterfront, the red giant can be seen from a distance. On going closer, I found that it is made of empty coke crates. I feel that companies like Coca Cola are the examples of the worst of the globalization that is destroying nature, traditional agriculture and cultures in the world. This red giant expresses the enormous advertising power of such companies.
केप टाउन, दक्षिण अफ्रीकाः विक्टोरिया एवँ एल्फ्रेड बँदरगाह पर लाल भीमकाय मानव आकृति दूर से दिखती है. पास जा कर देखा तो पाया कि इसे कोका कोला के खाली क्रेटों से बनाया गया है. मेरे विचार में कोका कोला जैसी कम्पनियाँ ही प्रकृति, पाराम्परिक कृषि और संस्कृतियों को नष्ट करने वाले भूमण्डलिकरण का चिन्ह हैं, और यह भीमकाय आकृति उनकी विज्ञापन शक्ति को दिखाता है.
Città del Capo, Sud Africa: Alla baia di Victoria e Alfred, si può vedere il gigante rosso da lontano. Quando sono andato vicino, ho visto che era costruito con i contenitori vuoti di coca cola. Penso che le compagnie come Coca Cola sono i simboli del peggio della globalizzazione che distrugge natura, agricoltura tradizionale e le culture nel mondo. Questo gigante rosso esprime l'enorme potere di pubblicità di queste compagnie.
***