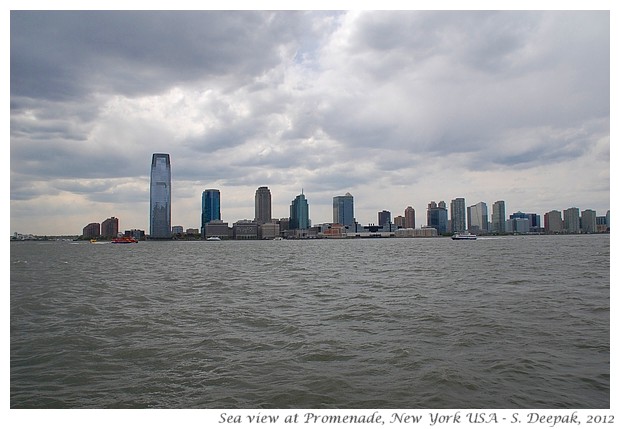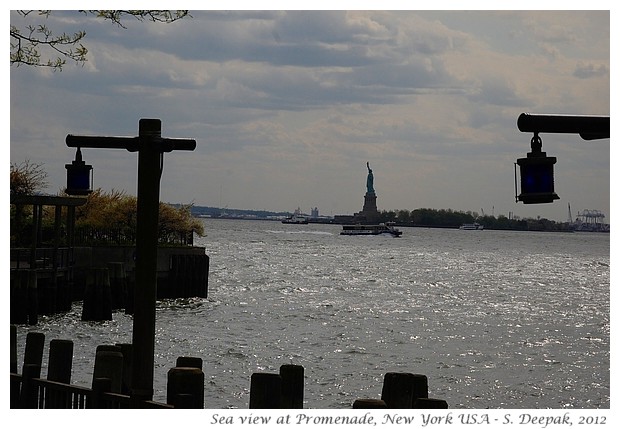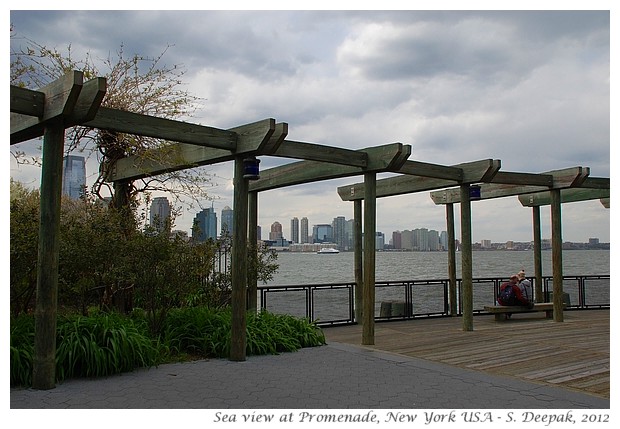 New York, USA: Like Bombay, Manhattan is also like a finger sticking out in the sea. The walking area around the tip of finger is called promenade. The day I went there, it was cloudy, windy and the sea was grey. The advantage of bad weather was that there were no crowds, there were just a few stray tourists like me.
न्यूयोर्क, अमरीकाः मेनहेटन समुद्र में उठी उँगली जैसा है, जैसे मुम्बई है. उस उँगली का कोना जहाँ समाप्त होता है, वहाँ समुद्र के साथ चलते रास्ते को प्रोमेनेड कहते है. जब उधर जाने का मौका मिला तो बादल छाये थे, हवा चल रही थी और समुद्र का रंग सलेटी था. इसका फायदा यह था कि भीड़ नहीं थी, आसपास कोई इक्का दुक्का घूमने वाला ही दिख रहा था.
Nuova York, Stati Uniti: Come Bombay, anche Manhattan è come un dito alzato nel mare. La passeggiata intorno alla punta del dito si chiama Promenade. Il giorno che l'ho visitato, era nuvoloso e c'era tanto vento, il mare era grigio. Il vantaggio del brutto tempo era che non c'era la solita folla, vi erano solo alcuni turisti come me.
***