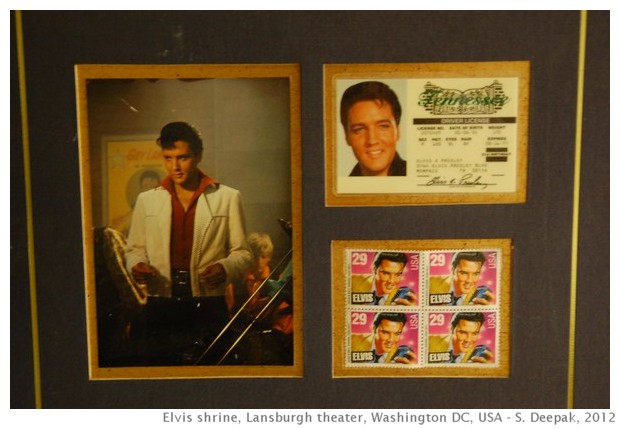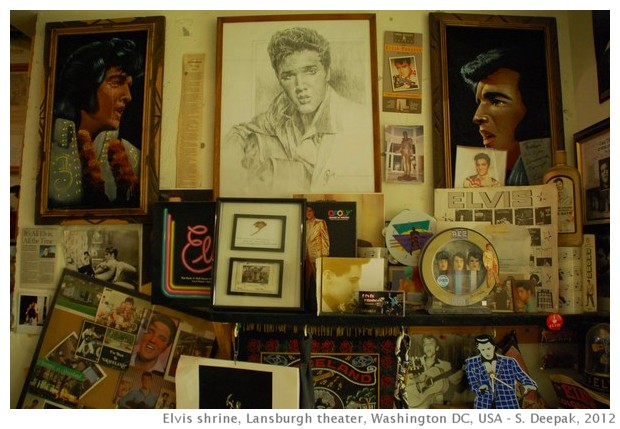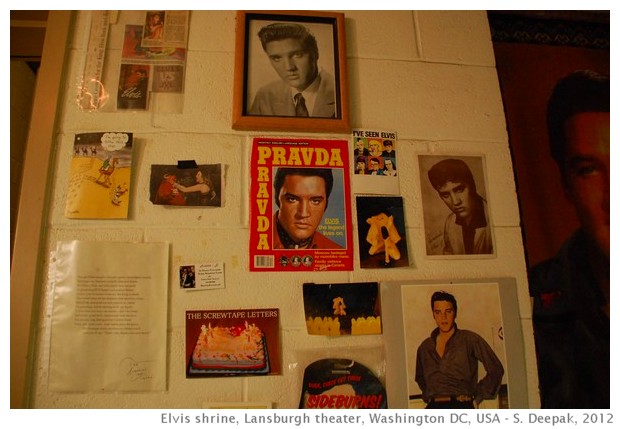 Washington, USA: Lansburgh theater is considered as one of the older and prestigious art places in the city, managed by Shakespeare Theater Company. In the theater, behind the stage, the passage connecting to the green rooms has a shrine to Elvis Presley, full of his pictures. This means that actors before they come on the stage, receive the benediction from God Elvis.
वाशिन्गटन डी.सी., अमरीकाः लैन्सबर्ग नाटकगृह को शहर के सबसे प्राचीन तथा प्रतिष्ठित कलास्थानों में गिना जाता है, जिसे शेक्सपीयर नाटक कम्पनी चलाती है. थियेटर में रंगमँच के पीछे जो रास्ता अभिनेताओं के कक्षों की ओर जाता है वहाँ एल्विस प्रेसली का मन्दिर बना है, चारों और एल्विस की तस्वीरें लगी हैं. यानि रंगमँच पर आने से पहले सभी अभिनेताओं को एल्विस भगवान का आशीर्वाद मिलता है.
Washington DC, Stati Uniti: Il teatro Lansburgh è uno dei luoghi d'arte più vecchi e prestigiosi della città, gestito dalla Shakespeare Theater company. Nel teatro, dietro il palcoscenico, il passaggio lo collega alle camerette degli attori, c'è un tempio a Elvis Presley, piena di sue foto. Ciò significa che prima di uscire sul palcoscenico, gli attori ricevono la benedizione di dio Elvis.
***