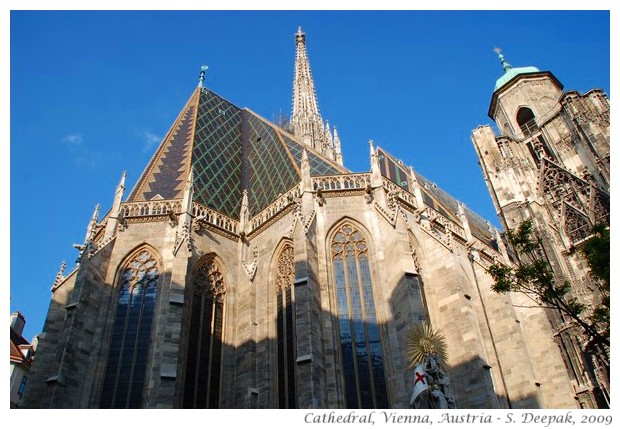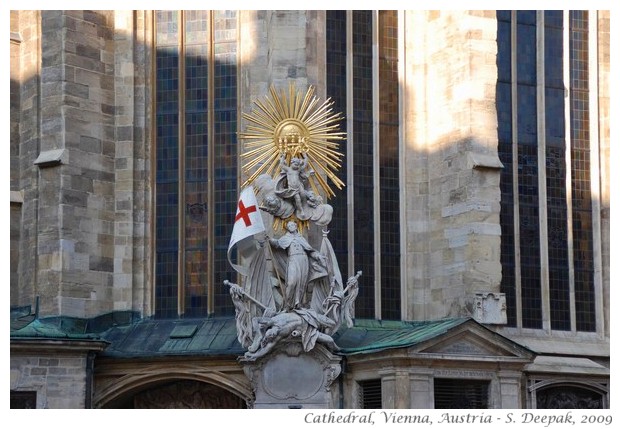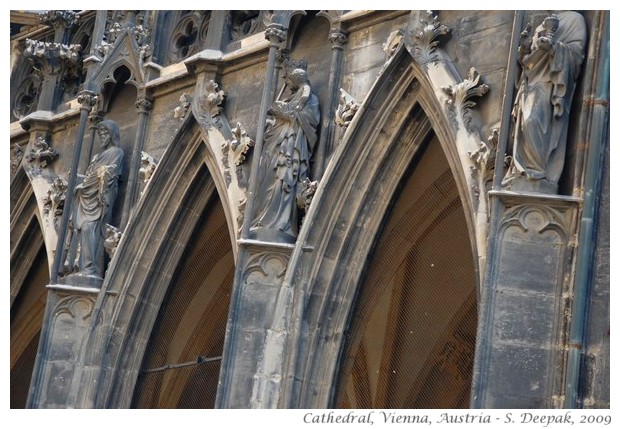 Vienna, Austria: Gothic architectural style developed in thirteenth century France. At that time, roman style of architecture was predominent with thick and heavy buildings, rounded arches and small windows. Gothic style brought a revolution. Its characteristic was buildings that seem to extend towards the sky with huge windows, pointed arches and towers. Today's images are from cathedral of Vienna, whose older twelth century parts are of roman style, while the gothic influence on the parts built after forteenth century are easy to make out.
वियेना, औस्ट्रियाः गौथिक वास्तुकला शैली का विकास तैहरवीं शताब्दी में फ्राँस में हुआ. उस समय तक यूरोप में रोमन शैली प्रचलित थी जिसमें मोटी और भारी दीवारें, गोलाई वाले द्वार और छोटी छोटी खिड़कियाँ होती थीं. गौथिक शैली ने क्राँती लायी, इसकी पहचान थी कि भवनों की हर चीज़ मानो आकाश की ओर बढ़ रही हो, बड़ी पूरी दीवार जितनी खिड़कियाँ, ऊपर की ओर नुकीले द्वार, खिड़कियाँ और मीनारें. आज की तस्वीरों में वियेना का कैथेड्रल जिसके बाहरवीं शताब्दी के बने कुछ हिस्से रोमन शैली के हैं, पर अन्य बहुत से भागों में जो चौदवीं शताब्दी में बने, गौथिक शैली का प्रभाव स्पष्ट दिखता है.
Vienna, Austria: Lo stile gotico sviluppò in Francia nel tredicesimo secolo. Fino ad allora, in Europa dominava lo stile romano con edifici grossi e solidi, archi rotondi e piccole finestre. Lo stile gotico era una rivoluzione, ogni parte degli edifici sembrava tendere verso il cielo, con enormi finestre e archi appuntiti delle porte, delle finestre e delle torri. Le immagini di oggi sono della cattedrale di Vienna, della quale, le parti vecchie costruite nel dodicesimo secolo sono in stile romano, mentre le parti costruite dopo il quattordicesimo secolo in stile gotico sono facili da individuare.
***