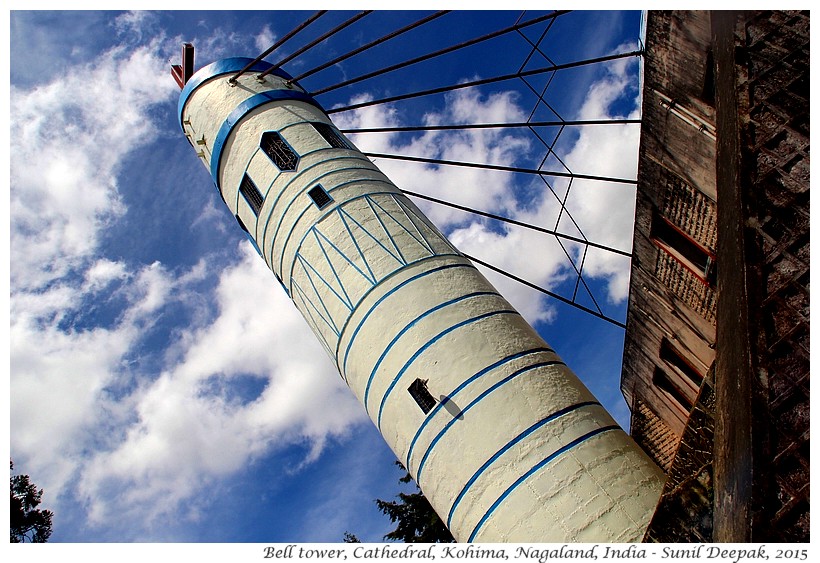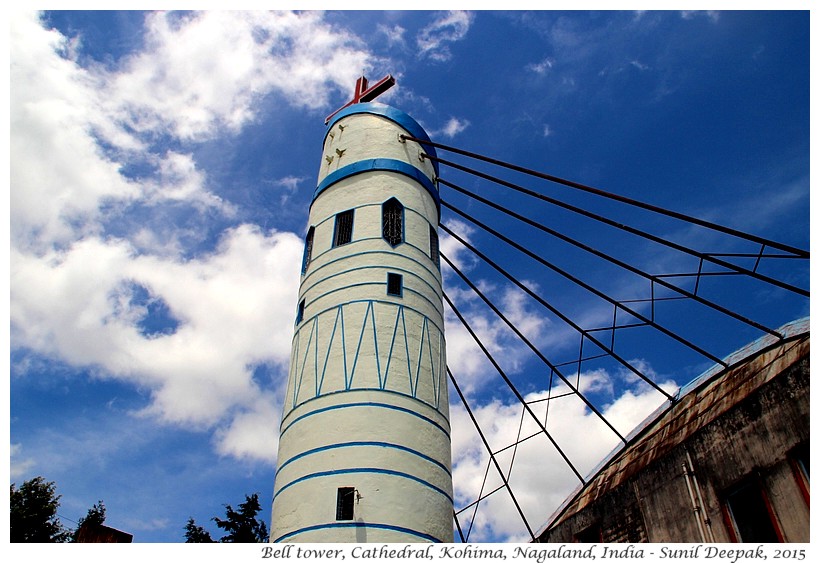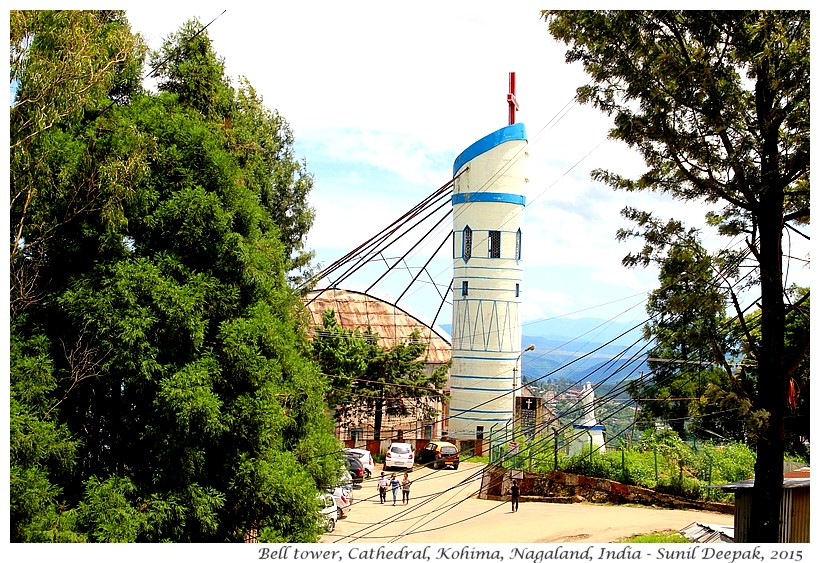 Kohima, Nagaland, India: The bell tower of the cathedral of Kohima is white with sky-blue designs. When I had seen it together with the cathedral it had reminded me of the periscope of a submarine. However looked at separately it makes me think of the fairytale tower where Barbablue had imprisoned the princess with the long hairs. The princess had put her hair out of the tower window and the prince who had come to save her, had caught them and climbed up. What does this tower makes you think of?
कोहिमा, नागालैंड, भारतः कोहिमा के कैथेड्रल के घँटाघर की मीनार सफ़ेद रंग की है जिस पर आसमानी रंग की आकृतियाँ बनी हैं. कैथेड्रल के साथ देखा था तो मुझे लगा था कि वह किसी पनडुब्बी का पेरीस्कोप है. पर ऐसे देखो तो लगता है कि यह बच्चों की कहानी वाली मीनार है जहाँ पर बारबाब्लू ने लम्बे बालों वाली राजकुमारी को कैद किया था. राजकुमारी ने अपने बाल खिड़की से बाहर फ़ैलाये थे और उसे बचाने आया राजकुमार उन बालों को पकड़ पर ऊपर चढ़ गया. आप को यह मीनार किस बात की याद कराती है?
Kohima, Nagaland, India: La torre del campanile del cattedrale di Kohima è bianca con dei disegni in azzurro. Quando l'avevo visto insieme al cattedrale, avevo pensato al periscopio di un sottomarino. Invece visto così, mi fa pensare alla torre di Barbablu delle fiabe dove lui aveva imprigionato la principessa con i capelli lunghi. La principessa aveva messo i suoi capelli fuori dalla finstra e il principe venuto a salvarla, si era aggrappato a quelli per salire sulla torre. A voi che cosa fa in venire in mente questa torre?
***