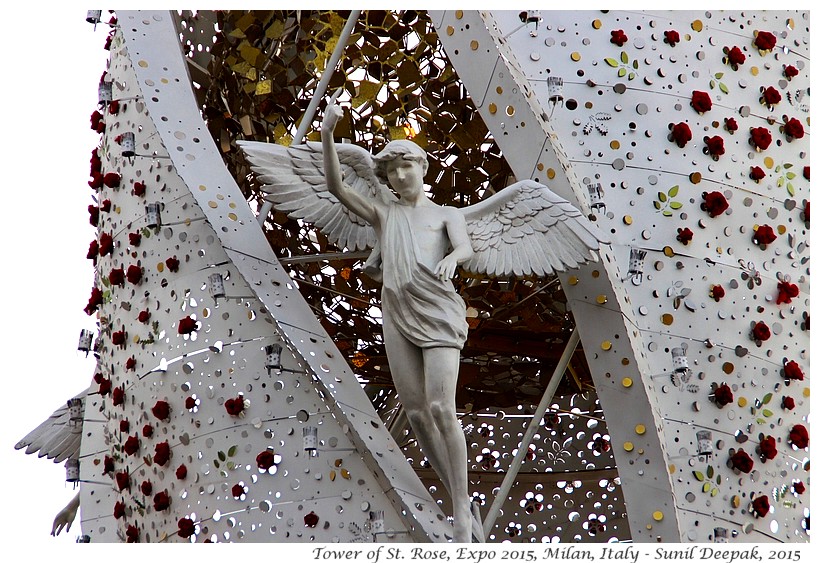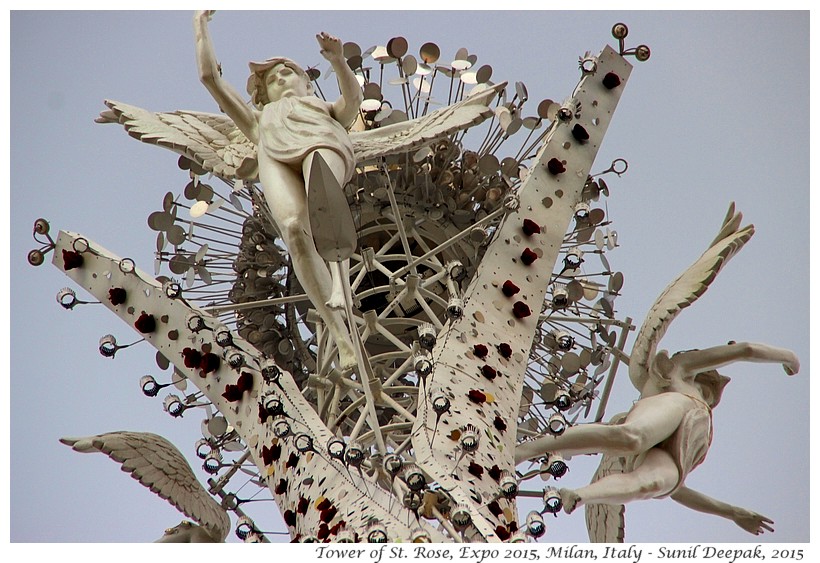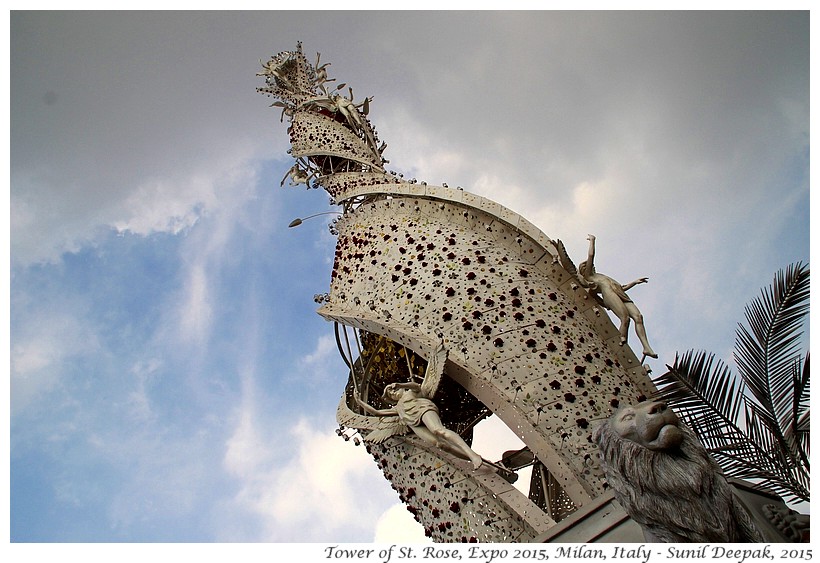 Milan, Italy:World Expo 2015 has a "Rose tower" inspired from the 750 years old tradition of Viterbo, a town situated to the south of Rome. Every September, 100 persons of Viterbo carry "the tower of St Rose", which is the 90 feet (28 metres) tall and weighs 50 tons, on their shoulders in the city streets. The tower has many angels, lions and a lot of roses. This tradition reminds me of the "Jagganath yatra" of Puri in India.
मिलान, इटलीः विश्व एक्स्पो 2015 में रोम के दक्षिण में स्थित वितेर्बो नाम के शहर की एक 750 वर्ष पुरानी प्रथा से प्रेरित "गुलाब मीनार" है. हर वर्ष सितम्बर में वितेर्बो के 100 व्यक्ति, 90 फुट उँची 50 टन की "संत रोज़ की मीनार" को कँधे पर शहर में घुमाते हैं. मीनार में देवदूत, शेर, आदि के साथ साथ बहुत सारे रोज़ (गुलाब) के फ़ूल भी लगे हैं. यह प्रथा मुझे भारत में पुरी की जगन्नाथ यात्रा जैसे लगती है.
Milano, Italia: Expo 2015 ha una "torre di Rosa" ispirato dalla tradizione di Viterbo, a sud di Roma, che dura da 750 anni. In ogni settembre, 100 persone di Viterbo, portano la torre di Santa Rosa, che è alta 28 metri e pesa 50 tonellate, sulle loro spalle nelle vie della città. Oltre agli angeli e leoni, la torre è addobata con tanti fiori di rosa. Questa tradizione mi ricorda il Jagganath Yatra a Puri in India.
***