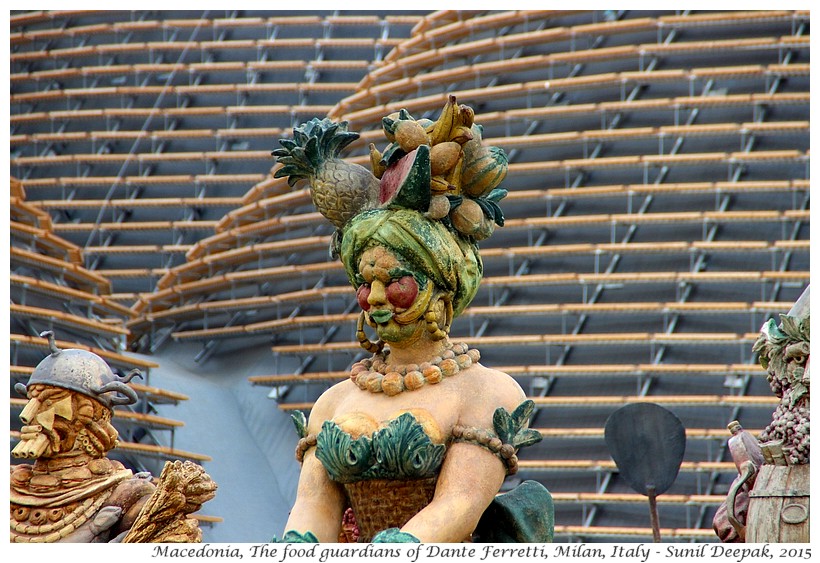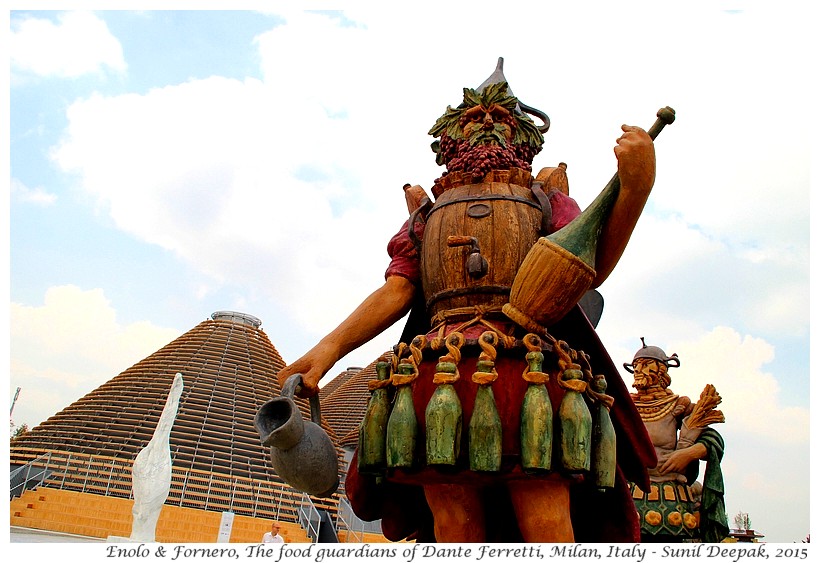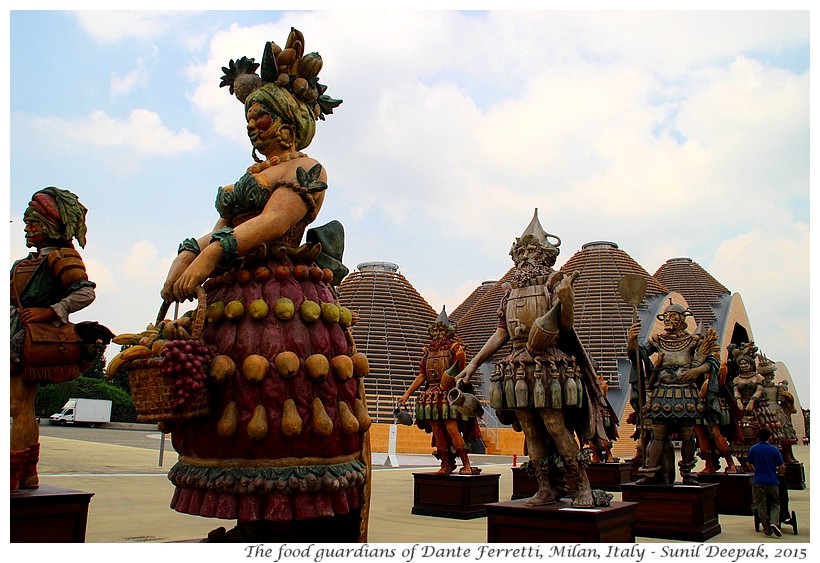 Milan, Italy: These days I am exploring art from the World Expo 2015 exhibition. Today the images are of "Guardians of food", an installation of 21 statues by Oscar winning art director Dante Ferretti. Like the 7 dwarfs of Snow White, these statues represent 7 groups of foods - Enolo (wine), Macedonia (fruits), Norcinello (poultry & meat), Fornero (bakery), Pasticcina (cakes & pastries) and Minestrello (soups). These statues welcome the visitors at the entrance gate. They are inspired from the works of 16th century Italian artist Giuseppe Arcimbaldo, known for making portraits with fruits, vegetables, fish, etc.
मिलान, इटलीः इन दिनों मैं विश्व एक्स्पो 2015 की प्रदर्शनी से विभिन्न कलाकृतियों की तस्वीरें प्रस्तुत कर रहा हूँ. इस सिलसिले में आज बारी है ऑस्कर पुरस्कार जीतने वाले कला निर्देशक दान्ते फेर्रेत्ती की कला इन्स्टालेशन "भोजन के रक्षक" की जिसमें 21 मूर्तियाँ हैं. हिमश्वेता की कहानी के 7 बौनों की तरह, इन मूर्तियों में 7 तरह के भोजनों को मानवाकृति में दिखाया गया है जो हैं एनोलो (वाईन), ओरतोलानो (सब्जियाँ), माचेदोनिया (फ़ल), नोर्चिनेल्लो (मुर्ग मसल्लम), फोरनेरो (बेकरी की रोटी), पास्तिचीना (मिठाई), तथा मिनेस्त्रेल्लो (शोरबा). यह मूर्तियाँ एकस्पो के प्रवेश द्वार पर महमानो का स्वागत करती हैं. इन मूर्तियों की प्रेरणा उन्होंने सोलहवीं शताब्दी के इतालवी चित्रकार जूसेप्पे आरचिन्बाल्दो की कलाकृतियों से ली है जोकि फ़लों सब्जियों मछली आदि से मानव चेहरे बनाने के लिए प्रसिद्ध थे.
Milano, Italia: In questi giorni sto espolrando le opere d'arte esposte al Expo 2015. L'arte di oggi è un'installazione, "Guardiani del cibo", di 21 statue del scenografo premio oscar Dante Ferretti. Come i 7 nani di Biancaneve, queste statue presentano i 7 gruppi di cibi in forma umana - Enolo, Ortolano, Macedonia, Norcinello, Fornero, Pasticcina e Minstrello. Le statue danno il benvenuto ai visitatori vicino all'entrata. Sono state ispirate dalle opere del artista del 16° secolo Giuseppe Arcimbaldo, conosciuto per i suoi ritratti con le facce composte da frutta, ortaggi, pesce, ecc.
***