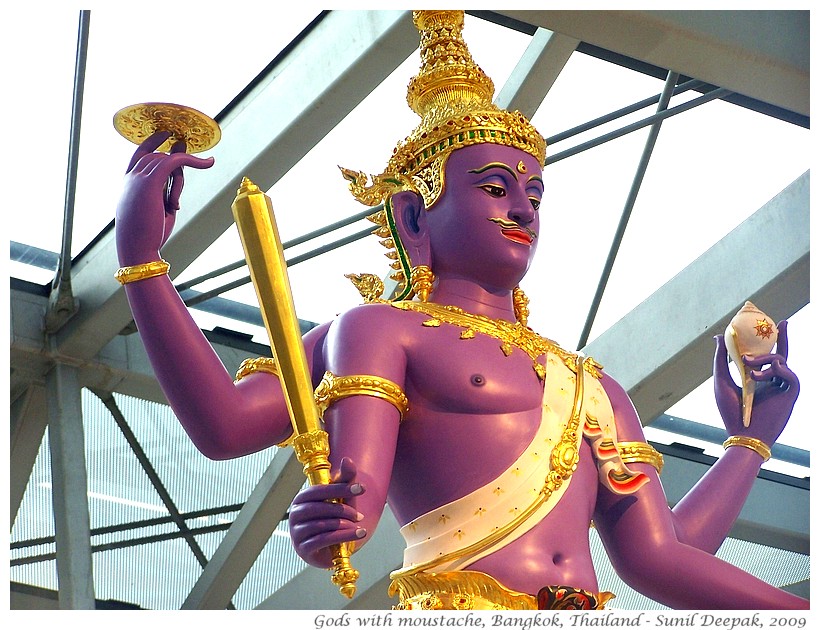 Bangkok, Thailand: When I had seen the statues of gods with moustaches for the first time, it felt a little strange. For example, in India, I had never seen Vishnu statues with moustache. I had thought that this must be only in Thailand. However, after coming to Assam (India), I have seen that even here, the statues of god Vishwakarma have moustaches.
बैंकाक, थाईलैंडः पहली बार जब मूँछों वाले भगवान या देवताओं की मूर्तियाँ देखीं तो थोड़ा अजीब सा लगा. जैसे कि पहले कभी मूँछों वाले विष्णू नहीं देखे थे. सोचता था कि यह केवल थाईलैंड में होता होगा. पर असम में आने के बाद, यहाँ भी मूँछों वाले विश्वकर्मा भगवान की मूर्तियाँ देखी हैं.
Bangkok, Thailandia: Quando avevo visto le statue di dei con i baffi, mi era sembrato un po' strano. Per esempio, in India non avevo mai visto le statue di Vishnu con i baffi. Avevo pensato che era una usanza solo thailandese. Invece quando sono venuto in Assam (India), ho visto che anche qui, le statue di dio Vishwakarma hanno i baffi.
***