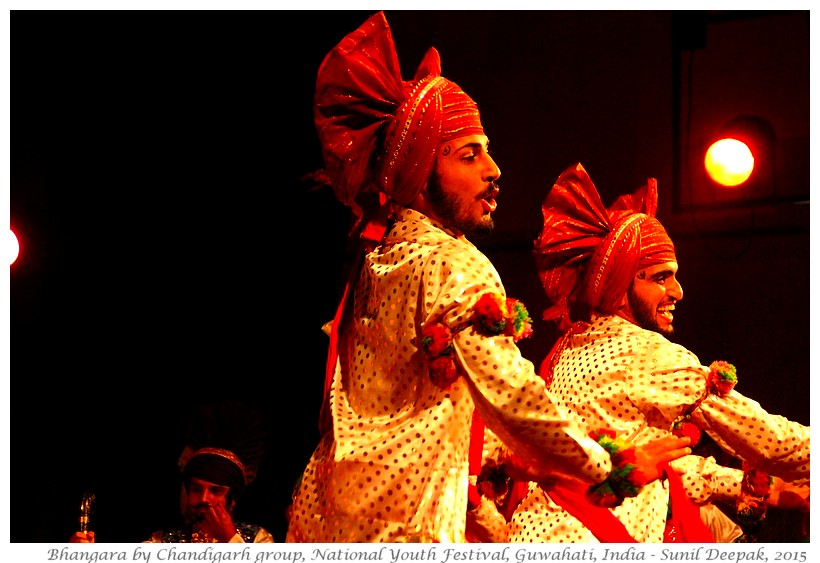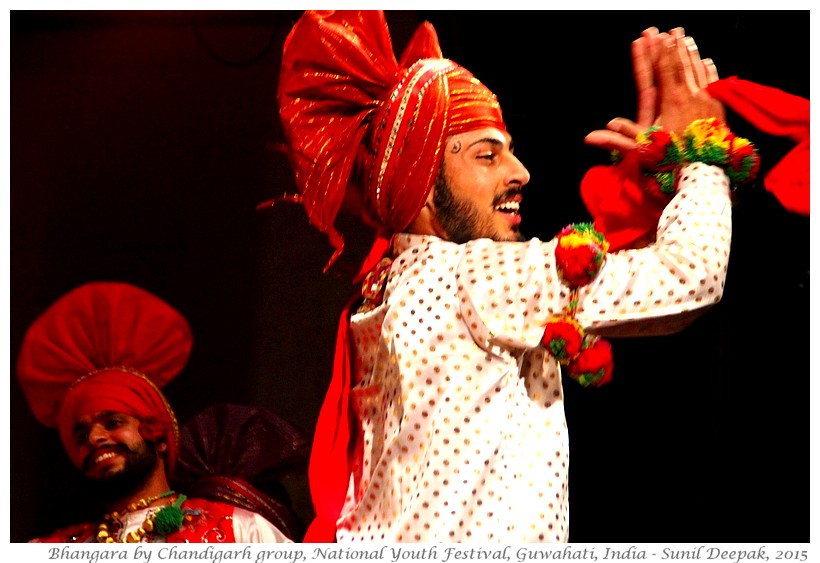 Guwahati, Assam, India: If it is Bihu in Assam, it is Lohri in Punjab, Makar Sankranti in north India, Pongal in Tamil Nadu and Ugadi in Karnataka. Thus, by different names, whole India celebrates the readiness of winter crops. In Punjab, the folk dance Bhangra is associated with this festival. The wild energy and rhythm of this dance are impossible to resist, your feet start moving by themselves. Today's images have youth from Chandigarh dancing Bhangra from the recently concluded National Youth Festival held in Guwahati.
गुवाहाटी, असम, भारतः असम में बिहू है तो पंजाब में लोहड़ी है, उत्तरी भारत में मकर संक्राँति है, तमिलनाडू में पोंगल है तो कर्णाटक में उगाडी है, यानि नाम अलग हैं लेकिन सारे भारत में फसल पकने का त्योहार है. पंजाब की लोहरी के साथ भँगड़ा लोकनृत्य जुड़ा है जिसकी मस्त ताल और ऊर्जा के सामने स्थिर खड़े रहना असम्भव है, पाँव अपने आप थिरक जाते हैं. आज की तस्वीरों में गुवाहाटी में हुए राष्ट्रीय युवा महोत्सव से चंदीगढ़ के युवा नर्तक भँगड़ा नाचते हुए.
Guwahati, Assam, India: Se in Assam c'è Bihu, in Punjab c'è Lohri, nell'India del nord c'è Makar Sankranti, nel Tamilnadu c'è Pongal e nel Karnataka c'è Ugadi. Così con diversi nomi, tutta l'India celebra il momento del raccolto invernale. In Punjab, questa festa è associata alla danza popolare Bhangra - la sua selvaggia energia e il ritmo sono impossibili da resistere, i piedi iniziano a muoversi da soli. Le immagini di oggi hanno i ragazzi dalla città di Chandigarh con la danza Bhangra nella recente Festa Nazionale dei Giovani tenutasi a Guwahati.
***