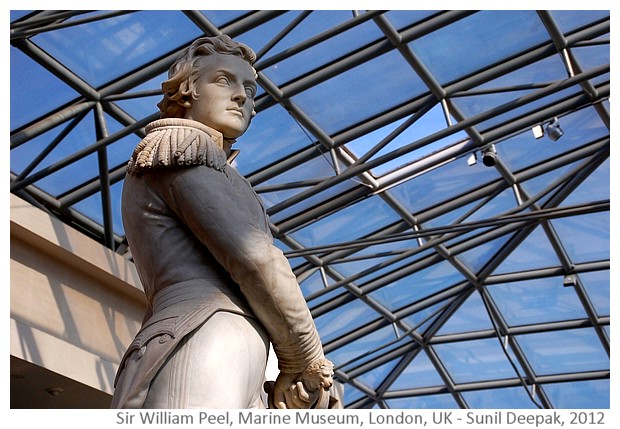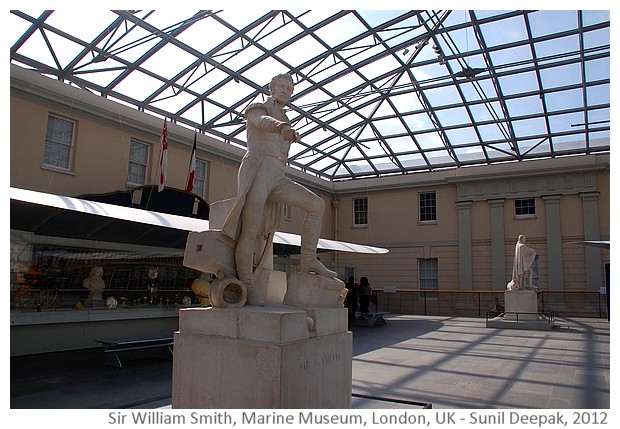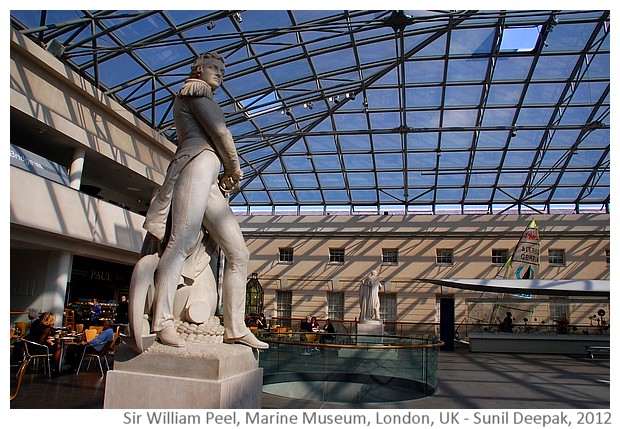 London, England: One day we won't be there, for sometime people will remember us and then the dust of time will bury our memories, so to be forgotten awaits us all. Still if by chance some forgotten name comes out of the dust of time, it feels good. I felt a connection with William Peel when I saw his statue at the Marine Histroy museum in Greenwich near London. He was injured during the Indian soldiers' rebellion in Lucknow in 1857 and some time later died due to small pox. His forgotten grave must be there some where in a cemetery of Lucknow.
लँडन, ईंग्लैंडः एक न एक दिन हम नहीं रहेंगे, कुछ समय तक कुछ लोग हमें याद रखेंगे फ़िर समय की धूल उस याद को दबा देगी, यानि भुलाया जाना हम सब की नियती है. पर जब अचानक कभी समय की धूल से उठ कर कोई भूला बिसरा नाम उभरता है तो अच्छा लगता है. लँडन के पास ग्रीनविच में समुद्री संग्रहालय में यही हुआ जब विलियम पील की मूर्ति देखी. वह 1857 की भारतीय सिपाही क्राँती में लखनऊ में घायल हुए थे और उसके कुछ दिन बाद चेचक की वजह से मरे थे. सोचा कि उनकी कब्र अवश्य लखनऊ में कहीं भूली बिसरी शायद अब भी होगी.
Londra, Inghilterra: Un giorno non ci saremmo, per un po' alcuni si ricorderanno di noi e poi il polvere del tempo nasconderà tutto, per cui ci aspetta tutti di essere dimenticati. Mi piace quando qualche nome si riaffiora dalle polveri del tempo. Ho sentito un legame con William Peel quando ho visto la sua statua nel museo della storia marina a Greenwich vicino a Londra. Lui si era ferito durante la ribellione degli soldati indiani a Lucknow nel 1857 e poco tempo dopo morì a seguito di vaiolo. Ho pensato che forse la sua tomba dimenticata da tutti potrebbe ancora esserci in qualche cimitero a Lucknow.
***