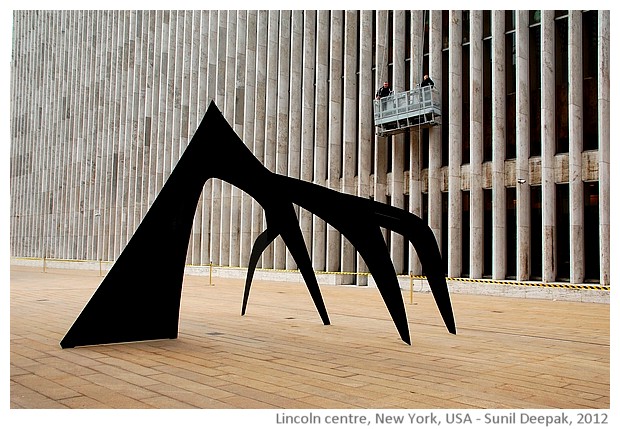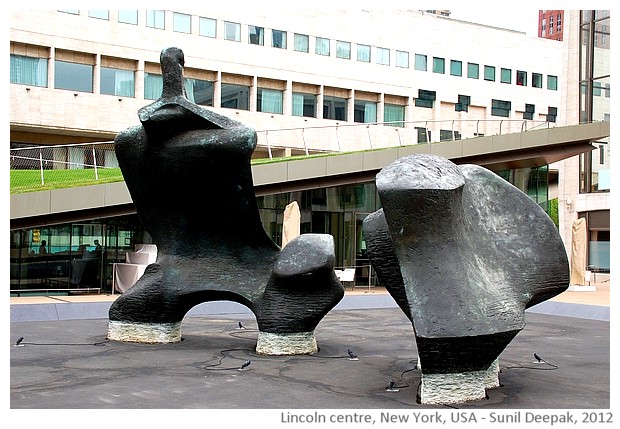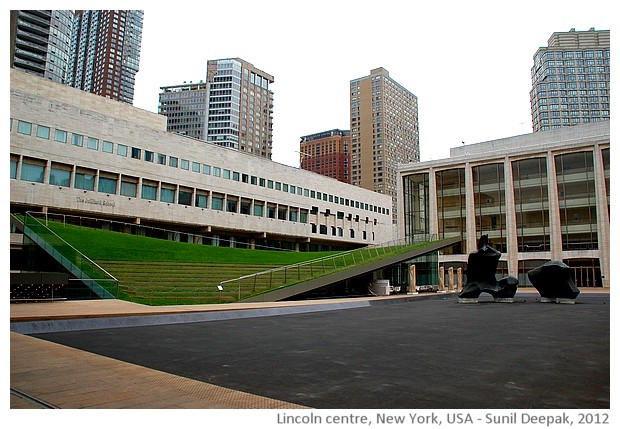 New York, USA: Famous places get a lot of tourists but most of them stop at the well known parts of those places. Lincoln centre has 29 halls where you can enjoy different performing arts such as music, dance, opera and theatre, and the most famous among these is the Met or the Metropolitan Opera House, which has been shown in many films and which had crowds of tourists clicking pictures. However other places of the building hardly had any persons. Today's images have sculptures from these less seen parts of the Lincoln centre.
न्यू योर्क, अमरीकाः प्रसिद्ध जगहों पर पर्यटक तो बहुत आते हैं लेकिन अक्सर उस जगह के जाने माने हिस्सों को देख कर ही रुक जाते हैं. लिन्कन सैंटर में 29 हाल है जहाँ संगीत, नृत्य, ऑपेरा, नाटक आदि देख सकते हैं, पर उनमें सबसे अधिक लोकप्रिय है मेट यानि मैट्रोपोलिटन ऑपेरा भवन जहाँ पर कई प्रसिद्ध फिल्मों की शूटिन्ग हुई है और जिसके बाहर फोटो खिंचवाने वाले पर्यटकों की भीड़ लगी थी, लेकिन अन्य जगहों पर लोग नहीं थे. आज की तस्वीरों में लिन्कन सैंटर के कुछ देखे जाने वाले हिस्सों से कुछ शिल्पकला.
Nuova York, Stati Uniti: I posti famosi ricevono molti turisti ma la maggior parte di loro si ferma alle parti più conosciute. Il centro Lincoln ha 29 sale dove potete assistere alla musica, danza, opera, teatro, ecc. La sala più famosa tra questi è il Met o la sala metropolitana dell'opera, dove hanno girato molti film e dove vi era una folla di turisti che scattava le foto. Mentre altri luoghi del centro avevano pochi turisti. Le immagini di oggi hanno alcune sculture da queste parti poco visitate del centro Lincoln.
***