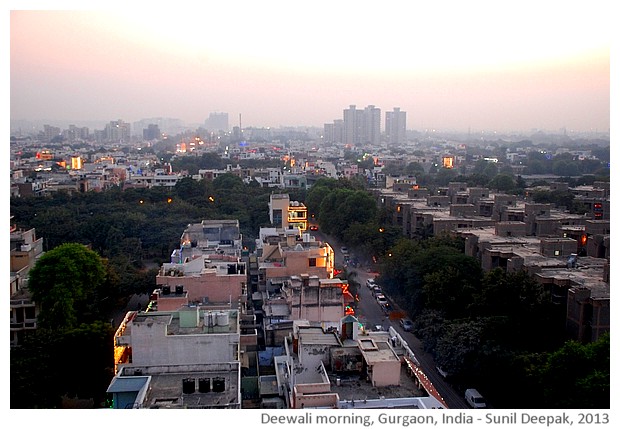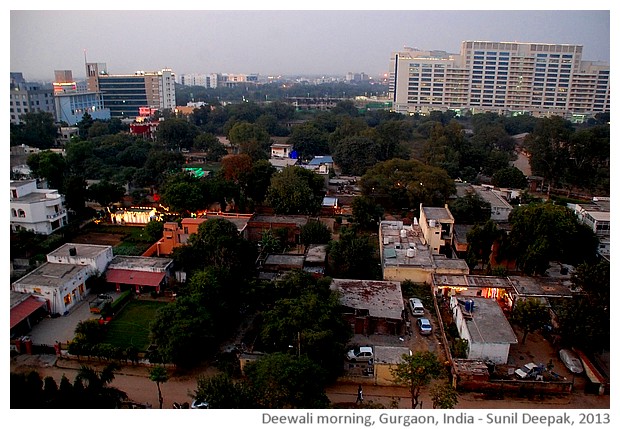 Gurgaon, India: Early morning on the Deewali day, from our balcony I could see the lights on many houses. Many persons put electric bulbs instead of candles or earthen lamps, so the deewali lights are lit many days in advance and continue to be lit for many days after the festival.
गुड़गाँव, भारतः दिवाली वाले दिन सुबह सुबह बालकनी पर गया तो बहुत से घरों में दिवाली की रोशियाँ चमक रहीं थीं. बहुत से लोग मोमबत्तियों या दियों की जगह पर बिजली के रंग बिरंगे बल्ब लगाते हैं, और दिवाली की रोशियाँ कई दिन पहले से जगमगाने लगती हैं, और त्योहार के दिन के बाद भी कई दिनों तक जगमगाती रहती हैं.
Gurgaon, India: Presto alla mattina del giorno di divali (festa della luce), ho visto dal balcone che gli addobbi di luce erano già accesi. Molte persone usano le lampade elettriche invece di candele o lampade di terracotta. Così le luci si accendono diversi giorni prima, e continuano ad essere accese per diversi giorni dopo il giorno della festa.