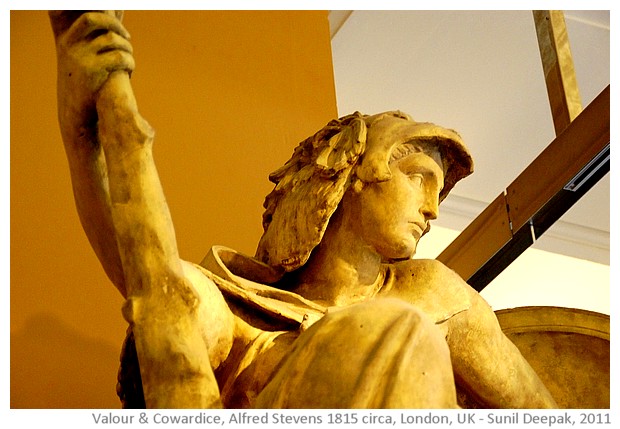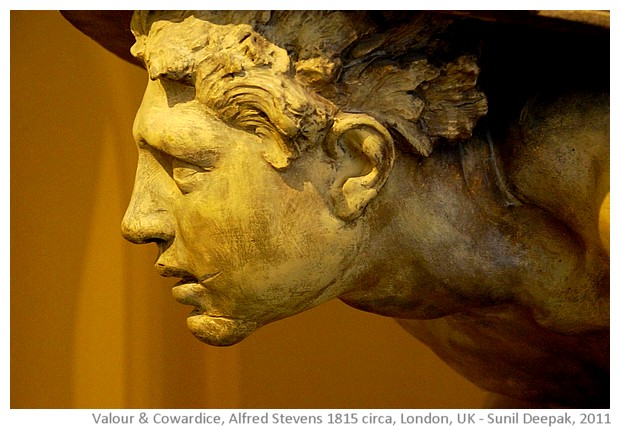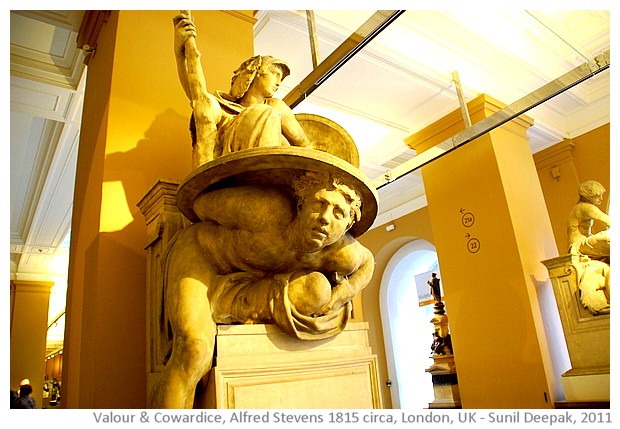 London, UK: These sculptures of Alfred Stevens are from V&A museum. Later these statues were cast in bronze for the Wellington memorial in St Paul church. They show the courage sitting on a shield and the fear hiding below. However, I don't see the expressions of courage or fear on their faces, they look like persons lost in thoughts.
लँडन, ब्रिटेनः अल्फ्रेड स्टीवन की यह मूर्तियाँ विक्टोरिया व एल्बर्ट संग्रहालय से हैं. बाद में इन्हीं मूर्तियों को ब्रोँज़ में सैंट पोल चर्च में बने वैलिनग्टन स्मारक के लिए बनाया गया था. इसमें ढाल के ऊपर साहस बैठा है और नीचे भय छुपा है. पर मुझे दोनो मूर्तियों के चेहरे के भावों में साहस या भय की भावना नहीं दिखती, बल्कि सोच में डूबे मानव दिखते हैं.
Londra, Gran Bretagna: Queste sculture di Alfred Steven sono dal museo V&A. Dopo, queste stesse statue erano state costruite in bronzo per il memoriale di Wellington presso la chiesa di St Paul. Mostrano il coraggio seduto sullo scudo mentre la paura si nasconde sotto. Invece non vedo le espressioni di coraggio o paura sulle loro facce, vedo persone pensierose.
***