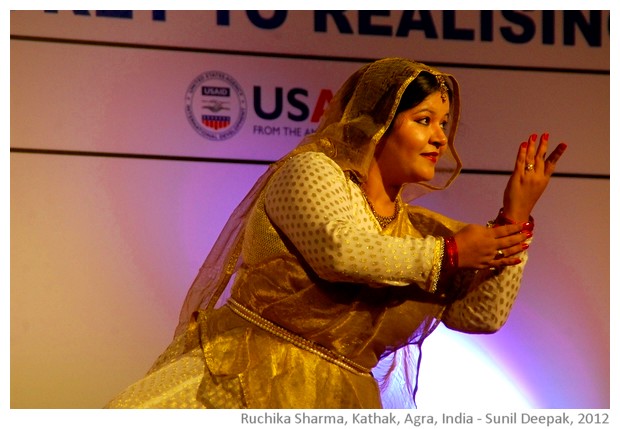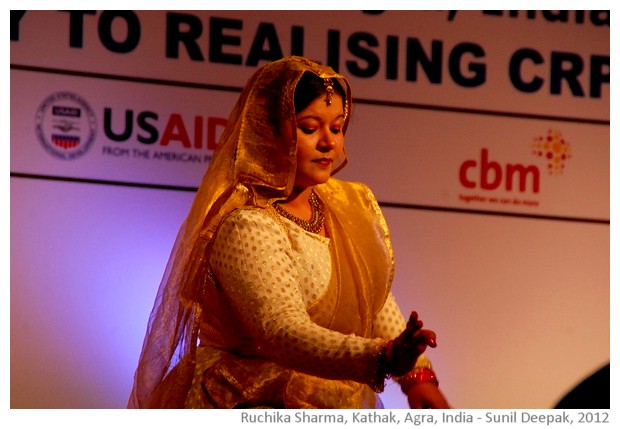 Agra, India: Kathak dance is characterized by complex foot movements and the capacity to express emotions through the face and gestures. Today's images have gestures from the kathak recital of Ruchika Sharma - which emotions does she express in these images?
आगरा, भारतः कत्थक नृत्य में एक ओर है पैरों को चलाने की दक्षता और दूसरी ओर है चेहरे व हाथों की मुद्राओं से भावों का प्रदर्शन. आज की तस्वीरों में रुचिका शर्मा के कत्थक नृत्य की मुद्राएँ - इनमें कौन से भाव दर्शा रही हैं वह?
Agra, India: La danza kathak è caratterizzata da complessi movimenti dei piedi e la capacità di esprimere emozioni dalla faccia e dai gesti delle mani. Le immagini di oggi presentano alcuni gesti dalla performance di danza kathak di Ruchika Sharma - quali emozioni esprimono i suoi gesti in queste immagini?
***