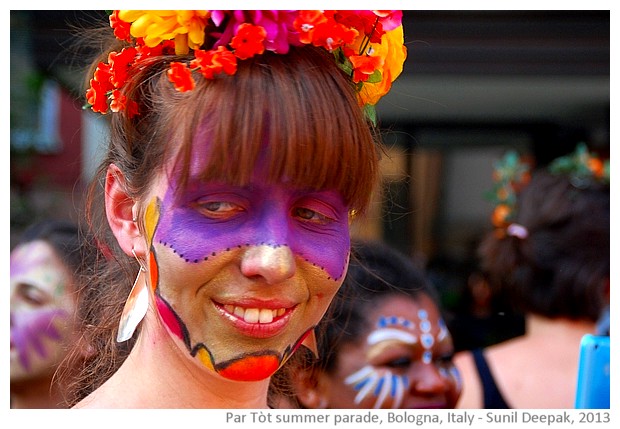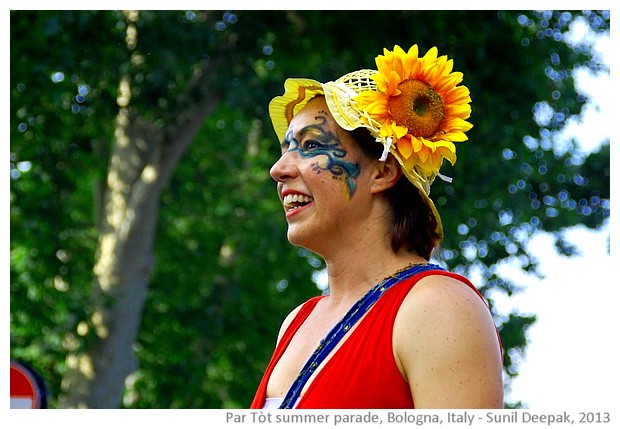 Bologna, Italy: Every time that I open the folder of the pictures from the summer festival parade, I relive the joy of that day and forget that I have so many other things to do. Today I have selected three images from that parade, whose theme is "smiling beautiful women with painted faces".
बोलोनिया, इटलीः जब भी ग्रीष्म ऋतु समारोह की तस्वीरें चुनने के लिए उसका फोल्डर खोलता हूँ, उस दिन की यादें ताज़ा हो जाती हैं, भूल जाता हूँ कि और भी काम करने हैं. आज उन्हीं से तीन तस्वीरें प्रस्तुत हैं जिनका विषय है "मुस्कराती चित्रित चेहरे वाली सुन्दर युवतियाँ".
Bologna, Italia: Ogni volta che apro la cartella con le foto della parata Par Tot, rivivo la gioia di quel giorno e dimentico che ho tante altre cose da fare. Oggi ho scelto tre foto da quella parata sul tema "belle ragazze sorridenti con le facce dipinte".
***