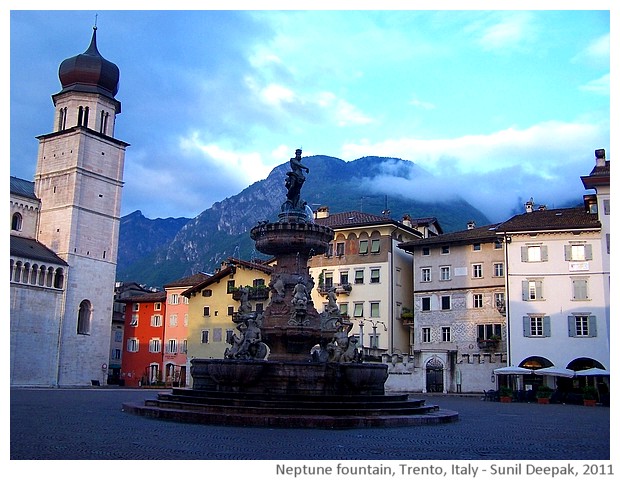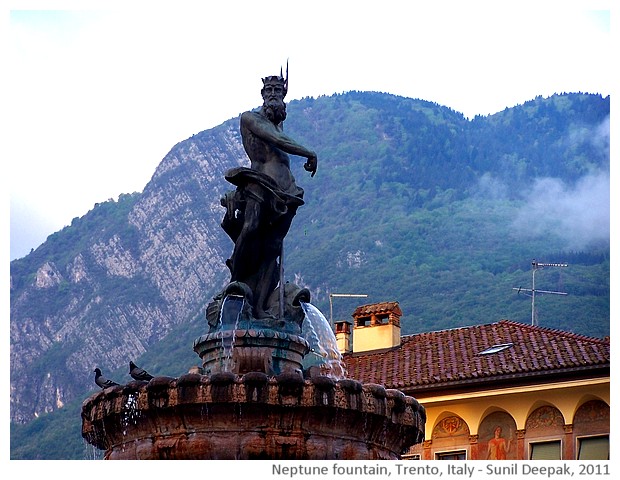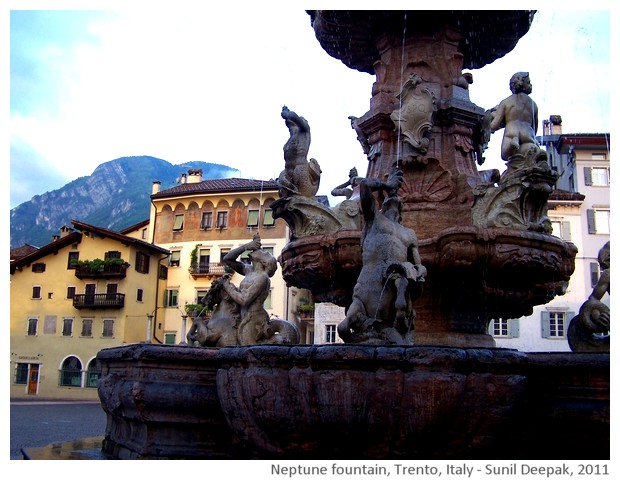 Trento, Italy: Neptune of the Greeks and Varun in India, both were sea gods. In Rigveda, Varun's name is mentioned always together with Mitr, but in India, I have never heard of a god called Mitr. However, ancient Rome had temples of Mitra, who was god of the warriors and bulls were sacrificed to him. Maybe some scholar can tell if the Persian sacred books Ahura-Avesta say anything about Varun and Mitr? Today's images have a fountain of Neptune, the sea god.
त्रेन्तो, इटलीः यवन देश के नेप्चयून और भारत में वरुण, दोनो को समुद्र का देवता मानते थे. ऋगवेद में वरुण का नाम हमेशा मित्र के साथ जुड़ कर आता है पर भारत में कभी मित्र देवता की बात नहीं सुनी. जबकि प्राचीन रोम में मित्रा देवता के मन्दिर थे, जिन्हें यौद्धाओं का देवता माना जाता था और जिन्हें साँड की बलि चढ़ायी जाती थी. शायद कोई ज्ञानी ही बता सकता है कि प्राचीन फारसी धर्मग्रंथ अहरू-अवस्त में क्या वरुण तथा मित्र की बात होती है? आज की तस्वीरों में नेप्चयून यानि समुद्र देवता का फुव्वहारा.
Trento, Italia: Nettuno dei grechi e Varun degli indiani, erano entrambi dei del mare. In Rigveda, il nome di Varun è sempre associato a quello di Mitr, ma in India, non ho mai sentito parlato di un dio Mitr. Dall'altra parte, antichi romani avevano il culto di Mitra, considerato il dio dei guerrieri e al quale si sacrificavano i tori. Forse qualche studioso può dire se gli antichi testi sacri persiani Ahura-Avesta parlavano di Varun e Mitr? Le immagini di oggi sono della fontana di Nettuno, il dio del mare.
***