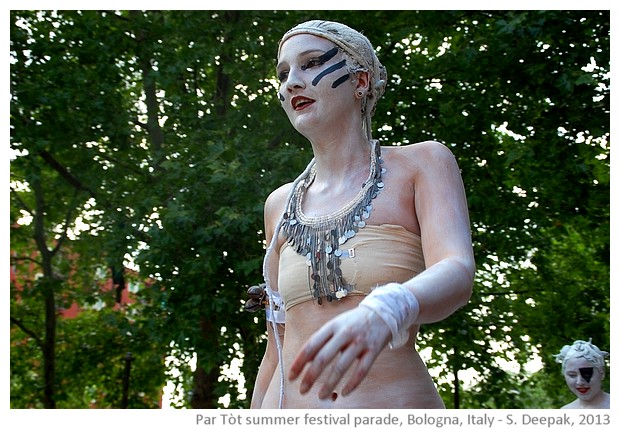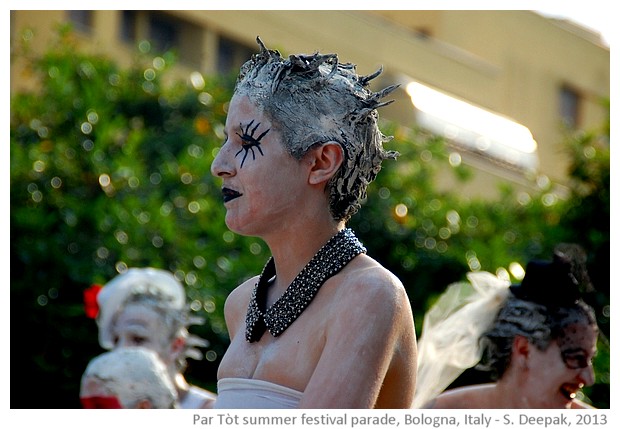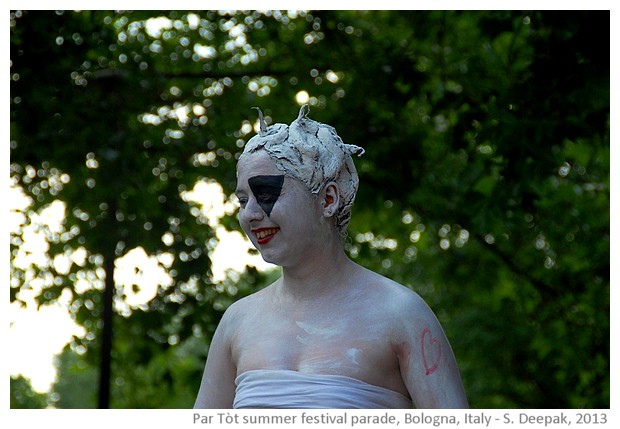 Bologna, Italy: When I saw the stilt dancers covered with white colour, I thought of Shiva's followers. In the Hindu mythology, Shiva's followers are described as "covered with ash, matted hair, look like ghosts". Today's images have women stilt dancers covered in white from the Par Tòt summer festival parade.
बोलोनिया, इटलीः सफ़ेद रंग में पुते लकड़ी के खम्बों पर चलने वाले नर्तकों को देख कर मन में "शिव के भक्त" का नाम आया. शिव के भक्तों का वर्णन कुछ इसी तरह का होता है "शरीर पर राख लगाये, बालों की जटाएँ बनाये, भूतों जैसे". आज की तस्वीरों में सफेद रंग में डूबी नर्तकियाँ, ग्रीष्म ऋतु समारोह की पारतोत परेड से.
Bologna, Italia: Quando ho visto i danzatori sui trampolini coperti di bianco, ho pensato agli seguaci di Shiva. Nella mitologia indiana, i seguaci del dio Shiva sono descritti come "coperti di ceneri, i capelli come una matassa, sembrano dei fantasmi". Le immagini di oggi hanno le giovani trampoliniste coperte di bianco, dalla parata Par Tòt di Bologna.
***