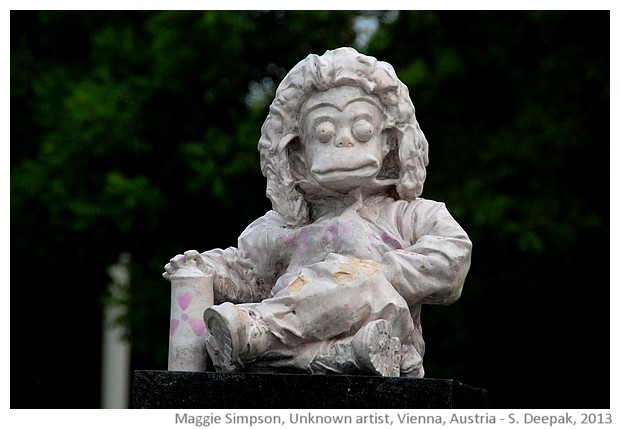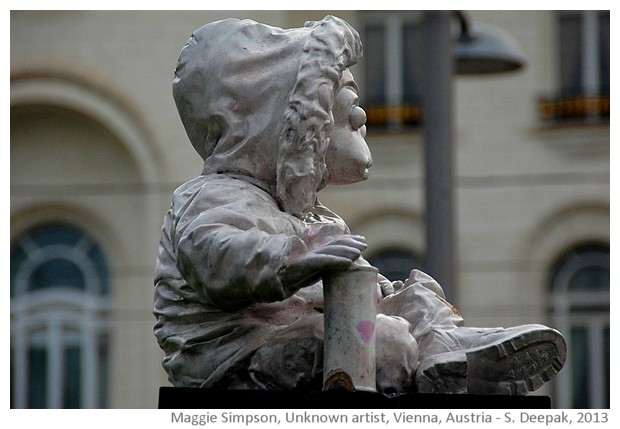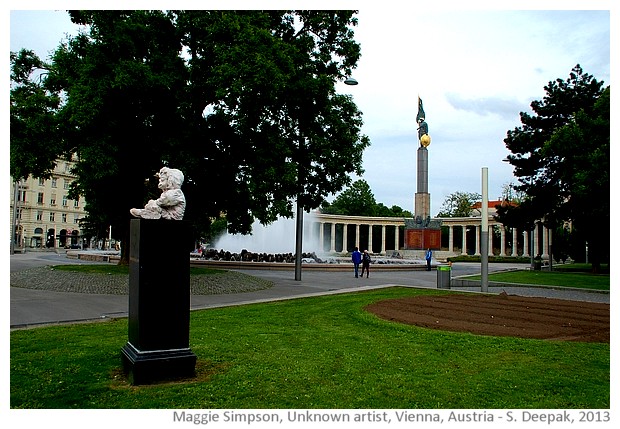 Vienna, Austria: I have never watched an episode of "The Simpsons", but I know all the characters of this TV serial, and that is an indicator of its popularity. In Vienna, as soon as I saw this title-less sculpture, and it says that its artist is unknown, still I recognized Maggie Simpson.
वियेना, ओस्ट्रियाः मैंने "द सिम्पसन" नाम की कार्टून फ़िल्म को कभी नहीं देखा, लेकिन उसके सभी पात्रों को पहचानता हूँ और यही उसकी लोकप्रियता की निशानी है. वियेना में जैसे ही यह बेनाम कलाकृति देखी, जिसपर लिखा है कि इसे बनाने वाले कलाकार का नाम ज्ञात नहीं है, तो भी मेगी सिम्पसन को तुरंत पहचान लिया.
Vienna, Austria: Non ho mai guardato un episodio di "I Simpsons", ma conosco i suoi personaggi e ciò è un indicatore della popolarità di questo telefilm. A Vienna, appena ho visto questa scultura senza un titolo, sul quale è scritto che il suo artista è sconosciuto, ho subito riconosciuto Maggie Simpson.
***