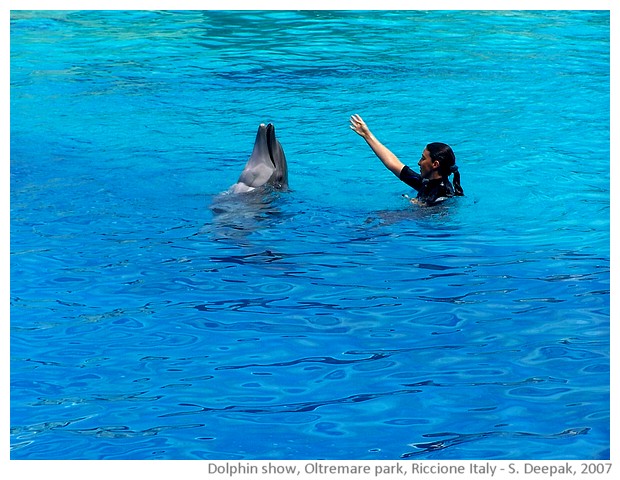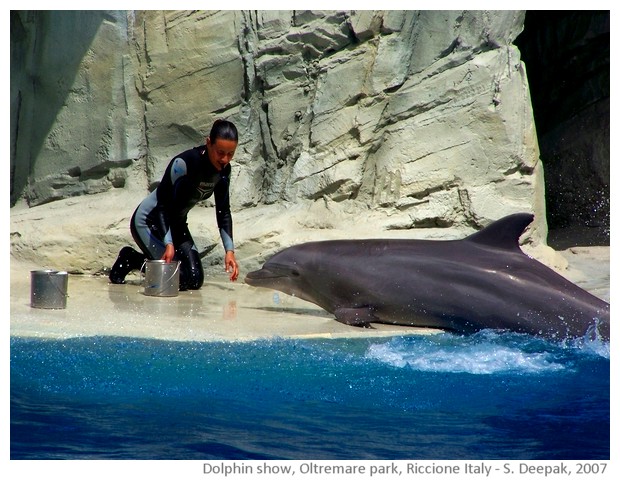 Riccione, Italy: I have seen dolhin shows many times and in different countries. However, the show that I had seen in the Oltremare amusement park in the seaside holiday town of Riccione, was the best. Today's images are from that show.
रिच्चोने, इटलीः मैंने सूँस यानि डोलफिन के शो कई बार और कई देशों में देखे हैं पर एक शो कुछ साल पहले एडरियाटिक सागर पर बसे शहर रिच्चोने में बने ओल्त्रेमारे नाम के एम्यूमैंट पार्क में देखा था, वह सबसे अच्छा लगा था. आज की तस्वीरें वहीं से हैं.
Riccione, Italia: Ho visto gli spettacoli di delfini molto volte e in diversi paesi. Comunque, lo spettacolo che avevo visto alcuni anni fa al parco Oltremare di Riccione, era il migliore. Le immagini di oggi sono da quello spettacolo.
***