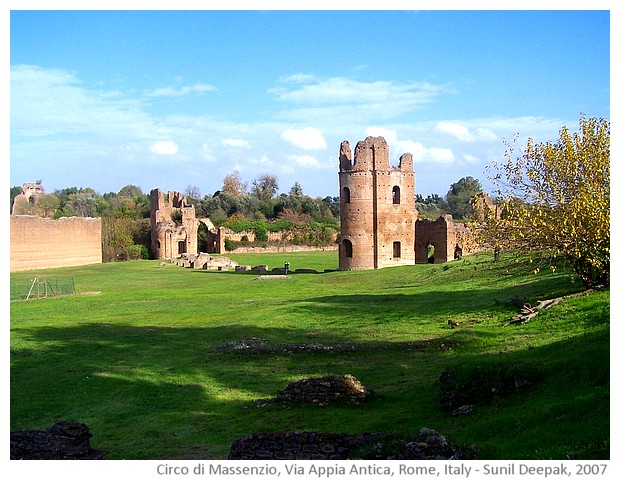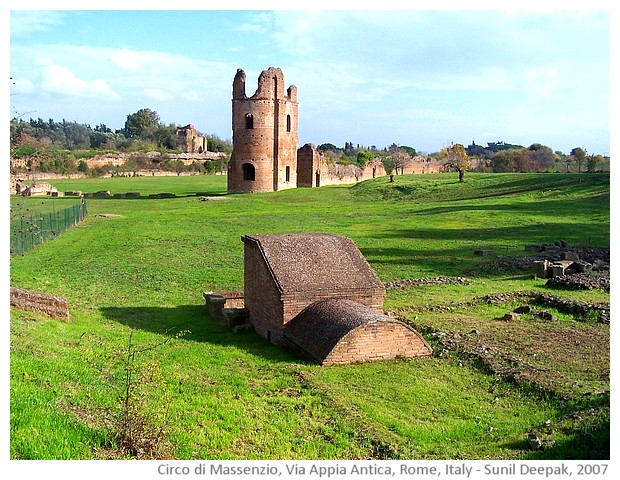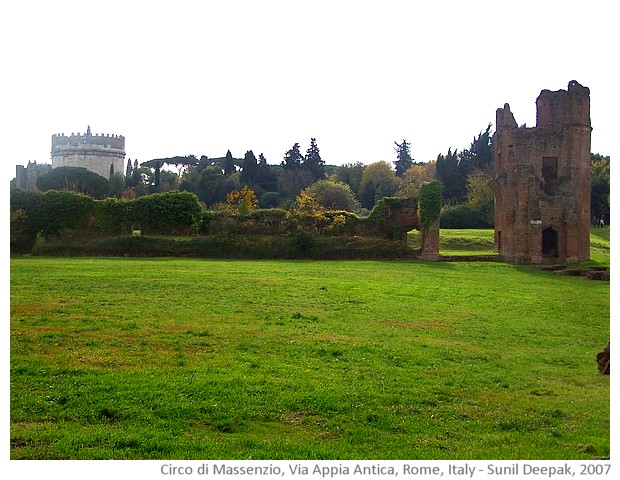 Rome, Italy: "Via Appia" is a two thousand years old road. It was while building this road that Spartacus and other thousands of slaves had revolted. Located in the outskirts of the city, few tourists reach here. On the side of the road is the roman stadium called "Messenzio's circus", where they used to have horse and chariot races, as was shown in the film Benhur. The open area covered with green grass and old ruins is very beautiful. The word "circus", a round place for entertainment, originated from such places.
रोम, इटलीः "विया आप्पिया" नाम की सड़क दो हजार साल पुरानी है. इसी सड़क को बनाते हुए स्पार्टाकस और अन्य हज़ारों गुलामों ने बगावत की थी और मारे गये थे. शहर के इस बाहिरी हिस्से में पर्यटक कम आते हैं. यहीं पर "मसेनज़ियो की सर्कस" नाम का प्राचीन रोमन स्टेडियम है जहाँ घोड़ों तथा रथों के बीच दौड़ें होती थीं, जैसा कि "बेनहुर" फ़िल्म में दिखाया गया था. हरी घास से ढका मैदान और प्राचीन भग्नावषेश, बहुत सुन्दर जगह है. "सर्कस" शब्द यानि गोलाकार जगह जहाँ मनोरँजन कार्यक्रम हों, ऐसी जगहों से ही से बना है.
Roma, Italia: "Via Appia" ha più di due mila anni. Mentre si costruiva questa strada, Spartaco e altri migliaia di schiavi si erano rivoltati. Situato nella periferia della città, pochi turisti arrivano fino qui. Ad un lato della strada c'è il "Circo di Massenzio" dove gareggiavano i cavalli e i carri, come nella famosa scena del film Benhur. Un'enorme distesa di erba verde con le rovine, è un luogo molto suggestivo. La parola "circo", un luogo circolare usato per il divertimento, ha avuto origine da simili luoghi.
***