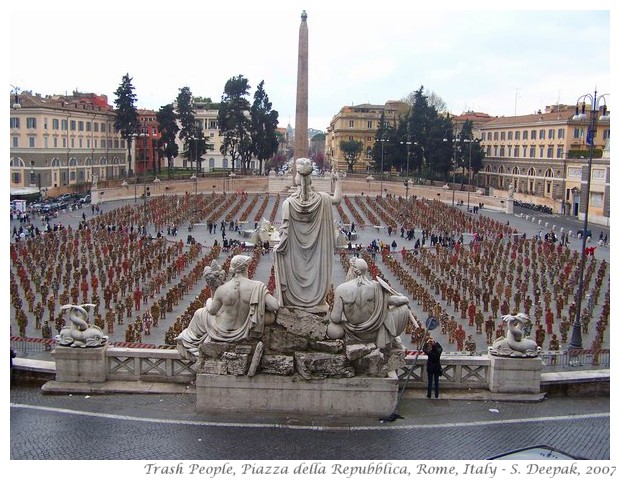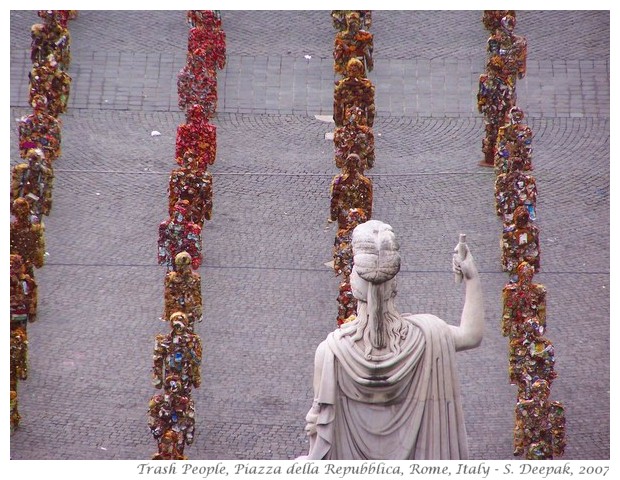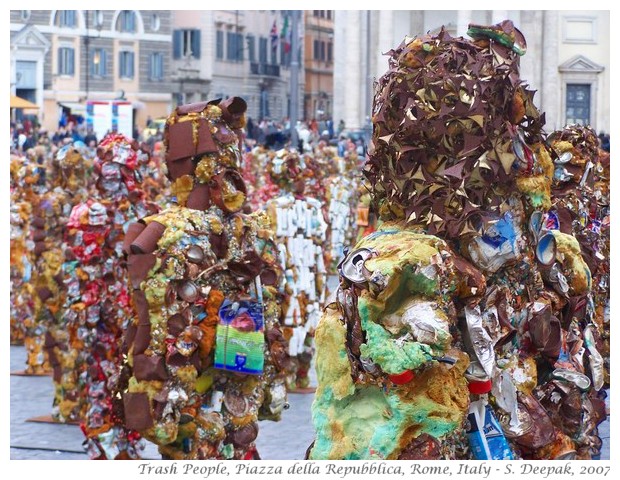 Rome, Italy: German artist Ha Schultz fashioned an army of statues out of garbage and placed it in Republic square in Rome, like the underground army of warriors in emperor's tomb in Xian (China). Today's world is all about marketing. The more you sell, the more garbage you produce, the more your country is considered rich and developed. May be historians will call our present epoch as "the garbage era".
रोम, इटलीः जर्मन शिल्पकार हा शुल्टज़ ने कूड़े से मूर्तियों की फौज बनायी और उसे रोम के रिबलिक स्क्वायर में खड़ा कर दिया, जैसे चीन में सियाँ में सम्राट की कब्र में गड़ी हुई मूर्ति योद्धाओं की फौज थी. यह सच है कि आजकल बिक्री का ज़माना है. जितना अधिक बेचो, जितना अधिक कूड़ा बनाओ, उतना ही आप का देश समृद्ध तथा विकसित माना जायेगा. इतिहास हमारे युग को शायद "कूड़े के युग" के नाम से जानेगा.
Roma, Italia: L'artista tedesco Ha Schultz ha costruito un'armata di statue dalla spazzatura e l'ha piazzata in Piazza della Repubblica a Roma, un po' come l'armata sotterranea dei guerrieri nella tomba dell'imperatore a Xian in Cina. Il mondo odierno è centrato tutto sulla vendita. Più venderai e più spazzatura produrrai, più il tuo paese sarà considerato ricco e progredito. Forse gli storici chiameranno la nostra epoca come "l'era della spazzatura".
***