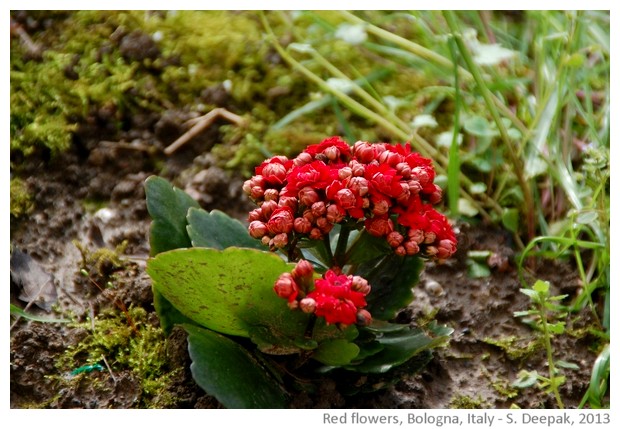 Bologna, Italy: For the last two-three months, it had been raining every week. Yesterday finally the sun came out. Due to cold and rain, this year even the spring seems a little shy. Today's images have some red flowers from the park near our home.
बोलोनिया, इटलीः पिछले दो तीन महीनों से हर सप्ताह बारिश हो रही थी, कल बहुत दिनों के बाद थोड़ी सी धूप देखने को मिली. इतनी बारिश और सर्दी से इस वर्ष बसंत भी कुछ शरमा रहा है. आज प्रस्तुत हैं, हमारे घर के पास के बाग से कुछ लाल फ़ूल.
Bologna, Italia: Negli ultimi due-tre mesi, ha piovuto ogni settimana. Ieri finalmente è uscito fuori il sole. Per il freddo e la pioggia, anche la primavera quest anno sembra un po' timida. Le immagini di oggi hanno dei fiori rossi dal parco vicino la nostra casa.
***