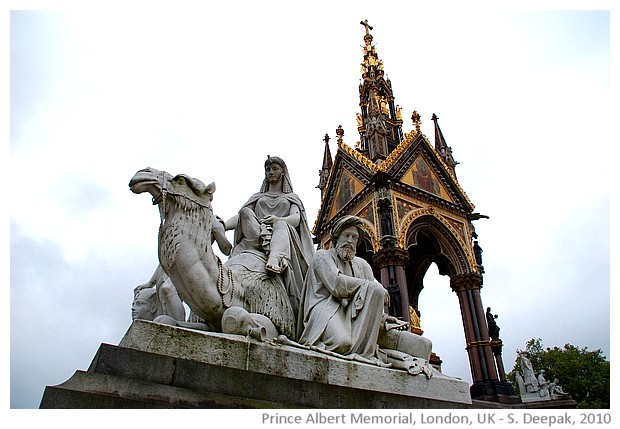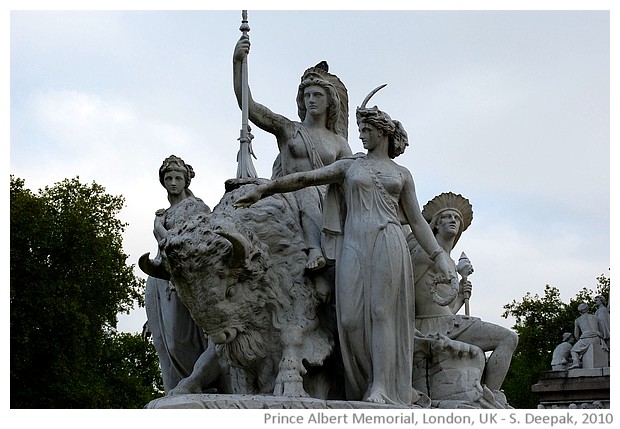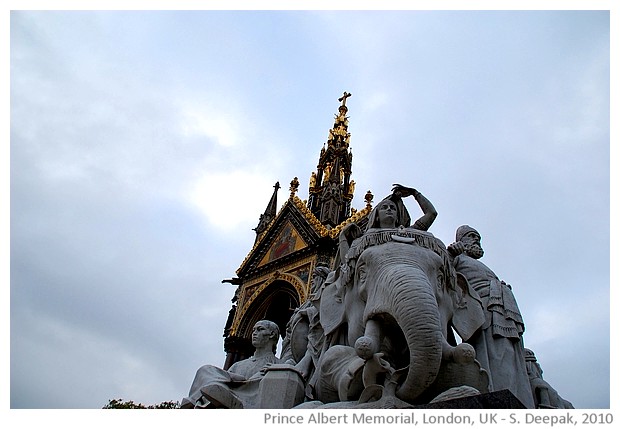 London, UK: Prince Albert was born in Germany and was husband of Queen Victoria of Britain. The love story of Albert and Victoria was shown in the 2009 film "The young Victoria". Prince Albert Memorial in London expresses the grandeur of British empire covering four corners of the world. The memorial has four statue groups at four corners. Today's images have three of these statue groups - Middle-Eastern statues with a camel, American statues with a bison and Asian statues with an elephant.
लन्डन, ब्रिटेनः राजकुमार एल्बर्ट जर्मनी में पैदा हुए थे और ब्रिटेन की रानी विक्टोरिया के पति थे. एल्बर्ट और विक्टोरिया की प्रेम कहानी को 2009 की अँग्रेज़ी फ़िल्म "द यँग विक्टोरिया" में दिखाया गया था. लन्दन का प्रिँस एल्बर्ट स्मारक उस समय के ब्रिटेन के चारों दिशाओं में फ़ैले साम्राज्य की भव्यता को दिखाता है. स्मारक के चार कौनों पर चार मूर्ति समूह बने हैं, इन्हीं में से तीन मूर्ति समूह प्रस्तुत हैं - मध्य पूर्व का मूर्ति समूह ऊँठ के साथ, अमरीकी उपनिवेश का मूर्ति समूह बाइसन (भैंसे जैसा पशु) के साथ, और एशिया का मूर्ति समूह हाथी के साथ.
Londra, Regno Unito: Principe Alberto era nato in Germania ed era marito della regina Vittoria d'Inghilterra. La storia d'amore tra Alberto e Vittoria era il soggetto del film "La giovane Vittoria" del 2009. Il memoriale del principe Alberto a Londra esprime la grandezza del impero britannico nei quattro angoli della terra. Il memoriale ha 4 gruppi di statue ai suoi quattro angoli. Le immagini di oggi presentano 3 gruppi di statue - le statue del Medio Oriente con il cammello, le statue delle Americhe con il bisonte e le statue dell'Asia con l'elefante.
***